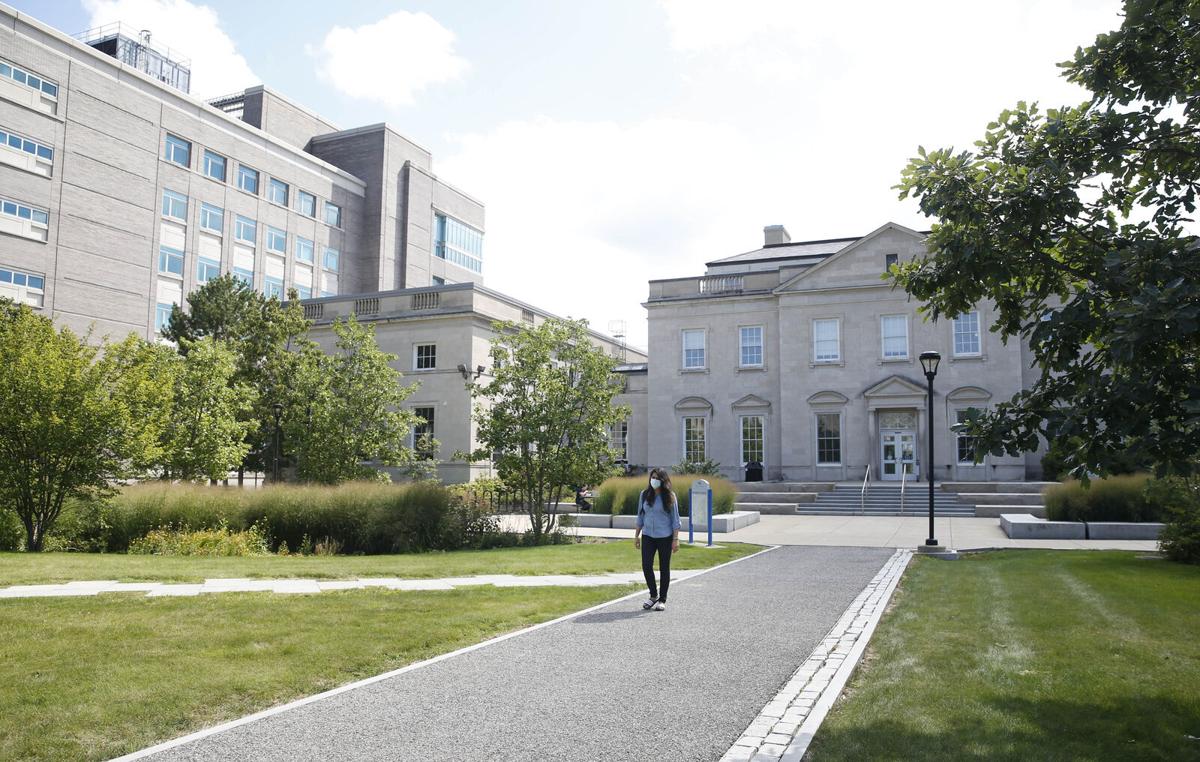 The recent surge in Covid-19 infections among Western New York college students has forced hundreds of them into quarantine.
College leaders have come up with varying ways to handle that unprecedented problem.
While the University at Buffalo, Canisius College and SUNY Buffalo State set up on-campus quarantine sites, Niagara University and Daemen College chose to place many of their quarantined students in hotels.
On Friday, about 75 Niagara students were staying, one to a room, at the Niagara Riverside Resort, a 140-room hotel that has contracts to act as a quarantine site in Niagara County.
"We've had an agreement with both Niagara University and the Niagara County Health Department in the event that anybody needed to isolate based on contact tracing," said Michael Marsch, vice president for operations at Merani Hotel Group, which owns the Niagara Riverside among other hotels on both sides of the international border.
Niagara's dormitories have no rooms with their own bathrooms.
"We utilized the hotel to follow state guidelines on quarantine and isolation," university spokesman Thomas Burns said. "The hotel is better equipped from an infrastructure standpoint to follow the state guidelines."
Several college spokesmen said the public needs to keep in mind the difference between quarantine and isolation.
An isolated person either has tested positive for Covid-19 or is believed to have the disease, based on symptoms, according to the state Health Department website.
In contrast, a quarantined person has no symptoms, but is believed to have come in contact with a person who definitely has Covid-19.
"It is important to note that the Erie County Department of Health requires students, K-12 and college, who are in the same classroom with a positive individual for more than an hour to quarantine, even if all individuals were wearing masks and were more than six feet apart throughout the duration of the class," SUNY-Buffalo State spokesman Jerod Dahlgren said.
The state "Covid Report Card" website said Friday that Niagara has had 134 confirmed cases of Covid-19 among students and staff since the campus reopened for the current academic year.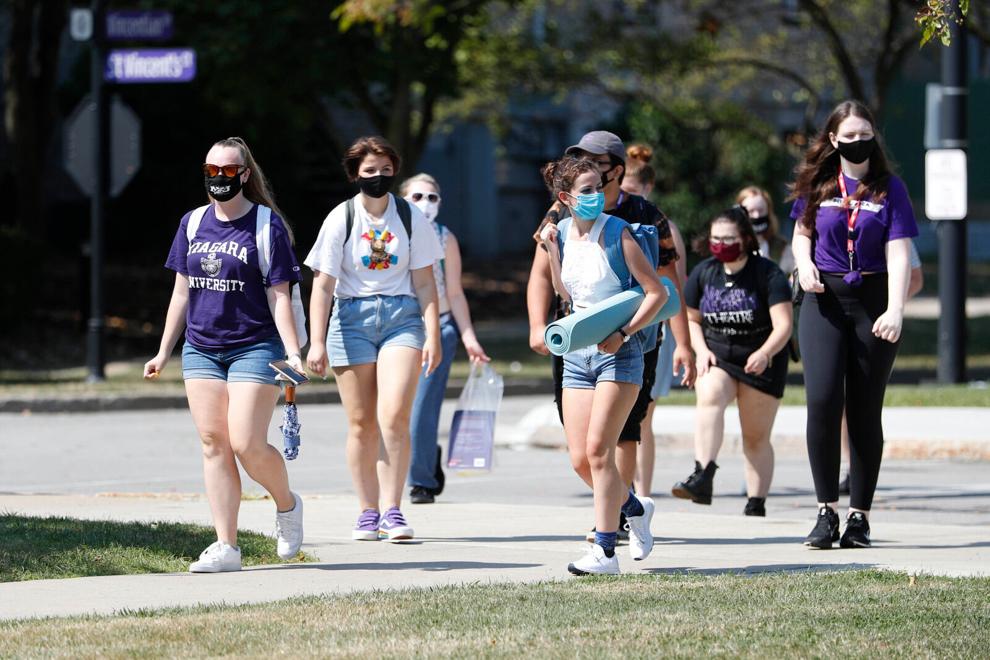 As of Friday, 107 Niagara students were isolated – only one of them on campus – and another 189 were quarantined, the state website said.
"Niagara University made the decision to move them off campus so as not to put any other students at risk," Marsch said.
He said the university is paying a discounted room rate, which he would not disclose.
"Unfortunately, our industry's been crippled by the pandemic, and it's not like we're selling out on a regular basis, especially this time of year," Marsch said. "That's why we reached out to Niagara County Health as well. We're good partners in the community. We want to make sure that we help however we can, and we just happen to have availability and made it happen."
The quarantined students are forbidden from physical contact with anyone during their stay.
"We've isolated students on specific floors. We've got some specific guidelines that we require. Obviously, no leaving the room is first and foremost," Marsch said. "We do deliver food, basically a knock-and-drop process.
"Obviously, we're not servicing those rooms at this point in time," Marsch continued. "We set them up in advance with extra linen, extra towels and washcloths and amenities to make sure they're comfortable, and provided them with large garbage bags to put out their garbage once a week in the event that they need to stay longer than a one-week period."
UB decided to place all residential students on its North Campus in Amherst. It uses Goodyear Hall on the South Campus as a quarantine site.
"If they test positive or are a close contact, they are moved to Goodyear," university spokesman John Della Contrada said.
As of Friday, 98 students were staying in Goodyear Hall, either in quarantine or isolation. The state website says 255 rooms are available there.
"The majority of cases are mild," Della Contrada said. He added that there is no isolation or quarantine space on the North Campus.
State figures show there have been 318 confirmed Covid-19 cases among UB students and staff since the academic year began, but none of them have been hospitalized.
At SUNY Buffalo State, 18 of 71 available quarantine rooms are in use, according to the state website. Those rooms are all in the North Wing residence hall, spokesman Dahlgren said.
Two of the 18 students have tested positive for Covid-19; the other 16 are in quarantine because of possible contact, Dahlgren said. The state website says there have been 75 confirmed cases among Buffalo State students and staff this fall.
Dahlgren said 13 commuter students have tested positive and are isolated at home, while 89 commuters are quarantined at home without symptoms.
Canisius spokeswoman Eileen Herbert said as of Friday, Canisius had 51 students in quarantine, 18 of them on campus and 33 elsewhere. There were 36 students in isolation, 10 of them on campus.
"Our plan for contact tracing, isolating and quarantining has been working well, coupled with the ability for many of our local students to quarantine at home," said Daniel Dentino, vice president for student affairs.
Canisius has done far less testing for the virus than other sizable colleges. There have been only 67 campus-administered tests so far, compared to 1,758 at Niagara, 4,183 at Buffalo State and 23,446 at UB, according to the state Heath Department.
A Canisius spokeswoman said the state figures include only the tests given in the campus health office. She said the college has tested a total of 1,444 people in its Health Center, and in partnership with the Erie County and state health departments and with WellNow.
"We continue to make adjustments to our operations with the safety of our community at the top of mind," Dentino said.
Daemen College administered 134 tests this week, finding three positives, which brought its total for the fall semester to 34.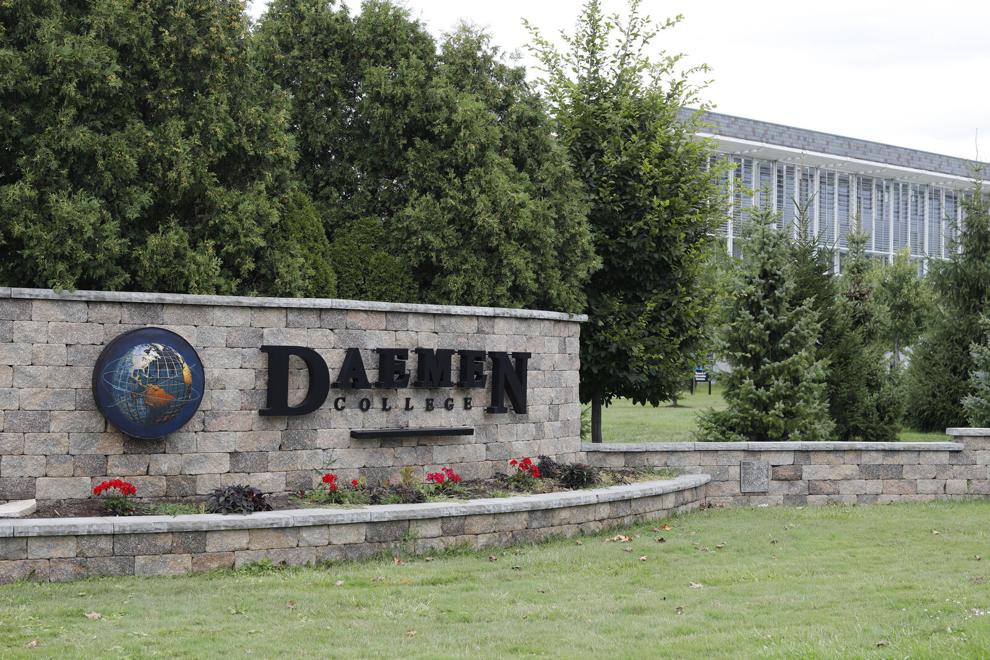 Daemen does its own contact tracing, said Greg Nayor, vice president of strategic initiatives.
"We have a wonderful internal contact tracing team, all of whose members were trained by Johns Hopkins University," Nayor said. "It's one of the things I'm most proud of. We weren't depending on the Department of Health. We know they're slammed, we know they're overwhelmed."
Daemen has only five rooms available for on-campus quarantines, out of a total of 31 students currently quarantined. Nayor declined to say which hotels the others are staying in.