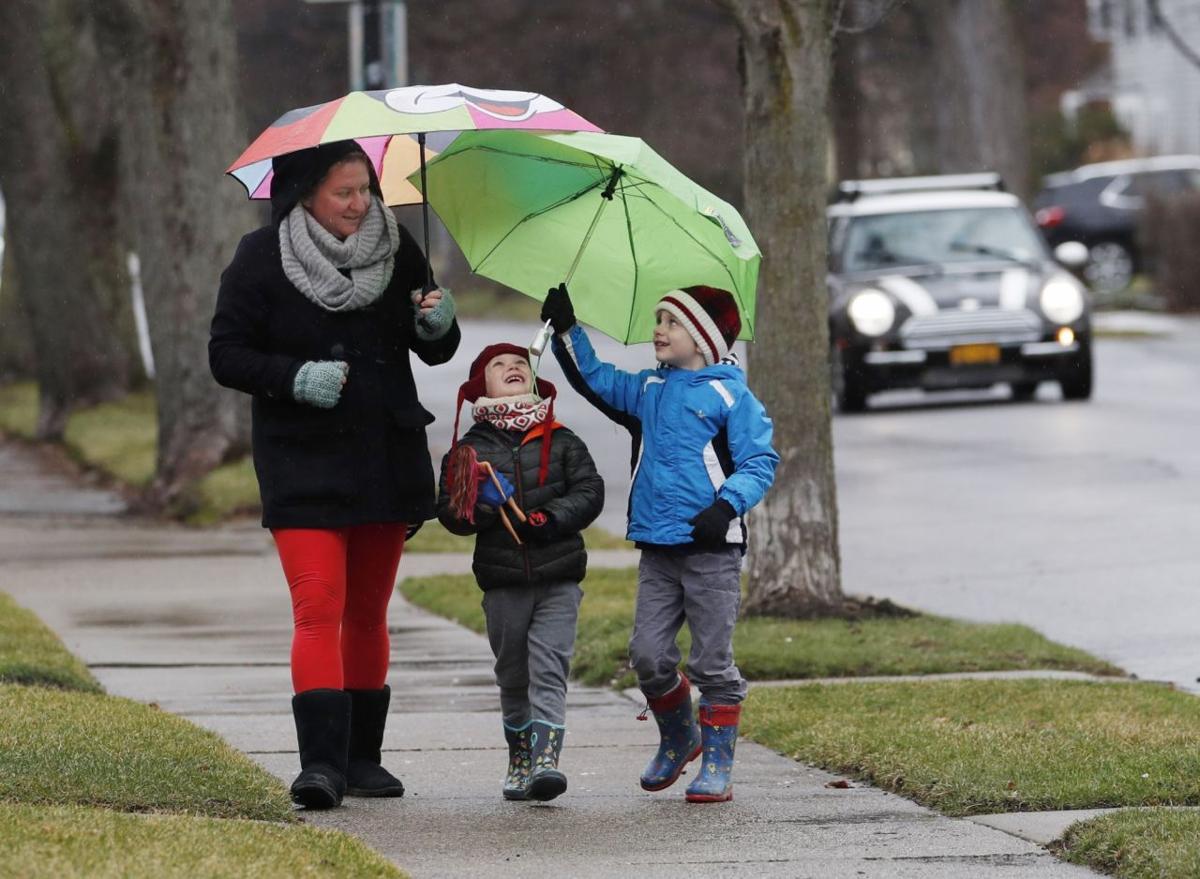 We're heading into Week Three of no school and trying to teach the kids from home.
How's that going for you?
It's been all but overwhelming for some parents.
Students are working through packets of school work as well as online assignments. Even in districts where every child has a Chromebook, parents are downloading extensions for it. Teachers, ever mindful of keeping in touch with students, are emailing students and parents, sometimes multiple times a day. Some are requiring attendance as they hold videoconferencing classes, others are sending links upon links of helpful online tools.
And while they are helping direct their children to do their school work, parents are also trying to work from home and get food on the table.
Welcome to pandemic schooling.
At wit's end
Things have been hectic for Daniel Goble ever since school closed almost two weeks ago. The stay-at-home Buffalo dad has a toddler, a pre-K student at International School 45, and a first-grader and second-grader at Olmsted 64.
"My background is in the legal field. I know how to write. I know how to research. I don't know how to teach Common Core grade one and two," he said. "I liken it to being given a bunch of Ikea furniture without directions or an Allen wrench."
The first week school was closed, Goble tried to have his kids complete all the work they had been assigned. It did not go well. He talked to some parents who routinely – intentionally – home-school their kids, even before the virus hit. They recommended having the kids do schoolwork only two hours a day. So he's switched to limiting schoolwork to the morning.
While it would be nice to have some guidance on teaching his kids, the onslaught of communication from the kids' teachers has just been too much.
"There's been a deluge, an oversaturation of resources," he said. "Here's some YouTube stuff, here's a spreadsheet I made, here's resources through the district. And then the Spanish teacher posted a video. We've been bombarded."
He is pretty much at wit's end.
Parents have an option to submit their children's work online along the way while school is closed. He is not.
"I'm sending back all their work when school opens," Goble said. "They can do whatever they want with it. They can look at it. They can toss it in the circular file."
Parent support group
Parents are commiserating on Facebook.
Comments on the West Seneca Covid-19 Neighborhood Assistance Facebook Group track what parents are going through:
"We got on Zoom and could see people but couldn't hear anything, kept clicking," one parent said.
"So many emails for 8th grade!! We are already behind!! My high schooler is getting less than 8th grader! I do appreciate the teachers being active, but eek!" wrote another.
"Between the emails, the remind messages and Google classroom notes, it's very overwhelming with 3 kids. I wish the teachers would start a group email especially for the middle school teams. I know they are trying to keep all of us in the loop but it's hard to check all the different avenues they are using. Now gym teachers and chorus teachers are sending emails and reminds. Ahhhhhh," was the response from another parent.
Too many websites
Allie MacGuire said she tries not get stressed about schoolwork for her three children. Liam, 8, is a third-grader and Arthur, 7, is in the first grade, both at Tapestry Charter School. Their younger brother, Gavin, is 4.
She writes the schedule on the chalkboard in the kitchen, and for the most part, they stick to it, although "some days are better than others," she said.
One teacher is pretty hands-off, while another sends 10 to 15 messages a day.
One teacher sent home "so much work, we'll never get through all of it," she said. Each of her sons have three websites they log into, and teachers sent home two pages of suggested websites. They haven't touched those.
"I'm not stressing about it personally," MacGuire said. "I don't feel like we have to visit all 30 websites."
A teacher at home
Kaitlyn Parrino, a social studies teacher at Sacred Heart Academy, still has a full day of teaching remotely online while trying to help her 5-year-old son, Luke, a kindergartner at Smallwood Drive Elementary School in Amherst, complete his packet of daily homework.
"It's not hard work," Parrino said, "but a 5-year-old in his own house doesn't understand his routine has changed right now."
And even though Parrino is a teacher by profession, grade-schoolers aren't her forte – especially when they are her own. Luke knows how to push her buttons; she's not as patient with him as she would be with her classroom students.
"We've had a couple good days," said Parrino, who has a 2-year-old daughter at home as well, "but a couple really, really challenging days."
Parrino keeps trying to remind herself it's just kindergarten.
"The day to day of it has been so stressful," Parrino said. "The house looks like a tornado went through it and it doesn't matter how often you clean it, it's always going to look like that."
Two kids, two grades, twice the work
Jade Kirkland admits that new math is one area giving her trouble these days, as she is home teaching her two boys, Jason, a sixth-grader, and Jaden, a fourth-grader, both of whom attend schools in Buffalo.
So the family has developed a daily routine where one of the boys will work alone on a subject he is strongest in, while Kirkland helps the other in an area where he is struggling.
"We're managing," Kirkland said.
Kirkland said Buffalo Public Schools did a good job pulling together a lot of material in such a short time. In fact, it's almost too much work.
"I hate to say it that way, but yes, when you're taking a lay person and giving them your day-to-day lesson plan ... It's overwhelming," Kirkland said.
"There's a lot of content to get done in one day when you have two kids in two different grades," Kirkland said. "It's difficult. Now, I'm trying to do two full days worth of work but I don't have two full days to do it in."
Superintendent: Just do the best you can
Frontier Superintendent Richard Hughes has not only heard the frustrations of parents, he's living it in his own home with four elementary school children.
Teachers had to pivot to long-distance learning virtually overnight, without training and time for planning.
"What we're trying to do is just basically do the best we can," he said. "And honestly, that's the same thing that we're asking parents."
Parents always want the best for their children and put pressure on themselves, he said.
"I don't think there is an answer to all this. It's just let's do the best we can," he said. "What's going to be remembered when this is all said and done is not the classwork that got done or didn't get done, it's going to be how we spent time with each other."