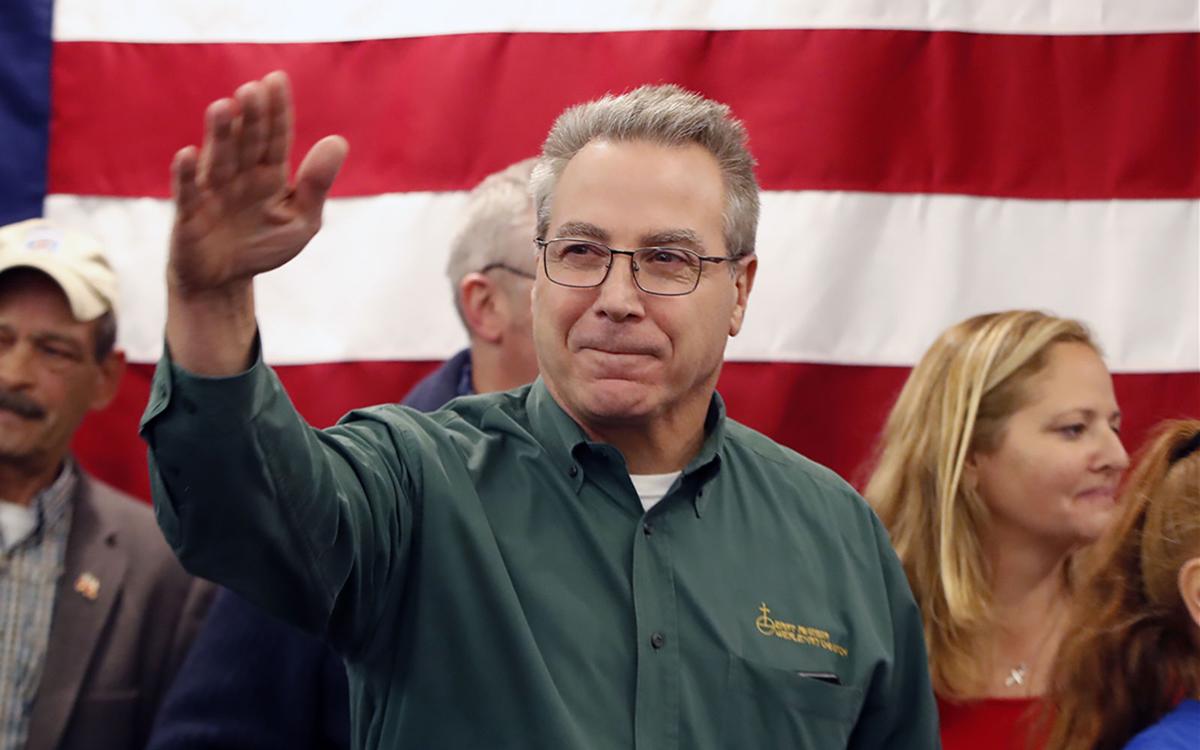 After his hourlong WECK radio show carried at 11 a.m. Saturday was taken off the air, Republican State Assemblyman David DiPietro went to Facebook last week and suggested the removal was emblematic of leftist censorship.
WECK owner Buddy Shula has a much different take on why the show is no longer on his station.
In the words of Strother Martin in "Cool Hand Luke," what we have here appears to be "a failure to communicate."
DiPietro posted the following message on Facebook last week: "Many of you may have been wondering what happened to my radio show on WECK. The ratings and listenership were great! So much so that WECK was going to expand the show to two hours! After the election, the owner received threats from Antifa types threatening to 'burn down the station' if he did not remove me. He could not risk losing everything he put his life into. He pulled the plug on the show. THIS is how leftists CENSOR CONSERVATIVE TALK."
His message was called to this newspaper's attention by Republican Erie County Comptroller Stefan Mychajliw.
"It's true," wrote Mychajliw. "Dave called me shortly after the show got canceled. He was really upset but understood Buddy's decision. They threatened to burn his building down."
However, Shula says that isn't true.
In an exchange of emails, Shula said the show was put on hiatus and may return in another form, such as podcast, with someone to counter DiPietro's conservative voice.
"I was never threatened by Antifa or anyone else," wrote Shula. "I received emails and calls from both the right and left expressing their views, but never, ever threatened."
He didn't want his station, which primarily plays music, to be one-sided. Without mentioning WBEN-AM, he clearly didn't want WECK to become like the station that carries one-sided shows featuring conservative and right-wing voices.
"When I saw the commotion at the Capitol (on Jan. 6), it made me sick and scared," added Shula of the attack by rioters who breached the building and disrupted Congress. "It was after watching that that I decided that my radio station really should not get involved in a one-sided political area at this time."
Shula wanted it known that DiPietro did nothing wrong, but he may have misunderstood what he told him.
"After speaking with Dave, I expressed things like, 'I don't want my building firebombed, I don't want to be threatened,' things like that, based on what I was seeing at the Capitol. Never ever, did anyone call, email, text, or anything they were going to do that."
Shula added that he received many emails from the conservatives who loved the show, and many emails from progressives who hated it.
"I would love to have Dave back on air, but with a person from the other side of the aisle, or a podcast I am working on."
He said he has been unable to touch base with DiPietro over the past few weeks despite many attempts. The Assemblyman also couldn't be reached for comment for this story to respond to Shula's comments.
"We have listeners on both sides of the issues and my desire is to bring a show in like that, where no views are silenced," said Shula. "I am considering platforms for local government shows, including podcasting."
Noting WECK is a local station that attracts baby boomers and seniors in Western New York, Shula said he thinks "it is important to not be one-sided, and the show was never intended to be one-sided from the minute Mr. DiPietro and I had talked about the show concept."
"I have learned that WECK radio is a station that listeners want to escape from politics. It's a happy place on the dial. So if you like politics, WECK may not be your station, but if you like the Beatles, Elvis, Dave Clark Five, etc, WECK is your station."
As far as DiPietro's ratings, Shula said they "were fine, just like every other part of the station. It's not an issue about ratings."
He confirmed that he and DiPietro had spoken about expanding the show to two hours.
"I liked his passion," said Shula. "However, like I have said from the start, I wanted the show to have a counterpoint from the other side of the aisle. Dave said he could make that happen when we first began the show, and it never did. It turned out to be a one-sided platform, which I did not want, especially in light of what happened at the Capitol.
"I wanted to make sure I make it perfectly clear that Dave DiPietro did zero wrong in terms of me putting his show on hiatus. It was me being spooked by the Capitol events. That's it. Nothing more.
"If (Democratic Erie County Executive) Mark Poloncarz was the host, I would have put that on hiatus, too. We just needed to take a breather from the events of that week."