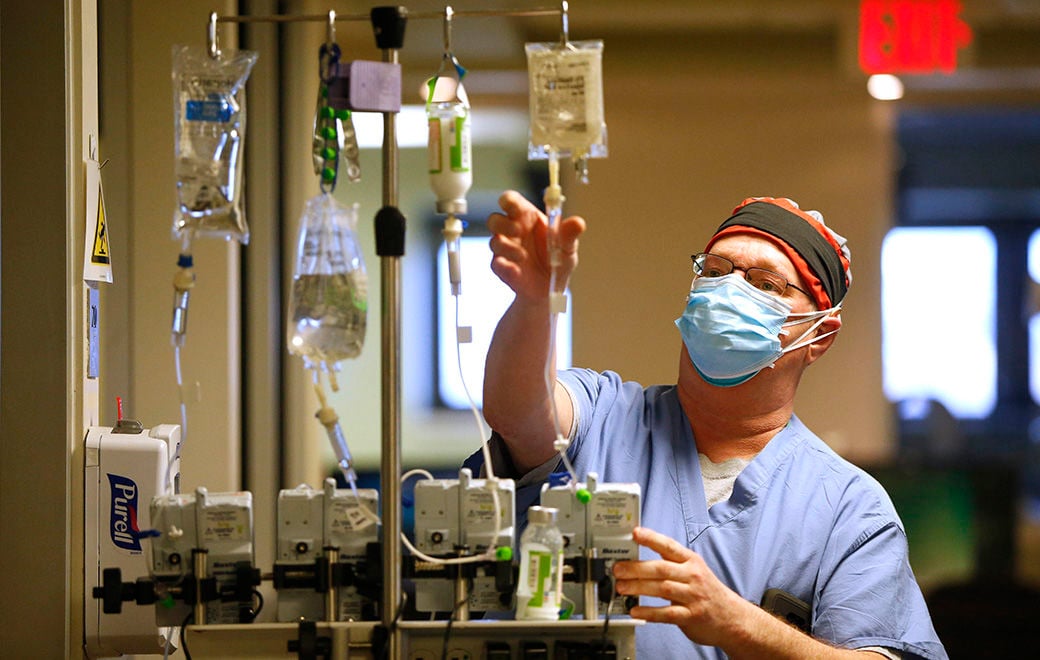 The fate of a region's reopening rests on a New York State "dashboard" measuring everything from hospitalizations to intensive care unit capacity.
There are green checks and red Xs next to the benchmarks for each of the 10 regions. Seven green checks for a region mean it is a go – it can begin the gradual process of rolling back state restrictions on businesses and public gatherings.
The criteria are based on Centers for Disease Control and Prevention guidelines, state officials said.
The Western New York region, defined by Gov. Andrew M. Cuomo as Erie, Niagara, Allegany, Cattaraugus and Chautauqua counties, isn't there yet. As of Friday, it still fell short on two measures: Western New York has not seen a 14-day decline in Covid-19 hospitalizations and deaths.
Cuomo has urged New Yorkers to closely watch the measures in their own region. "I hope people get up in the morning, have their cup of coffee and go online to figure out how their county is doing," Cuomo said Thursday.
No. 1 - Total hospitalizations
The number of patients with Covid-19 who are hospitalized needs to show a downward trend for 14 days straight.
There's a little bit of wiggle room. The state is looking at a three-day rolling average of total patients, so if it goes up by a one or two patients one day but then comes down the next day, it shouldn't affect the overall downward trend.
If you're looking at the dashboard for Western New York, look at the first number. That shows how many days in a row the number has gone down. (Don't worry about that second number on the dashboard. The second measurement applies to regions with relatively few Covid-19 cases that never experienced a sharp increase early in the pandemic.)
No. 2 - Deaths
The number of people who die of Covid-19 while hospitalized needs to decrease over a two-week period.
Once again, the state is looking for an overall downward trend and is using a three-day rolling average to determine whether deaths are rising or declining, so there could be one or two days that spike higher.
If you're looking at the dashboard, the number that's important to New York is the first number. That's the number of days that the daily death toll has gone down. (Again, don't worry about the second number. That's for the regions that never saw a sharp rise during the pandemic.)
No. 3 - New hospitalizations
For every 100,000 residents, the region must have fewer than two new patients hospitalized with Covid-19 each day on a three-day average.
Practically speaking, in order for the Western New York region to meet that standard, the total number of new hospitalizations per day generally can't exceed 28 based on the region's population of roughly 1.3 million people.
No. 4 - Hospital bed capacity
At least 30% of hospital beds in the five-county region must be available. Having excess capacity protects against a possible surge in infections.
No. 5 - Intensive care unit bed capacity
At least 30% of intensive care unit beds in the region must be unused. More available beds means a better ability to handle a surge.
No. 6 - Testing
A region must have the capacity to conduct 30 tests per 1,000 residents per month.
That means the region must be able to test 1,381 people per day, which comes out to 41,441 residents per month.
(If you're checking the dashboard, the first number in the column shows the seven-day average of tests per day. The second number is the region's daily standard.)
No. 7 - Contact tracing
A region must have enough people working as contact tracers so there are 30 for every 100,000 residents.
The Western New York region must have about 415 contact tracers in place before the gradual reopening may begin.
As of May 15, the region was expected to reach that standard, but hadn't yet officially done so.