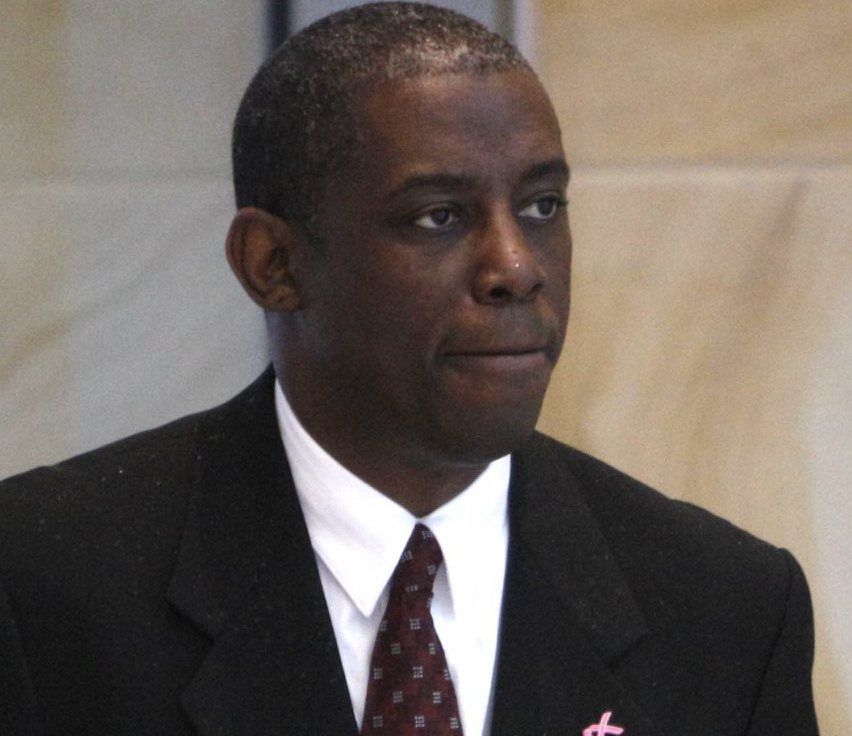 Five years ago, he sat atop Buffalo's economic-develop- ment world, a City Hall leader with a reputation for getting things done in a community known for gridlock and obstructionism.
Then came Timothy E. Wanamaker's "fall from grace."
Wanamaker's tumble from power ended Tuesday with a sentence of three years' probation for using a City Hall credit card to charge more than $27,000 in personal expenses.
He also must repay the money he stole to the U.S. Department of Housing and Urban Development.
"There is no excuse," Wanamaker told U.S. District Judge Richard J. Arcara. "I'm not going to make any excuses."
Arcara's sentence – he could have given Wanamaker up to six months in prison – came just a year after the former top aide to Mayor Byron W. Brown and to Brown's predecessor, Anthony M. Masiello, pleaded guilty to stealing government funds.
Wanamaker, once a rising star at City Hall, admitted billing the city for personal hotel and travel expenses on his city-issued credit card while serving as Buffalo's economic-development chief from 2003 to 2008.
Arcara acknowledged that he was bewildered by Wanamaker's thefts and at one point Tuesday referred to his own 40 years of public service.
"I just find it mind-boggling," he said of Wanamaker's actions. "I just can't imagine – even for a minute – of violating that public trust. I just can't understand why anyone would do that."
In the end, Arcara gave Wanamaker probation and cited his remorse, his loss of reputation and his willingness to cooperate with investigators looking into how Buffalo uses its federal funding.
"The public humiliation he's suffered is just horrible," said James P. Harrington, Wanamaker's lawyer. "He's profoundly sorry for what he's done."
Harrington made several references during the sentencing to Wanamaker's reputation as a City Hall outsider who came to be viewed as one of its most competent professionals.
"Mr. Wanamaker's life is one that should have been looked up to and emulated," Harrington told Arcara. "Tim was a guy who wanted to get things done. Unfortunately, he's thrown a big black cloud over that."
Wanamaker, who was hired in 2003 when Masiello was mayor, served as executive director of Buffalo's Office of Strategic Planning and was widely viewed as the city's top economic-development official.
He also headed Buffalo Economic Renaissance Corp, or BERC, a now-dormant City Hall development agency.
During his time at City Hall, Wanamaker earned a reputation as a development professional who, despite criticism that he was often inaccessible, came to be viewed as one of the city's brightest administrators.
Then came the FBI's investigation into One Sunset, an upscale restaurant that closed a year after it opened and left $160,000 in unpaid government grants and loans.
The investigation into the restaurant's public subsidies never led to any charges – the investigation is still open – but it did result in two unrelated but high-profile prosecutions.
One was Wanamaker, and the other was former Common Council Member Brian C. Davis, who pleaded guilty in May to stealing $48,000 in public funds while representing the Ellicott District on the Council. Davis was sentenced to a year in prison.
Wanamaker told Arcara on Tuesday that his goal is to return at some point to his community-development work, a role Harrington said could involve a community group or nonprofit organization.
Since his conviction, Wanamaker has had trouble finding work in the field and instead has spent time stocking shelves at Kmart and selling cars.
"I do plan to continue to work and help communities rebuild," he told Arcara. "That is what God put me on this earth to do. It's what I love to do."
The federal probe into Wanamaker's travel resulted in allegations and an eventual admission that he had used his BERC credit card to pay for hotel, rental car and other travel expenses unrelated to city business. He admitted, for example, that after a work-related business trip to San Francisco in 2005, he stayed there after the conference ended and used his BERC card to charge $1,256 in expenses for himself and another person.
He also admitted attending a work-related conference in Miami in December 2007 and using the BERC card to charge $1,943 in hotel, meal and rental car costs in the two days that followed the conference.
"Mr. Wanamaker violated a trust," said Assistant U.S. Attorney Joseph M. Guerra III. "But to a certain extent, he did try to make things right."
Guerra was referring to Wanamaker's cooperation with the FBI and HUD, a role that led to an offer of leniency from prosecutors. They say the information Wanamaker provided to federal agents led to substantial changes in how Buffalo and other cities across the country handle federal funding.
"The Wanamaker decision was based on the wisdom of the court but should not be perceived as a precedent for future leniency in public corruption matters," said Christopher M. Piehota, special agent in charge of the FBI office in Buffalo. "The FBI and its law enforcement partners will continue to identify and disrupt corrupt practices at all levels of government to ensure the public's continued faith in its elected officials and governmental processes."
Harrington said he's confident that Wanamaker will eventually bounce back from what he described in court papers as his "fall from grace."
"He beats himself up about this all the time, but he's not going to let this keep him down," Harrington said. "It's really sad it had to end this way."