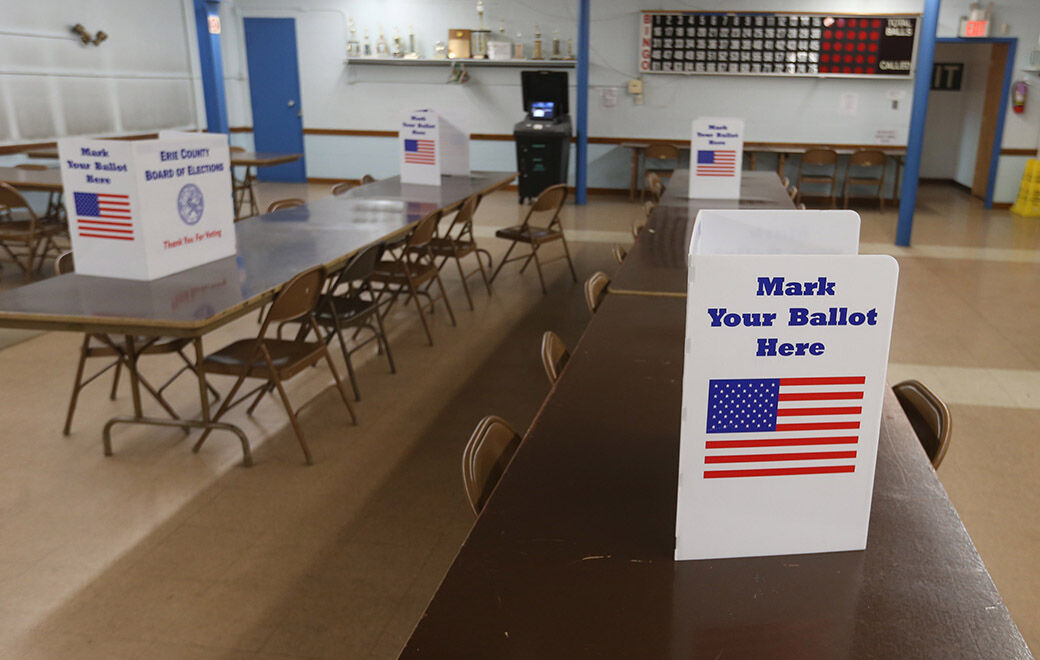 ALBANY – Voters statewide in November will get their say on five proposals to amend the New York Constitution, becoming the final deciders on matters involving redistricting, new environmental protections and absentee voting rights.
New York, unlike some states, does not have direct initiative and referendum procedures that would permit constitutional changes to start with voters. That means the ballot items up for consideration this fall have already been vetted – and argued over – in Albany by state legislators.
With history as a guide, most of these items will pass, and many voters may not even cast a yes or no vote on the ballot measures.
But each proposal would make a change not in state law, but the state's constitution, a multiyear process that, according to Ballotpedia, has successfully happened 15 times since 1996.
Five proposals are on the ballot.
Ballot Proposal 1: Amending the Apportionment and Redistricting Process.
This proposal would make minor and major changes to more than a dozen separate provisions of the New York Constitution. The proposed changes come from Democrats, and Republicans say the proposed changes are aimed at further cementing the minority status of the GOP in both Albany and who gets sent to Congress to represent New York.
The amendment freezes at the current level of 63 the number of State Senate districts. Republicans, when they were in control of the Senate, maintained their power, in part, by growing the number of districts as a way to try to blunt the increasingly blue politics of New York.
The proposal also requires that district maps – redrawn every 10 years based on the census – count all people living in a congressional or state legislative district, regardless of their citizenship status. It would also enshrine in the constitution a provision that a state prison inmate's address, for the purpose of drawing political districts, is his or her last place of residence, not the correctional facility where they are locked up.
"Of the five proposals on the Nov. 2 ballot, three of them directly impact the process of democracy," writes Rod Watson.
New York Common Cause said the plan makes "common sense" changes to redistricting language. The New York League of Women Voters, though, say the proposal would "disempower" minority party members of the Independent Redistricting Commission as well as minority – Republican – state lawmakers. If, for instance, the Legislature is controlled by one political party, like it is now by Democrats, the commission's redistricting plan could be approved by the Legislature by a simple majority vote of the two houses, instead of the current two-thirds vote required. Also, it would be easier for the Legislature to block map plans that the commission finalizes – a route most Albany observers believe is one of the more likely scenarios by lawmakers in the majority who want to draw their own district lines.
The proposed constitutional change would do away with a provision that now requires the commission's plan to be approved by at least one member appointed by the legislative leaders, including those appointed to the panel by the GOP leaders in the minority in the Assembly and Senate. Power is also eliminated for GOP members of the commission in the process to name co-executive directors of the commission.
Common Cause says the plans will decrease "party influence on mapmaking,'' while the League of Women Voters say they increase the power of the political party in power while changing a process approved in 2014 that has not had a chance yet to fully play out.
New district lines for the State Legislature and Congress will be in place for the 2022 elections – either by the commission's hand, Democrats who control the Legislature or a panel of judges that might have to step in if decisions aren't in place in time.
The first ballot proposal also speeds up – by two weeks – to Jan. 1, 2022, the timetable for when the commission must present its first redistricting proposal to lawmakers. A second, and final, plan, if rejected by lawmakers, would then be due two weeks later instead of the end of February. That timetable is a bow to New York's earlier June primary contests and the earlier time period for when candidates gather signatures to get onto ballots. I
Earlier this year, the measure was given final approval in the Legislature with the backing of nearly all Democrats and opposition from Republican lawmakers.
Government watchdog groups are split. The New York Public Interest Research Group supports it, while it is opposed by Citizens Union, which this week said the proposal "would remove the protections that ensure no one political party could dominate the redistricting process."
Ballot Proposal 2: Right to Clean Air, Clean Water and a Healthful Environment
Following in the footsteps of several other states, including Pennsylvania and Massachusetts, New York voters are being asked to change the state constitution to declare that "each person shall have a right to clean air and water, and a healthful environment."
A legislative memo accompanying the constitutional change, given final approval in February by the Legislature, states that additional environmental protections, in the form of a constitutional right for all New Yorkers, are needed following ongoing air quality concerns and problems in some communities with water contamination issues.
Making the 17-word change to the constitution would ensure, lawmakers said, that clean air and water are "treated as fundamental rights" for New Yorkers.
The change is supported by environmental groups who say the constitution is a powerful and guiding document to lay out such supreme air and water protections for future generations of New Yorkers.
The amendment was opposed by 39 lawmakers earlier this year out of 213 state legislators. Opponents, including some business groups, say the ballot change's wording is so vague as to guarantee one certain outcome: lots of lawsuits on many different environmental matters for decades to come.
Ballot Proposal 3: Eliminating 10-day advance voter registration requirement
This item, practically speaking, sets up New York State to legalize what is called "same-day voter registration,'' which is a process by which voters can register as a New York voter and vote on the same day: Election Day.
Presently, the constitution requires people to register to vote at least 10 days prior to an election. If approved by voters, the change means the Legislature could – as already supported by many Democratic lawmakers in the two houses – enact enabling legislation to permit voter registration fewer than 10 days, including on Election Day.
Proponents say the measure will boost voter participation.
The measure was given final approval this year in the two houses with Democrats voting as a bloc in favor and Republicans against.
Ballot Proposal 4: Authorizing No-Excuse Absentee Ballot Voting
The constitution now allows people to vote via absentee ballot if they give a valid reason for not being able to vote in person, including they expect to be absent from their county of residence on Election Day and that they can't vote in person because of an illness or physical disability.
Absentee voting during the Covid pandemic was especially popular in 2020, when in-person voting was not required if people felt they could be put at a health risk by having to cast their votes at polling places. Some 2 million New Yorkers cast absentee ballots in the 2020 presidential contest.
"As we have seen in the most recent election, voting by mail is becoming the norm, not the exception,'' states a Democratic legislative memo in support of the constitutional change. It states that "in view of the impressive array of pro-democracy legislation" OK'd in New York since 2019, voters should be able to cast ballots "in whatever way each finds most comfortable, whether that be in a voting booth on election day or in the comfort of their own home prior to election day."
Republicans, pointing to problems many election boards had in 2020 in timely verifying absentee ballots were properly distributed, said the state's early voting laws largely took care of the need for people to be able to register as late as on Election Day.
Ballot Proposal 5: New York City Civil Court Claims
The fifth ballot measure would double to $50,000 the jurisdictional limit of claims brought before the New York City civil court system. It was last raised in 1983 from $10,800 and is depicted by supporters as easing backlogs for such cases in the State Supreme Court system.