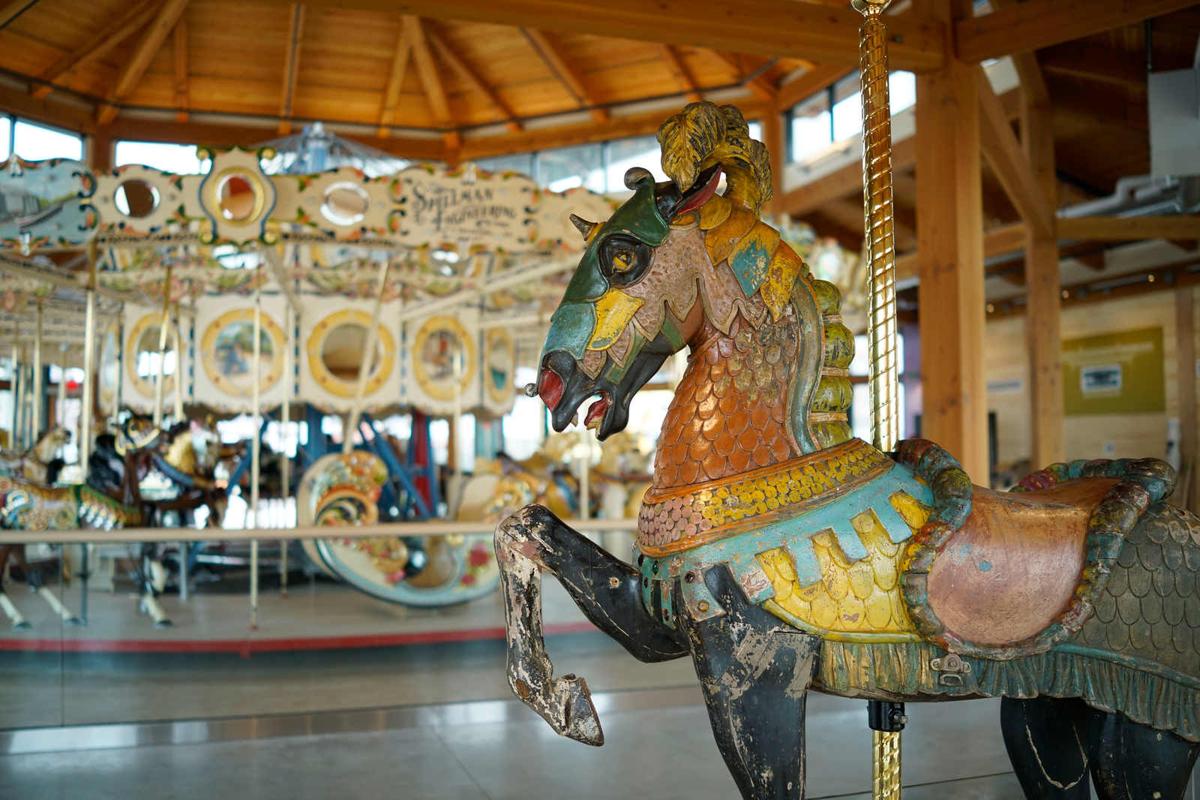 A new era began Friday for a vintage 1924 carousel whose remarkable journey included sitting in storage for 63 years before arriving at Canalside.   
At 11:39 a.m., the lavishly restored wooden Buffalo Heritage Carousel began its inaugural ride. Schoolchildren sat on the 34 menagerie animals and three chariots as carnival music from a Wurlitzer 153 band organ emanated from the carousel's inner loop in the new solar-powered roundhouse.
It marked the first time the amusement machine has operated since 1954, the year Elvis Presley recorded his first single "That's All Right" and President Dwight D. Eisenhower was in his first term in the White House.
"Bringing this extraordinary carousel, which is almost 100 years old, back to its original glory is a once-in-a-lifetime opportunity," said Laurie Hauer-LaDuca, Buffalo Heritage Carousel's president. "We think it will be appreciated, enjoyed and loved in Western New York."
"It's very fun to go on there, and I liked the special music. It was loud," said Sam Barry, 9, of East Aurora, who rode one of the horses on the first ride.
"It's beautiful and the artwork is lovely," said Courtney Holdsworth, who rode on the carousel with her husband,  Jon, and their daughters Abby, 4, and Caroline, 2. "I didn't know it was solar-powered until they announced it, which is really neat. And I love that it's covered, so we can come here even if it's raining." 
"We always go to Explore & More, so this is another stop along the way," Jon Holdsworth added.
The carousel project cost $6.1 million. Some $5.7 million has been raised to date, said Carima El-Behairy, the organization's operations and development director.
The carousel will operate, with Covid-19 cleaning protocols in place, from 11 a.m. to 7 p.m. daily until Sept. 6, when it will switch to Fridays through Sundays.
The National Carousel Association, based in Huntsville, Ala., has circled Sept. 23 on its calendar to see the long-awaited restoration.
"There have been a lot of new carousels made in the last 30 years, but very rarely does one come out of storage like this and become operational again," said Patrick Wentzel, the association's president. "Our members are going to be very excited to see it."
The rare three-row, park-style carousel was manufactured in North Tonawanda, back when the city was among the nation's handful of leading carousel manufacturers.
Only about 20 models were produced by Herschell-Spillman or the Spillman Engineering Corp., which manufactured the Buffalo Heritage Carousel, and it's just the 10th in operation nationally, Wentzel said.
The Wurlitzer, which isn't original to the carousel, was built in North Tonawanda by the Rudolph Wurlitzer Co., a leading producer of musical instruments.
The merry-go-round has a herd of 27 horses, plus a deer, lion, tiger, giraffe, ostrich, mule and "lake monster." There are three chariots: one with carved dancing goddesses; a custom-carved, handicapped-accessible Erie Canal boat; and a replica of the original rocking gondolier.
The colorfully carved details are eye-popping: A blonde palomino with a reddish-pink rose bouquet, and tassels of silver leafing glazed with oil tint, shows off colorful tack work and a salmon-colored scarf collar with gold clasps.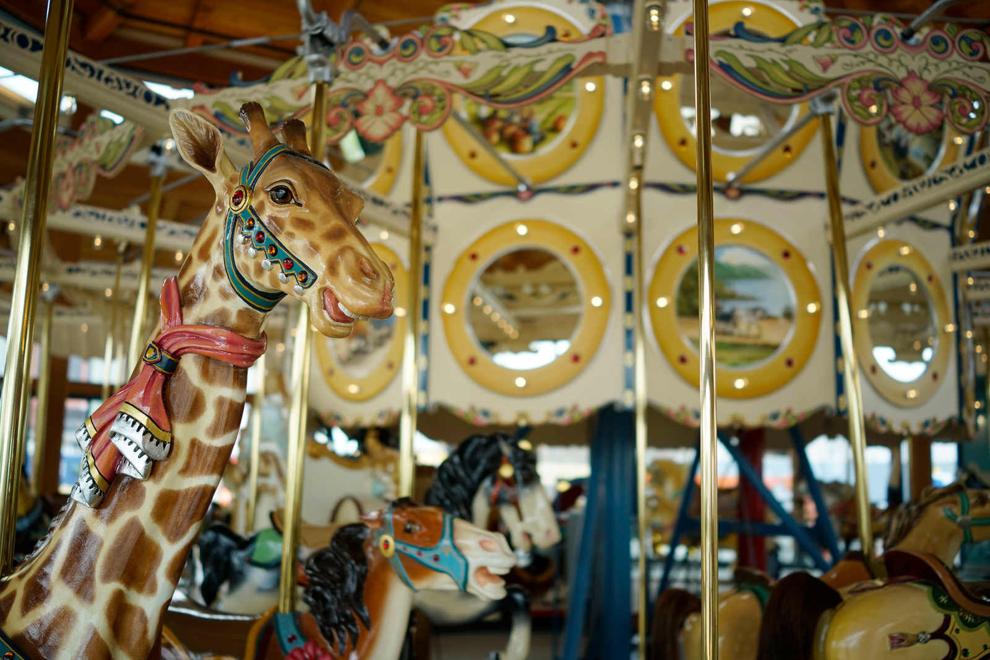 Another horse is adorned with a metal mesh bridle of gold and silver, its black mane suggesting waves of movement. The lone deer, with replacement antlers and reconstructed hoofs, has a sculpted coat of hair and multihued saddle blanket engraved with a dog's portrait, a painted rope coiled next to the saddle.
Colorfully painted and jeweled rounding boards encircling the merry-go-round celebrate local landmarks: the Pan-American Exposition, Maid of the Mist, a Pierce-Arrow automobile, the Buffalo Lighthouse.
The octagonal-shaped roundhouse, located on the Central Wharf, was designed by eco_Logic STUDIO. Tesla donated the integrated solar panels on the double-pitched metal roof that supply enough energy to power the carousel.
The 6,400-square-foot pavilion comes with tall windows and a 13-foot walkway around the inside of the roundhouse, plus a wheelchair-accessible entrance. The coated windows block 95% of the sun's UV rays to help preserve the menagerie. 
"The important thing is not just salvaging and celebrating this historical artifact but bringing a new attraction to Canalside that could be there for the next few hundred years," said Kevin Connors, a principle of the firm with David DeBoy.
"This is going to be one of those Instagram or selfie places, like Shark Girl," Connors predicted. 
The carousel is located about 500 feet from the Longshed, a wood building that opened last fall.
Italian immigrant Domenick De Angelis purchased the carousel in 1924 and operated it in two locations south of Boston, Mass., until his death in 1952. It continued in use until 1954, when it went into storage.
The De Angelis family kept the carousel underneath a skating rink, then under the family's wraparound house, and finally, in 1986, at a carousel restoration company in Mansfield, Ohio.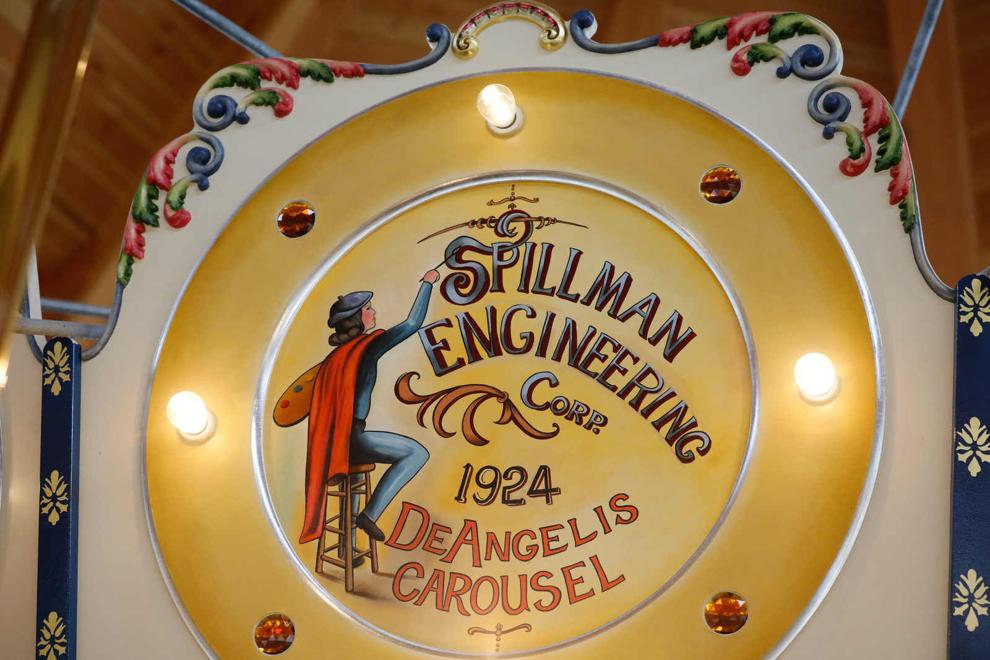 Antoinette De Angelis and her seven children rejected offers through the years to sell the carousel off piecemeal, believing Domenick would have wanted it to remain intact and enjoyed by future generations.   
"My father was from the old country and he fell in love with carnivals and wanted to own his own merry-go-round," said Dominick De Angelo, 85, the third of seven children who's coming to Buffalo on Saturday.
"My heart is bursting," said Clementina Brill, the eldest De Angelis sibling. "This is something we really wanted to do for years and years. My family is so proud."
Brill, her husband, two other siblings and a grandchild were presented a proclamation from State Sen. Sean Ryan thanking them for their stewardship.
Joseph De Angelis remembers operating the carousel seven days a week when he was 10.
"I never thought I would see the whole thing completed and done over," he said.
The idea for a solar-powered, locally made carousel on the waterfront was suggested in 2003 by Laura Briggs, now at the Rhode Island School of Design.
Wanting to advance the concept, Joan Bozer, a former Erie County legislator, asked professor Frank Santauzzi of the University at Buffalo School of Architecture and Planning to craft a model of a solar-powered carousel that she began showing people.    
"I said, 'Wow, that's pretty out there, Joan,' " Lt. Gov. Kathy Hochul recalled telling Bozer early on.
In 2010, two cultural consultants hired by Erie Canal Harbor Development Corp. to consider options for Canalside recommended a children's museum and a carousel. Explore & More Ralph C. Wilson Jr. Children's Museum opened in June 2019.   
The idea for a carousel picked up steam when Hauer-LaDuca, a Clarence architect and carousel enthusiast, read an article in The News in 2013 about bringing a carousel to Canalside and tracked down the De Angelis carousel in storage in Ohio.
The Margaret L. Wendt Foundation gave a $250,000 grant to Buffalo Heritage Carousel to buy the carousel in 2016, with the stipulation that the whimsical attraction be located at Canalside.
The merry-go-round's animal figures were taken out of storage in 2017, after 63 years, and sent to Buffalo to be restored.
Gretchen Ashton, 75, was shocked when she read the carousel she rode as a child in Houghs Neck, Mass., was coming to Buffalo.
"I couldn't believe it, except I read it about six times," Ashton said. "I couldn't believe I would have the opportunity to ride the carousel again at a time in my life that is coming to an end, so to speak. It's almost like a bookend."
Ryan stepped forward next with $600,000 in state funds toward the restoration of the wooden animals and machinery.    
But Ryan's offer came with a stipulation: To ensure access in a city where more than 40% of the city's youngsters live in poverty, rides could cost no more than $1.
The state came on board in 2016 when Gov. Andrew Cuomo announced a $1.2 million matching grant. The carousel, Cuomo said, "should be the jewel on the top of the Canalside crown."
Differences over siting, scale and funding, as well as complications in transferring the city-owned land to a state agency, had to be overcome between Buffalo Heritage Carousel and Erie Canal Harbor Development Corp. before the waterfront agency approved the carousel in 2019 with a 40-year, rent-free lease.
Bozer is overjoyed that her dream came true.
"It's so gorgeous, and I'm so thrilled," Bozer said. "Having a solar-powered carousel on the waterfront will enhance our image as a forward-thinking region."  
Before and after: Restored animals of the Buffalo Heritage Carousel
Watch now: Buffalo Heritage Carousel comes to life
The steel and wood frame was refurbished by an Ohio carousel company. The animals, rounding boards and scenery were repaired and painted for nearly four years in a North Tonawanda storefront, a block from the Herschell Carrousel Factory Museum.
Skilled volunteers worked under the supervision of carousel painter Rosa Patton and master carver Patrick Stanczyk. Hauer-LaDuca managed and directed the restoration, and fellow board member Helen Ronan oversaw the painter's workshop.  
Keybank Foundation and First Niagara Foundation matched New York State's $1.2 million matching grant. The Margaret L. Wendt Foundation contributed $500,000. State Sen. Christopher Jacobs also secured $500,000 in state funds. Other contributions included $464,000 from the Buffalo and Erie County Greenway Fund and $250,000 from each the Russell J. Salvatore Foundation and the Ralph C. Wilson Jr. Foundation.
More than $400,000 was raised from carousel animal adoptions, El-Behairy said.
Mark Sommer covers preservation, development, the waterfront, culture and more. He's also a former arts editor at The News.