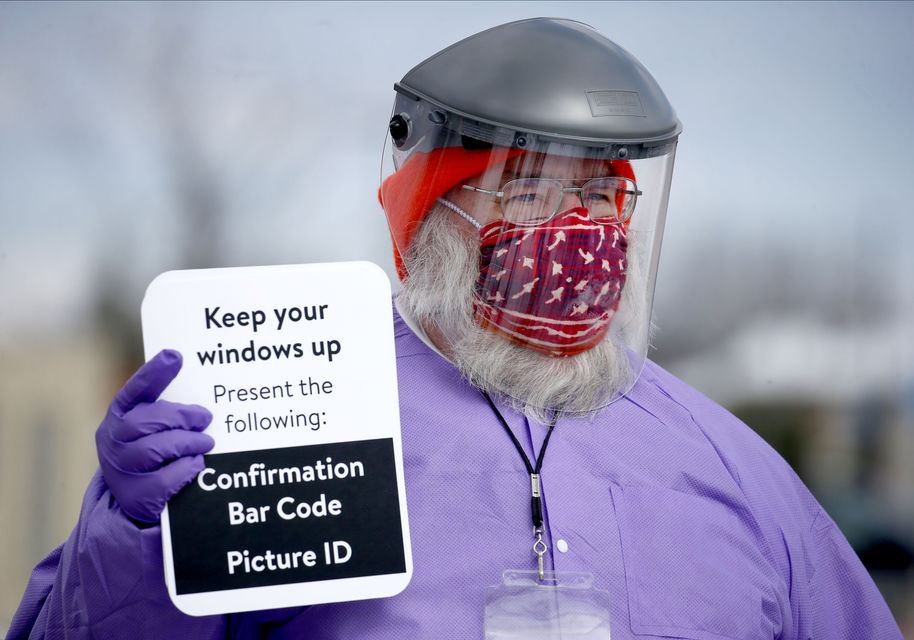 Gov. Andrew M. Cuomo and Sen. Kirsten Gillibrand both used military imagery last week when announcing initiatives to ramp up testing and contact tracing for coronavirus.
Cuomo described plans for New York to build an "army" of individuals tracing the contacts of those exposed to the virus, part of a testing, tracing and supported isolation protocol, or TTSI. Former New York Mayor Michael Bloomberg will coordinate the effort, Cuomo said, backed by a $10.5 million donation to the cause from Bloomberg's charity.
Gillibrand, D-N.Y., authored a proposal with Sen. Michael Bennet, D-Colo., to create a national "Health Force," which would put thousands of Americans to work in contract tracing and eventually to help with vaccinations.
Promoting legislation as a type of "defense act" has always been a reliable way for a bill to win friends. In the case of testing and tracing for coronavirus, the comparison to funding a war operation rings true. Our country needs to dedicate vast resources to testing if we are to go on offense against coronavirus and break its iron grip on our economy.
After six weeks of social distancing and self-isolation in New York State and elsewhere, policymakers are grappling with how to reopen businesses and put people back to work.
One approach could be called the "damn the torpedoes, full speed ahead!" plan. Governors in some states are letting down their guard against Covid-19, allowing many businesses to open their doors. (If you've been itching to visit a tattoo parlor, Georgia has your back.)
In New York, the state where more than 15,300 people with coronavirus have died, Cuomo is instituting a more sensible and cautious plan of attack, one driven by data. Last week Cuomo announced in Buffalo that Lt. Gov. Kathy Hochul will oversee the "reimagining" and reopening of Western New York's economy, based on when it is safe to do so.
Cuomo met Tuesday at the White House with President Trump, who publicly stated his support for the governor's goal of doubling New York's testing for coronavirus, from 20,000 to 40,000 per day. That would be an impressive achievement that would go a long way toward helping our citizens break out of their cloisters and get our businesses moving again. But experts differ widely on how much testing is needed.
The Harvard Global Health Institute released an analysis showing that the U.S. needed to reach 500,000 to 700,000 daily tests in order to significantly reopen the economy by mid-May. The U.S. has been averaging about 150,000. The recommendation works out to a daily minimum of 152 tests per 100,000 people. Thus far, the report says, only the small state of Rhode Island has met that standard.
The New York Times reported that New York is averaging 118 tests per 100,000 people. If the state hits the goal of 40,000 daily tests, that equates to about 206 per 100,000, a very healthy rate by that Harvard standard.
But a different Harvard report calls for up to 20 million tests a day. That report was issued by a panel that included more than 45 experts in health, science and economics, convened by the Edmond J. Safra Center for Ethics. The panel called for the equivalent of a Marshall Plan for testing, setting a goal of 5 million daily tests in the United States by early June to safely open just parts of the economy, and 20 million tests each day by mid-summer to fully get the nation back in business.
The panel estimates 20 million daily tests would cost $15 billion per month, but the program would prove its worth by mitigating the damage of another wave of coronavirus-caused shutdowns.
Danielle Allen, director of the Safra Center, says that only massive-scale testing and tracing can liberate us from stay-at-home orders. Allen proposes the creation of a Pandemic Testing Board, which she compares to the War Production Board created during World War II. (There's that military terminology again.) The board would comprise leaders from various segments of business, government and academia. It would develop a plan to scale up testing and be empowered to solve supply-chain problems – such as the shortage of swabs and reagent chemicals – that have held back testing in New York and elsewhere.
Bloomberg's efforts will initially focus more on downstate, in coordination with New Jersey and Connecticut. We hope his enthusiasm and his financial contributions do not run out before the program extends to Western New York.
Gillibrand is pushing for her proposal to be included in the next stimulus bill passed by Congress. It faces an uphill slog in the Republican-controlled Senate, but the fight will underscore the need for thinking big. As in wartime, we will need bipartisan unity to defeat our viral enemy.
MONDAY: The rise in antibody testing
What's your opinion? Send it to us at lettertoeditor@buffnews.com. Letters should be a maximum of 300 words and must convey an opinion. The column does not print poetry, announcements of community events or thank you letters. A writer or household may appear only once every 30 days. All letters are subject to fact-checking and editing.