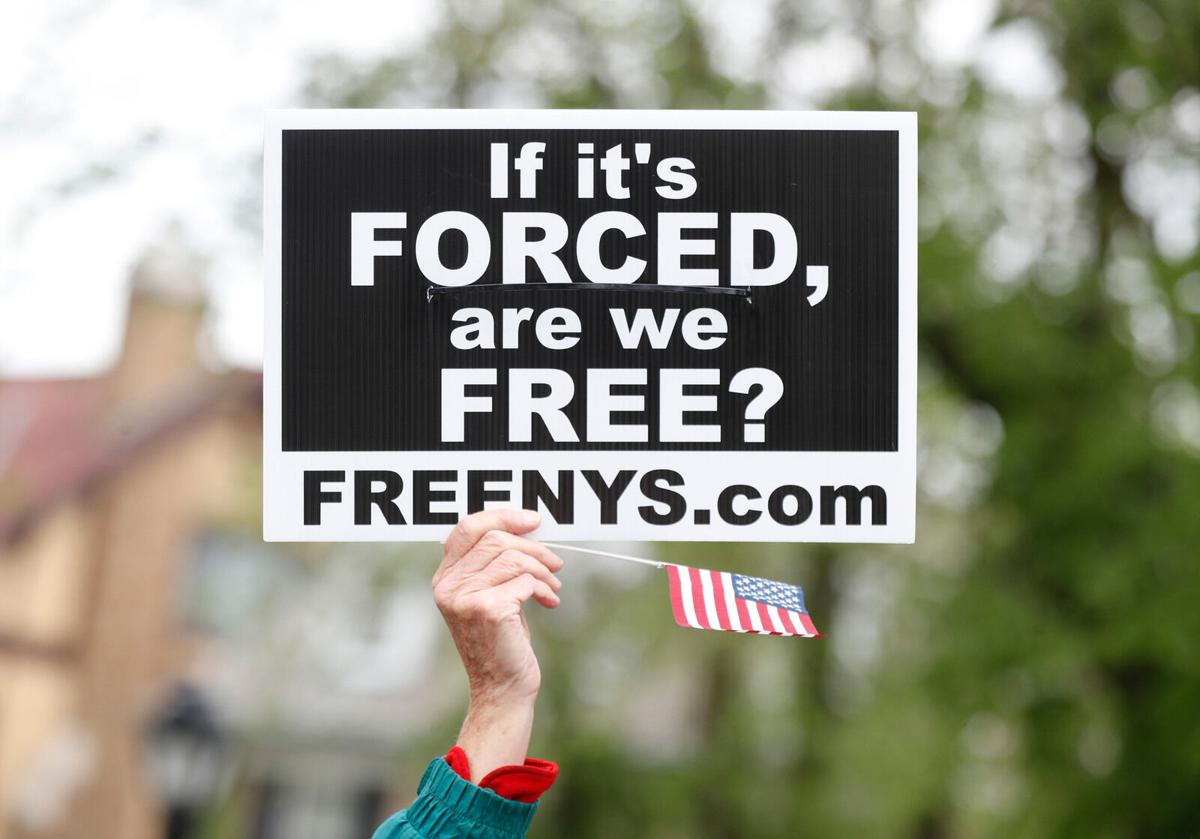 The Covid-19 positivity rate has spiked in Western New York's rural areas, where officials blame vaccine politics and inaction by state government for the failure to stop the spread of the deadly virus.
Chautauqua County on Saturday had the third-highest Covid-19 positivity rate among New York's 62 counties, according to data from the state Health Department. The county's positivity rate for the most recent 24-hour period was 23.8%, behind only Schuyler (29.2%) and Seneca (25.3%) counties.
"It's frustrating," Chautauqua County Executive Paul M. Wendel Jr. said "We're kind of seeing a perfect storm right now, with everything that's come in."
While Erie County leaders continued to alert residents about rising percentages of Covid-19 cases – Erie County on Saturday had a 12% positivity rate – data indicated the situation is much worse in the region's rural counties.
Wyoming County had a positivity rate of 22.6%, followed by Cattaraugus County with 17.9% and Allegany with 15.7%.
The 10.15% positive test rate for Western New York was the highest in the state, and nearly six times greater than the lowest region, New York City.
Wendel blamed state leaders for focusing resources on large urban areas like New York City and Buffalo at the expense of vaccination and testing needs in the state's rural counties.
"We have never had a state-run testing center or state-run vaccination clinic," Wendel said. "Right now, we don't have the testing supplies that we had before. Why isn't the state providing that service? You took care of the big cities. Now come back and take care of the small cities."
Hazel Crampton-Hays, press secretary to Gov. Kathy Hochul, said in a statement, "Governor Hochul is dedicated to getting vaccination rates up and protecting New Yorkers, and she has been leading an aggressive, multifaceted effort in response to rising positivity in Upstate regions, including deploying vaccine pop-up sites, conducting an ad campaign to encourage New Yorkers to get vaccinated, adding incentives for the vaccine hesitant, and coordinating with partners on the ground." 
She said the state has held #VaxToSchool pop-up vaccination clinics focused on teenagers in Chautauqua County, including three in Mayville last month.
Wendel sought to cast some doubt on the high positivity rate, saying if more people throughout Chautauqua County were tested, he believed the percentages would go down.
"We're not testing nearly as many people as we were," he said, adding that in the summer, the county was testing between 2,000 and 3,000 people per day and had zero positive cases during a four-day period in August.
Western New York's virus numbers are hot and getting hotter. Heading into a season of holiday gatherings, there's little reason to think they're going to settle down.
Saturday, 395 people in Chautauqua County were tested and 94 were positive for coronavirus, data showed.
"If we were to go out and start to test the way we tested in the beginning of this, those numbers would all start to drop, without a doubt," Wendel said.
Still, unlike Erie County Executive Mark C. Poloncarz, Wendel said he does not plan to issue a countywide mask mandate.
"Each county focuses on their individual situation," Wendel said. "We discussed it. My team, we message and talk every day. The question I ask: 'Does anybody feel we need to issue a mandate?' And they all have the same position, that the mandates are just not the way to do it."
Wendel said backlash against vaccine mandates for health care workers and other professions has contributed to his constituents refusing to get the jab. Other Chautauqua County residents are viewing the vaccine not as a public health response, but as a political statement distinguishing Democrats from Republicans.
If things get much worse, Erie County Executive Mark Poloncarz warned Wednesday, the county may have to order all elective surgeries canceled or postponed at the area's hospitals.
"The problem is, it was politicized," he said of the vaccine. "In certain parts of my county, yes – 100%. I'm not putting words in people's mouth, but we've heard that resonating time and time again."
Contact tracing by county workers indicated the virus was not being spread by large gatherings, but through small at-home visits with family and friends, he said. The county is also seeing a spike in flu rates, in addition to the Covid-19 uptick.
"When people are watching their friends die and still refusing, I think the powers need to look at it and say, what's our messaging? What are we doing? And how do we change it?" he said.