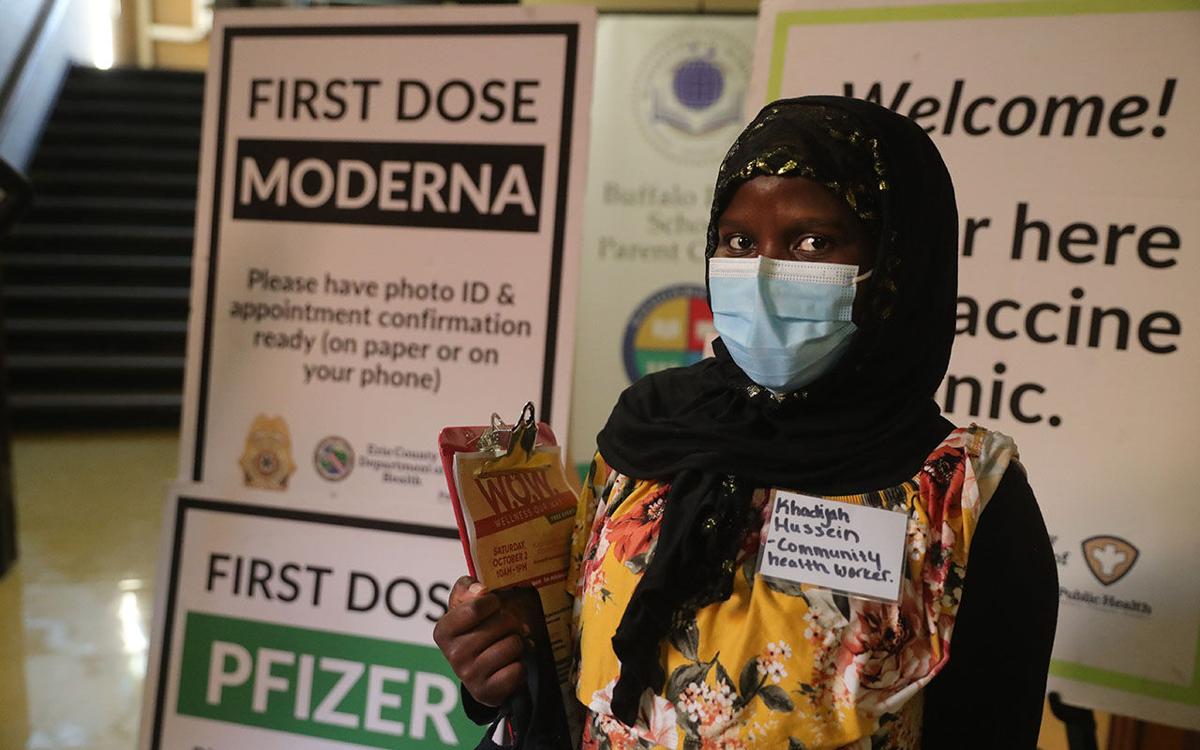 Khadijah Hussein initially was hesitant to get the Covid-19 vaccine.
But after the 23-year-old talked with medical professionals and saw her boss go through the process of getting vaccinated, she decided to get the shots.
Last week, Erie County crossed the 2,000 mark for the number of Covid-related deaths while towns such as Hamburg, West Seneca and Tonawanda had the highest number of confirmed cases.
And on Saturday, she was part of an effort to reach fellow Buffalonians who have some of the concerns that she used to have.
"When it's somebody that they can relate to, it's easier to convince them," Hussein said.
Hussein, a community health worker and family advocate with the Community Health Worker Network of Buffalo, took part in a community wellness event at Lafayette High School that included a Covid-19 vaccination clinic.
About 1,000, or less than 2%, of the 51,000 students attending public colleges and universities in WNY have yet to submit proof that they are fully vaccinated, and most of them are enrolled at ECC.
Saturday's effort, which was open to all members of the community who are vaccine-eligible, didn't just begin when the doors opened at 10 a.m. It started a week ago, when organizers started spreading the word during other events at the high school and International School 45 across the street.
Organizers also went door to door in the neighborhood sharing information, and outreach efforts involved reaching students, parents, caregivers and the general public.
And there was more than just needles into arms Saturday at the high school – a DJ played music outside while attendees were offered healthy smoothies and kids operated drones in the school auditorium.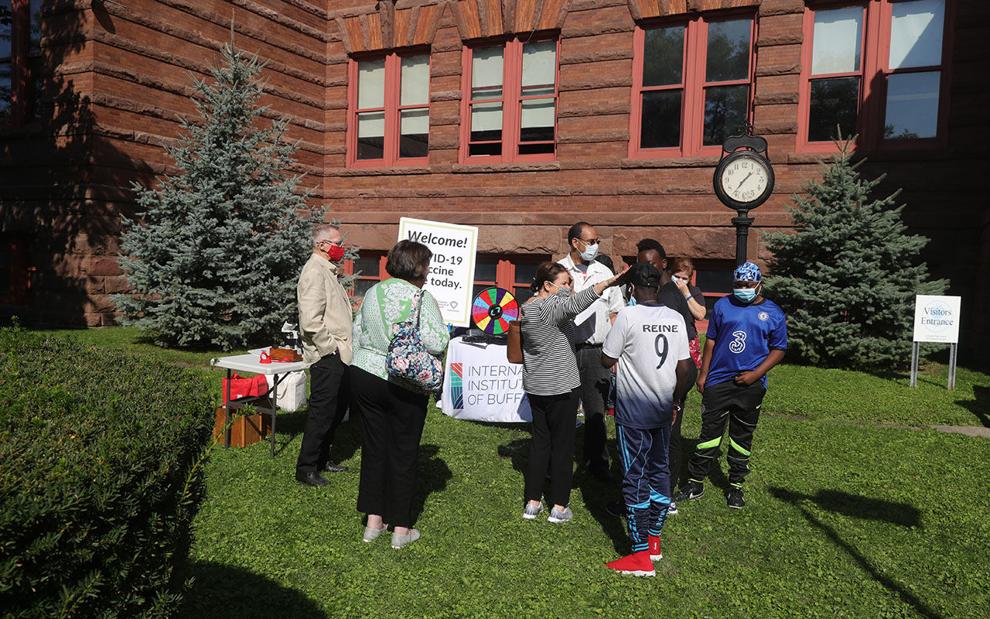 It's part of a strategy employed by the Erie County Department of Health "where people of and from our communities are talking to fellow community members, making sure that they have their questions answered and that we can really meet them where they're at in a community and culturally responsive way," said Jessica Bauer Walker, executive director of the Community Health Worker Network.
Some of the key elements of the effort include having trusted members of the community responding to questions and concerns, as well as offering more of a holistic health and wellness event, rather than simply a vaccine clinic, Bauer Walker said.
Whether it's for religious reasons, fears about long-term effects or because they believe it infringes on their freedom, some health care workers have decided to leave their careers rather than get a shot.
Members of various immigrant and refugee communities were on hand Saturday and were part of the prior outreach.
In Erie County, 65.9% of the population has at least one dose of the vaccine, according to data from the state Department of Health. Vaccine rates vary by municipality and by neighborhood.
Serea Walker's role on Saturday was to talk to other young people about their concerns about getting the vaccine.
The 14-year-old, who said she had doubts about the vaccine before she got it, said a variety of unfounded rumors have led to vaccine hesitancy among those in her peer group.
Western New York showed one of the largest percentage increases in the state, from 81% a week ago to 87% today.
Walker said she shares with them her own vaccine experience. "I'm vaccinated. Nothing bad happened to me," she tells other young people. She also asks them to think about how they would feel if an unvaccinated relative got sick with Covid-19 and there were steps they could have taken to prevent spread of the illness.
"This is protecting people that you care about," she said. "It's not even just about you, it's about your loved ones."
Hussein, who was born in Kenya and is Somali Bantu, said she is the only person among her parents – who were born in Somalia – and siblings who is vaccinated against Covid-19.
Growing up, her family pursued what would be considered more natural remedies, unless a health issue was critical, because of the high costs of health care, she said.
Some of the people she encounters who are hesitant to get the vaccine have other problems that are a higher priority in their lives than getting the vaccine.
Helping them to address those issues, whether it be housing or putting food on the table, is often a necessary step before trying to convince them to get vaccinated, Hussein said.
"We come with a wholistic approach," she said. "And that's also what helps people get comfortable with us. So it's not just all about the vaccine and that's it."