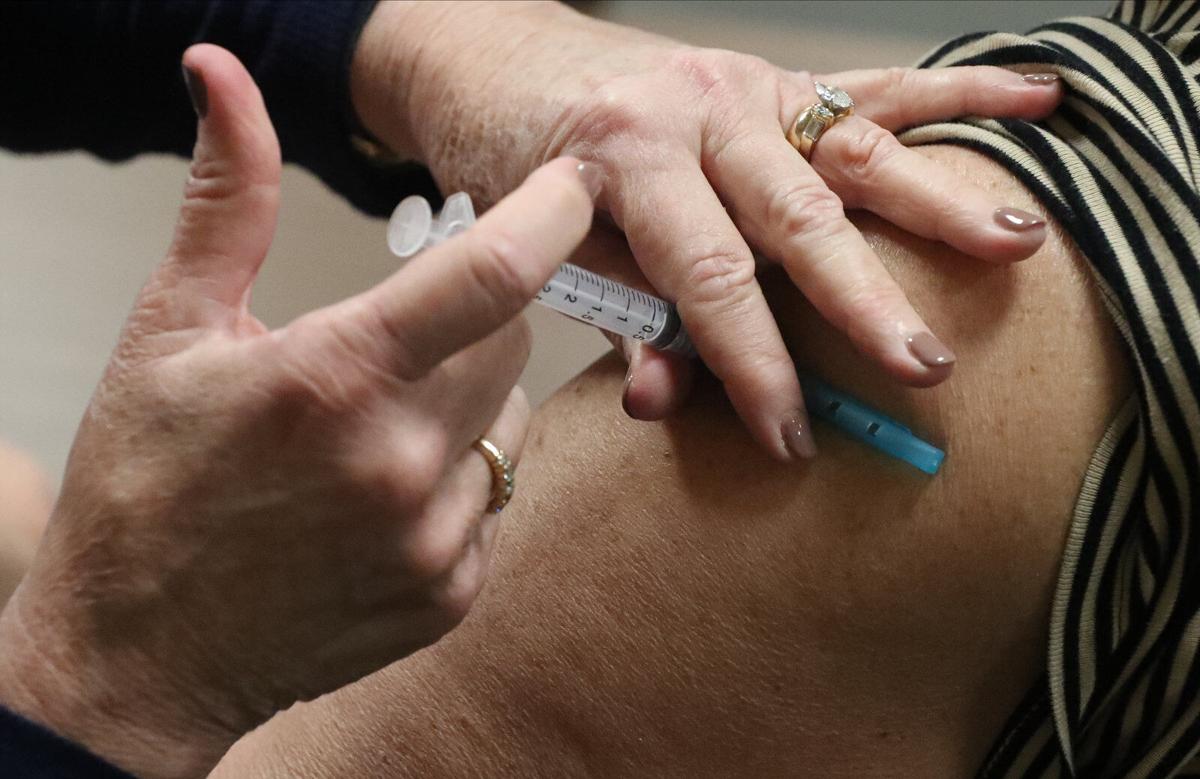 For months, people desperately struggled to get an appointment for a Covid-19 vaccination in Western New York.
This week, vaccination appointments are available across the region from all county health departments. Open slots no longer disappear from websites in the blink of an eye.
As of 3 p.m. Wednesday, more than 3,500 appointments were available from county-run clinics in Western New York for the Moderna vaccine between Wednesday afternoon and Monday evening.
The days of the mad scramble appear to be over. Now, it's actually possible for clinics to come and go without being fully booked. That happened Wednesday in Batavia.
Erie County Executive Mark C. Poloncarz said during his Tuesday media briefing that on Monday afternoon, he was on a sidewalk trying to entice passersby to head to a pop-up vaccination clinic in a Main Street church.
"Actually, it's been most noticeable in Erie County, but I think people are noticing it everywhere," said Dr. Nancy Nielsen, who heads a regional committee on vaccination planning.
The number of open appointments comes as Western New York leads the state in the rate of new Covid cases. Wednesday, the state's average positivity rate was 2.97%, but in Western New York, it was 4.8%.
"It is a civic duty, in my opinion to take the vaccine," Gov. Andrew M. Cuomo said during a Wednesday media conference call.
And it no longer requires a desperate scramble.
Three major factors are driving the sudden availability of the vaccines: increased supplies, more options for patients and the fact that about 40% Western New Yorkers already have received at least one dose of the vaccine, thus reducing the number of those still seeking a shot.
"We're still doing more (shots) than we were a few weeks ago, but we're seeing a little bit of a lag. We're seeing that around the western region right now," said Daniel J. Stapleton, Niagara County's public health director.
"I think it's reflective of the fact that we are beginning to see, up until (Tuesday), a fairly steady stream of supply which allowed those appointments to be made and fulfilled," said Steve Giroux, who owns six pharmacies in Western New York.
"I think there was this press to get a vaccine, and now we are up to 40% of our people who have gotten at least their first shot," said Nielsen, senior associate dean of the Jacobs School of Medicine and Biomedical Sciences at the University at Buffalo and also a former president of the American Medical Association.
There also could be a fourth factor: fewer people seeking shots because of their own reluctance to be immunized. Tuesday's halt in Johnson & Johnson immunizations, because of six women with blood clots out of more than 6 million doses administered, won't help.
"I think the issue with the J&J vaccine is a blip in the road and maybe is going to contribute to some of that vaccine hesitancy. It shouldn't, but it may and we have to recognize that and deal with it," Nielsen said.
This week, Western New Yorkers who wanted to book a vaccine appointment had plenty of choices.
Erie County, which set up a vaccine registration website this week, had more than 2,400 appointments available late Wednesday morning for a Monday clinic at KeyBank Center. Four hours later, there were still 2,100 KeyBank Center appointments available.
A month ago, it would have been typical for such appointments to disappear in a few hours.
Niagara County had a slower-than-usual response to its offering, at 11 a.m. Tuesday, of 2,210 appointments for first doses at clinics Wednesday and Thursday.
Twenty-four hours later, there were still more than 1,000 appointments left, although by early Wednesday afternoon, as word circulated, they had disappeared.
"In the past, it might have taken us 45 minutes to go through 1,000 (appointments)," Stapleton said. "Tuesday, we went through about 600, and it took us a few hours."
In Batavia, to keep good doses of vaccine from going begging, Genesee County began to allow walk-ins at its site at Genesee Community College.
Despite that, there were still 200 appointments left at Wednesday's Batavia clinic an hour before it closed.
Nola Goodrich-Kresse, Orleans County public health educator, said the county offered walk-ins at a Monday clinic in the Ridgeway Fire Company hall, and was prepared to do so again Thursday at that site, if there were doses left.
In the Southern Tier, there were small numbers of appointments available late Wednesday for Thursday clinics in Olean and Wellsville, as well as more than 1,000 for a Friday clinic at SUNY Fredonia.
Even the state mass vaccination site at UB's South Campus had a few dozen slots available, primarily in late May.
Those were apparently available because of cancellations, which have become rather common as more spots open up, pharmacy owner Giroux said.
"We had a fair number of cancellations, which was a bit surprising, but I think it's attributable to people from fairly substantial distances finding an appointment, grabbing it and then finding they can get one more proximate to where they live," Giroux said.
His Middleport pharmacy has vaccinated 1,800 people, and the other independent drugstores he owns – in North Tonawanda, Wheatfield, Depew, Medina and Oakfield – each have handled almost as many.
"Initially they were booking up really quickly. The ones that we had booked for (Tuesday), not as fast," Giroux said. "Prior to that we would sometimes open up the portal on our website and it would fill in a matter of couple of hours. As of this last week, not as quickly. Maybe it took a couple of days."
A check of the Vaccine Finder website turned up available doses Wednesday at nearly 50 chain and independent pharmacies within 25 miles of downtown Buffalo.
Other sites, such as UB's WNY Vaccine Hound, turned up other offerings that weren't on the national Vaccine Finder site.
"More pharmacies are opening up, more state-run sites are opening up, FEMA is doing more nationally. It's a good thing to have," Niagara County's Stapleton said. "The key for any good plan is that's it's flexible."