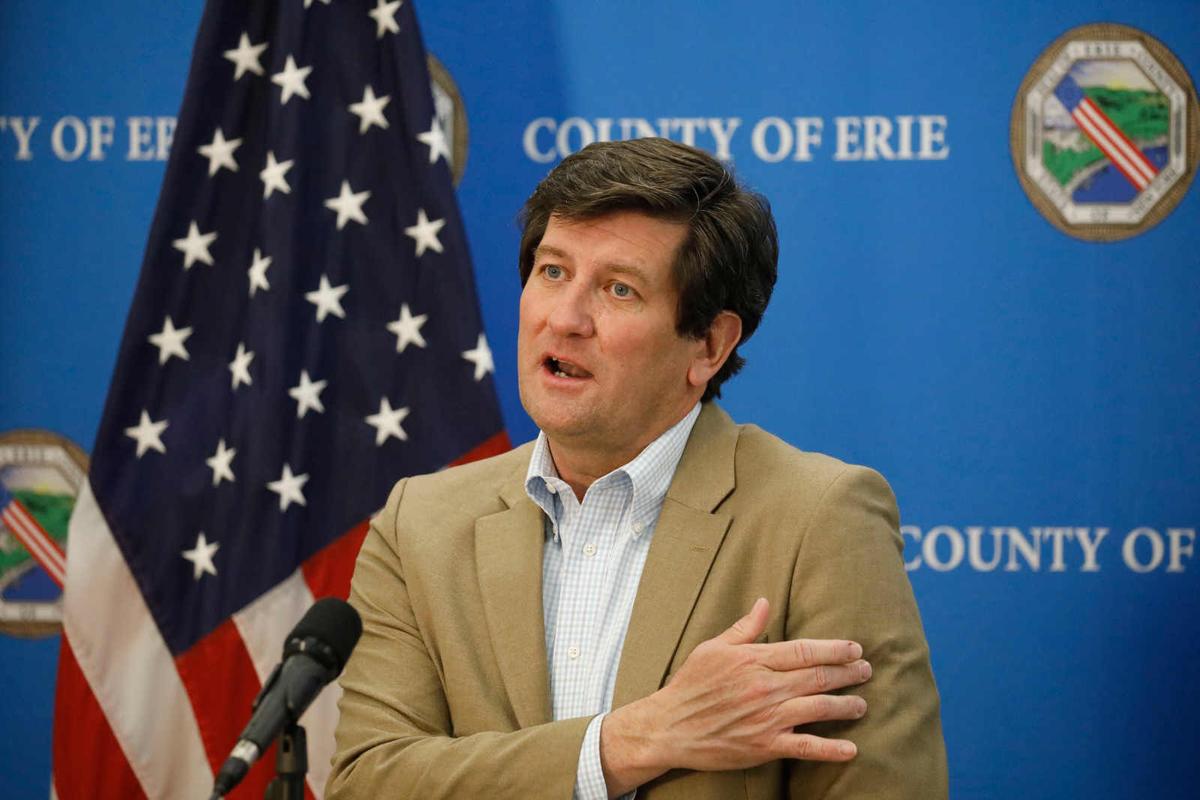 It is no secret that far fewer senior citizens are dying of Covid-19 than a few short months ago.
But what Erie County Executive Mark Poloncarz calls "distressing" is the number of younger people who are now leaving families to plan their funerals.
Last month, 11 of the county residents who died of Covid-19 were under the age of 50. The last time Erie County saw as many residents die in that age range was April of last year.
But the circumstances were far different. In April 2020, the county recorded 286 Covid-19-related deaths.
So far, reported deaths for last month have totaled only 91.
Younger people accounted for only 4% of the deaths in April a year ago. Last month, they accounted for 12% of them – more than one out of every 10 fatalities.
"Unfortunately, based on the information we're hearing from hospitals, I'm sad to say that the individuals that are in hospitals, a lot of them are in this under-50 age category," Poloncarz said Tuesday at his weekly Covid-19 briefing. "And I'm fearful that some of them are going to perish as a result of Covid-19."
Overall deaths for April, across all age groups, have risen by 60% over March. The increase, from 57 cases in March to 91 reported so far for April, breaks what had been a sharp, three-month-long decline in Covid-19-related deaths.  
The high number of deaths in April dimmed an otherwise positive report from Erie County Executive Mark Poloncarz last week.
Poloncarz said that of the 91 people who died, only two were fully vaccinated prior to becoming infected with the virus, and both of them had seriously compromised immune systems beforehand.
It can take weeks before all reported deaths for a month come into the county Health Department, so it is still possible that the county may learn of even more deaths for the under-50 age group for April. That would then make April the highest month for Covid-19-related deaths for that age range.
"Too many people have died in the last few months that probably would be here if we had gotten them vaccinated," Poloncarz said.
The push to get more individuals to roll up their sleeves and get a shot has gotten much harder in recent weeks. The county Health Department has seen such reduced demand for new vaccinations that it has been scaling back the number of staff and hours at its three main mass vaccination sites – the Erie Community College North and South campuses and KeyBank Center.
The county has also stopped requesting large shipments of the Moderna vaccine. The county has so many leftover doses that it didn't ask for any this week, though the county did receive 1,170 doses of Pfizer, which the county has been using to meet newer demand to vaccinate those ages 16 and 17. The county also received 500 doses of the one-shot Johnson & Johnson vaccine, which has aided the county's vaccination of homebound residents. 
These days, the Health Department is taking the vaccine out into the community and setting up temporary vaccination sites that are closer to where people live . Pharmacies, doctor's offices, colleges and hospitals are also getting more vaccine directly from the state.
The county is communicating with physicians' offices, especially pediatric offices, to provide them easier access to the Pfizer vaccine, which is currently the only vaccine in the U.S. that has been cleared for use in teenagers ages 16 and 17. Providing such access is tricky since Pfizer is shipped out in large quantities and must be stored at ultra-cold temperatures.
Health Commissioner Dr. Gale Burstein said she is working to send the Pfizer vaccine to physicians in smaller, more usable batches.
Meanwhile, the county has been promoting other efforts to attract young people who are either noncommittal or hesitant about getting vaccinated.
"The sooner we all get the shot, the quicker we can all get through this," said Alex Gombos, 17, who came to the clinic on crutches.  
On Saturday, the county held three prom-themed teen vaccine clinics – described by Burstein as "the most fun vaccine clinics ever" – with festive decorations and free giveaways and gifts for those ages 16 and 17 who got vaccinated. Nearly 1,000 high school students and family members got vaccinated at those events, Burstein said.
The county has also partnered with Resurgence and Flying Bison brewing companies to launch its Shot and a Chaser program that rewards people who get vaccinated at a local brewery pop-up clinic with a free beer or alternate drink of choice.
The first Shot and a Chaser clinic will be held Saturday at Resurgence Brewing Company. The next will be held on May 12 at Flying Bison Brewing Company. Anyone interested can register for an appointment online or call (716) 858-2929. Walks-ups won't be turned away, either, Burstein said.
As demand for the Covid-19 vaccine continues to fall, the county is taking a new approach. It's offering free beer.
Poloncarz said that more people have already signed up for the Shot and a Chaser clinic at Resurgence this Saturday than have shown up for first-dose vaccinations at any of the county's three mass vaccination clinics in recent weeks. A couple other local breweries, and a distillery, have also expressed interest in partnering with the county to host similar vaccination clinic events.
"I know we've almost filled up to a third of the spots available for Saturday," Poloncarz said, "and we expect them to get much busier."