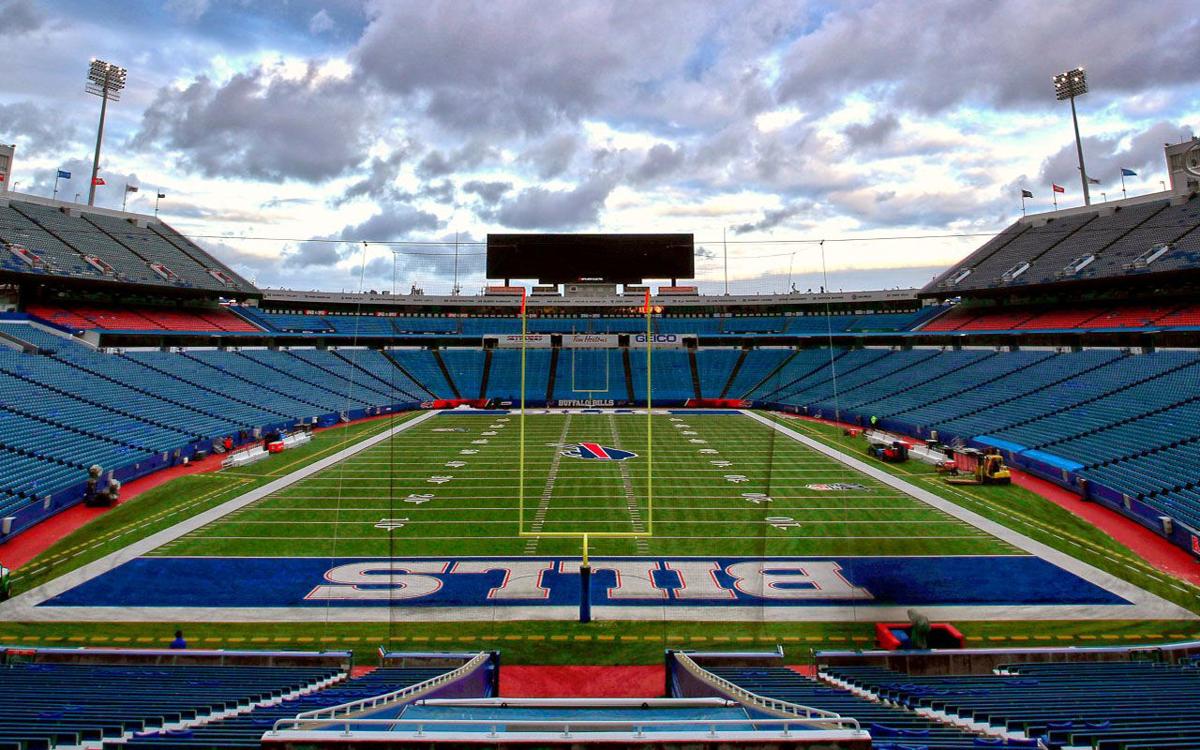 The full-throated roar of Buffalo Bills fans may be heard during next season's games at Highmark Stadium – but only if they are vaccinated and can prove it. Same goes for next season's Sabres games.
"Our goal is to have a 100% full house for the Bills and the Sabres, starting in the fall," Erie County Executive Mark Poloncarz said during Tuesday's weekly media briefing.
Western New York is once again a statewide hot spot for Covid-19 following a steady monthlong climb in new cases.
Poloncarz announced the vaccination policy after expressing deep disappointment at the sudden drop-off in people making vaccine appointments. 
Unlike past weeks, when Poloncarz warned that vaccine "eligibility does not equal availability," Tuesday's media briefing was filled with repeated pleas for people to take same-day and next-day county clinic appointments that were going unfilled. He also rolled out a new county vaccination appointment system that can be found at erie.gov/covid19/vaccine. 
Poloncarz spoke of the "tremendous slowdown" in people making vaccine clinic appointments and noted that on Monday, he was among those trying to recruit people off the street to take open appointments at a pop-up vaccination clinic at a Main Street church in Buffalo.
Erie County officials said Tuesday that young adults are now the most likely to catch the virus, and it is more common for someone under age 65 to be hospitalized than it is for seniors.
"I'm a little surprised that we've seen this rapid move from just so much demand and not enough appointments, to where we basically have walk-in status," he said.
His announcement about the stadium vaccination policy is part of a broad new campaign to move toward herd immunity by giving residents who might be hesitant or unwilling to get vaccinated a greater incentive to do so. 
"You want to go to a Bills game later this year?" he said. "Get vaccinated with your first dose of the Moderna vaccine today. You get your second dose of the Moderna vaccine in four weeks. Two weeks later, you'll be able to fill out the pass, and in the fall, you'll be cheering on Josh Allen at the stadium."
The new requirement would eliminate the need for the mass testing of fans for Covid-19 prior to game days, Poloncarz said.
As of Thursday, only 3.6% of the Niagara County residents who have received at lease one dose of the vaccine are Black, according to the state Health Department's vaccine tracker.
The state's Excelsior Pass app would be used for officials to verify people's vaccination status.
Religious and medical exemptions will not be accommodated, he said.
"Some people are like, 'Well that's unfair,' but there's no God-given right to attend a football game," he said. 
Poloncarz said he is making his announcement now so that everyone will have enough time to prepare in advance of preseason ticket sales in July. He also said he has spoken with Bills officials about the county's new policy.
"I believe they support it because we want to see all our fans back in the stadium this year," he said.
Dr. Gale Burstein, county health commissioner, said anyone who needs a replacement vaccine card may call 858-7687 and press 5 on the menu.
The Bills responded in a statement Tuesday, saying, "As we did last year, we will continue to cooperate and comply with all New York State and local government regulations regarding our sporting events."
The county has the right to require vaccinations for games at the newly renamed Highmark Stadium and Key Bank Center because the county owns both of those buildings, Poloncarz said. The county doesn't need state approval to impose the vaccination requirement, he said.
The state Department of Health responded with a statement that didn't mention the county's new policy or address the county's role in setting game attendance standards.
"The New York State Department of Health continues to work closely with the Buffalo Bills on the plan to return fans to the stands this fall, in accordance with the State's guidance on professional sports competitions with spectators and all applicable laws and regulations," spokeswoman Erin Silk said. "We encourage all New Yorkers to receive the Covid-19 vaccination ... As always, the Department will continue to review the State's guidance, in consultation with our partners in industry and local government, and make adjustments as necessary."
Unanswered questions remain regarding the implementation of the vaccine policy, including how this policy would affect fans from out of state or out of country whose vaccination status can't be verified through a state app, such as Bills and Sabres fans who live in Canada.
There were also concerns raised about fans who don't have smartphones or access to the Excelsior Pass app being able to prove they were vaccinated.
And some raised questions about children who might normally attend games but who are not yet eligible for vaccination, though Poloncarz said he anticipated many more children would be eligible to receive the vaccine before the fall season starts.
Poloncarz said the county vaccination requirement does not extend to the Bisons baseball stadium because the county doesn't own that facility, though he hoped that the Bisons – or whatever team occupies the baseball stadium – would follow suit and adopt the same vaccination requirements.
In regard to questions about whether the vaccine attendance policy would apply to Bills and Sabres players and staff, the county executive said he would let those teams speak to that issue separately.
Many people hearing the news greeted the announcement with wholehearted support and urged other sports teams and organizations to adopt similar restrictions.
But many others were highly critical of the announcement, saying that the restrictions amounted to government overreach, an assault on personal freedoms and health care privacy.
County Comptroller Stefan Mychajliw released a statement and video threatening to sue Poloncarz for his "dictatorial scheme."
He said: "Mark Poloncarz should spend less time killing businesses, ruining our economy, and destroying the dreams of die-hard Bills fans watching games in person again."
Rachel Bush, a model and wife of Bills safety Jordan Poyer, was among the first to heap criticism on Poloncarz for his vaccination requirement policy.
"It would do him well to remember he's there because he was elected by the people. Very replaceable," she tweeted. "It's absurd that they are requiring a vaccine (that not all agree with) to enter a stadium that tax payers in Erie county pay for. Should not be tolerated."
Poloncarz, however, said that while everyone has the right to refuse the vaccine, they don't have the right of stadium access.
"You have no guaranteed rights in the Constitution to inflict illness on other people, just like you have no guaranteed right in the Constitution to attend a Buffalo Bills football game," he said. "You can be removed at anytime. Our goal is to ensure that everyone in there is safe."