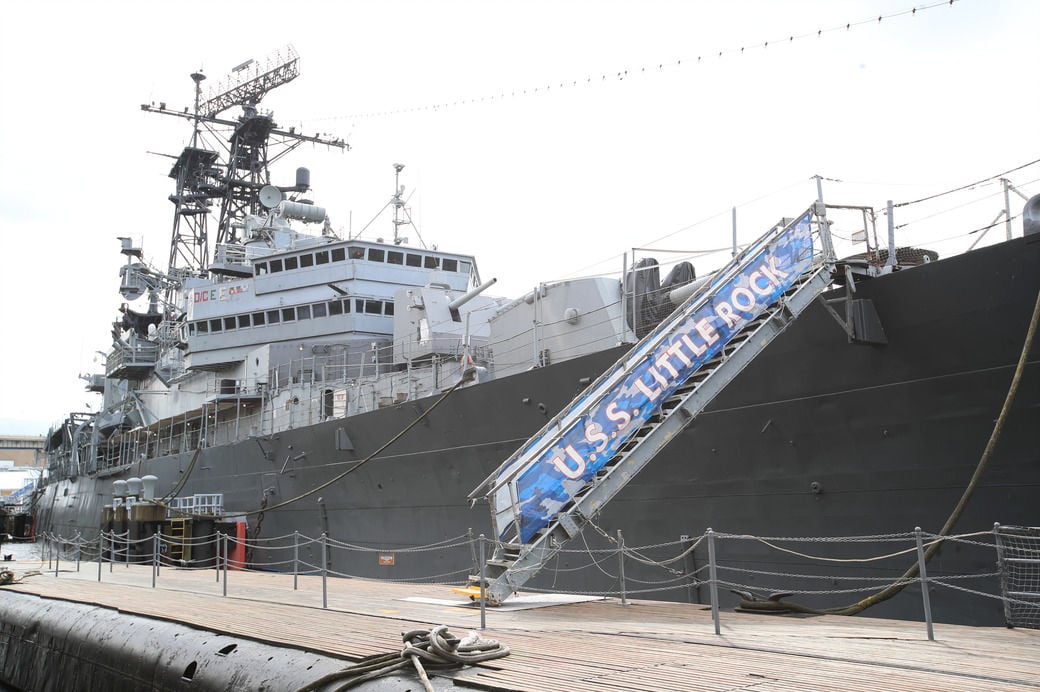 The decommissioned USS Little Rock at Canalside is volunteering to be a floating hospital for people testing positive for the novel coronavirus.
Taking an all-hands-on-deck approach, Buffalo and Erie County Naval & Military Park officials said Friday the ship and the entire park could play a role in the local health care delivery system to combat the spread of Covid-19.
Paul Marzello, the park's president and CEO, offered use of the ship and park to Erie County officials, who confirmed they have received the offer.
"Right now the USS Little Rock could accommodate between 175 and 200 people, depending on distancing requirements," said Shane Stephenson, the park's director of  museum collections.
The public opening of the military park for the 2020 season has been delayed because of the highly contagious virus.
But elected officials and health industry leaders are scrambling to increase hospital bed capacity in anticipation of a surge of patients infected by the virus.
But that is not expected to be enough.
Mark Sullivan, president and CEO of Catholic Health, has said the St. Joseph Campus in Cheektowaga will handle 20% of patients expected to need hospitalization and the 5% who will need intensive care.
Erie County Executive Mark Poloncarz has also been in discussions on the possibility of  using the former Women & Children's Hospital and the Buffalo Grand Hotel, formerly the Adam's Mark Buffalo, for additional hospital beds to treat Covid-19 patients.
The Little Rock, a light cruiser commissioned at the end of World War II, was originally designed to accommodate 700 shipmates.
In its current role as a museum, it is outfitted with plumbing and other utilities.
"My understanding is that the Army Corps of Engineers would have to bring in equipment to make it suitable for this type of service," Stephenson said.
Using a decommissioned naval ship might not be as unusual as it sounds. The Navy has already sent two hospital ships to New York City and the West Coast.
"The role of the military in the past has been significant in assuaging the public's fears in times of crisis,"  Marzello said. "Generally speaking, people view the military as having the resources and the commitment to overcome these kinds of challenges."
The Little Rock is no stranger to overnight guests. In the spring and fall, the ship routinely accommodates area Boy Scout and Girl Scout organizations for weekend encampments.
"When we have the youth encampment program, they sleep on the ship on weekends. That is not just us, it is at naval and military parks across the country," said John Branning, the park's superintendent of ships.
The USS The Sullivans, a decommissioned destroyer at the park, is not suitable for housing because it lacks utilities, Branning said.