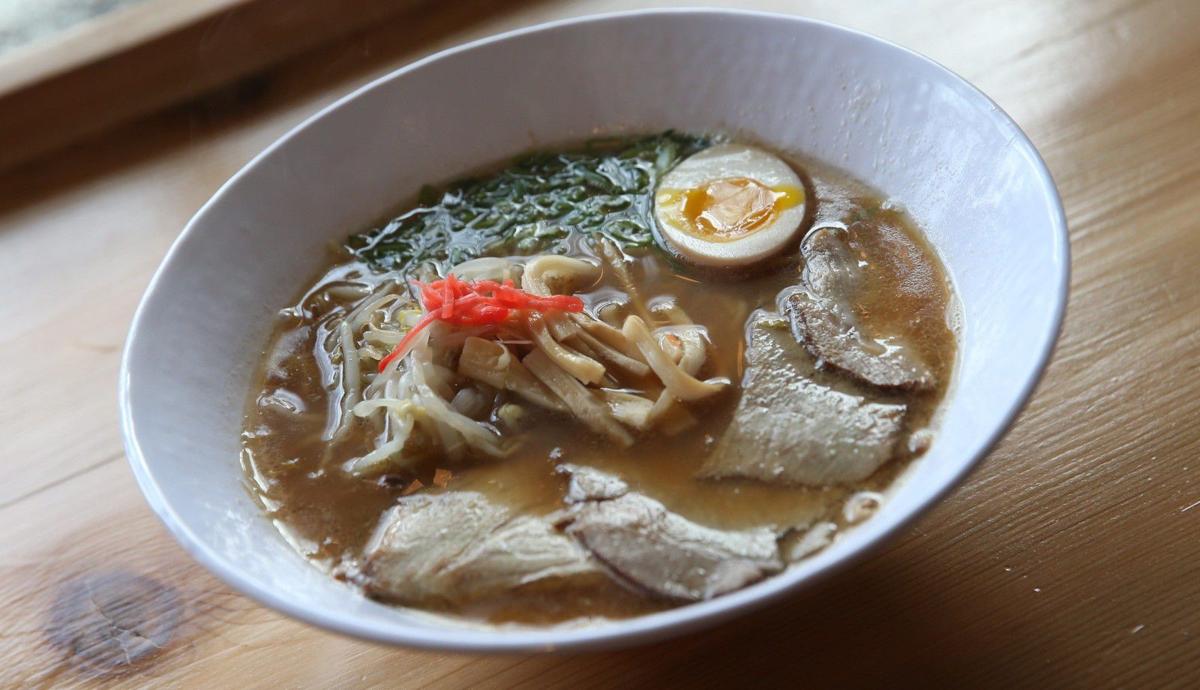 Generations of Americans have grown up believing "ramen" means instant noodle bricks, the cheapest factory-produced meal available at the supermarket, with all the flavor you would expect from a tinfoil packet of chemicals. Until recently, Buffalonians had to leave town to find the real Japanese deal, fresh noodles with the springy texture of handmade pasta, hidden in rich broth that serves as the foundation for savory toppings of vegetables, meat and eggs. ¶ Until Sato opened on Elmwood Avenue, I could only find unsatisfying ersatz versions here. Sato's ramen became my favorite Buffalo bowl of soup before owners Satomi and Joshua Smith opened a ramen-centric casual place called Sato Ramen in University Heights. It's a soup-slurping center built for speed, not creature comforts, but it's a fantastic spot to get your ramen definition fixed in a jiffy.
Walk into this little spot, once Kung Food, and find a spot at the bar, with a view of the hustling cooks, or a communal table.
Decide what ramen experience you're looking for. Timid? Try the house ramen ($10.99 regular), with a mild broth whose flavor reminded me of snacking on roast chicken skin straight from the oven, combined with a deeper porky background. On top of the bowl are thin slices of roast pork, bamboo shoots, bean sprouts, scallions and half of an egg with a custardy yolk.
By fork or chopstick, bring some of Sato Ramen's housemade noodles from the bowl's depths, and enjoy the contrasting toppings tangled in each mouthful. The broth has enough body to glaze each component, and left me sipping from the bowl once the solids were gone. (Slurping is considered a compliment in ramen restaurants, so conduct yourself accordingly.)
More adventurous? Consider shio butter ramen ($12.99), with lemon, garlic, shrimp and a pat of butter. Spicy miso ramen ($11.99 regular) has more umami from miso, a slight chile kick, shredded carrot and corn, with sliced pork and most of the regular toppings. Or for fans of Korean fermented vegetables, the kimchi ramen ($11.99), with loads of tangy Napa cabbage, shredded pork, tofu, corn, cilantro, lime and egg.
There are three more broths to choose from. Chicken broth is the base for Buffalo chicken ramen ($11.99), sporting chunks of fried chicken tossed in Frank's-based sauce, garlic oil, corn and carrot. Eat the chicken before it gets soggy, and what's left is still plenty fun.
Sato's house ramen broth is lighter and not as intense as the tonkotsu style, creamy pork bone broth, that's the flagship offering of many other ramen specialists. Sato Ramen finally bowed to customer requests and started offering tonkotsu – the day after I visited.
There's also a veggie ramen ($9.99), vegan, actually, with a konbu seaweed broth with added depth from caramelized vegetables, and a healthy spread of toppings including pickled shiitake mushrooms, corn, bean sprouts, scallion and shredded carrot. Healthy, in this case, does not mean lame. Between toothsome noodles and crunchy freshness it was engaging enough, even if the broth wasn't the best part.
Are there other things at Sato Ramen worth eating? Absolutely. Here are some that you should consider.
Okonamiyaki fries ($7 large) are house-cut french fries, cooked well and topped with a combination of flavorants that may seem bizarre to Western eyes: enriched mayonnaise, ginger-flavored barbecue sauce, scallions, pickled ginger, dried seaweed and shaved flakes of bonito, dried tuna, which waver in the heat of the fries as the plate arrives.
Here are two things you should know. First, these are actually time-honored toppings for a Japanese snack called okonomiyaki, a sort of stuffed dinner pancake. Second, they make french fries worth bragging about. Creamy richness cut with ginger, tangy, salty, onion from the scallions, and fish flakes that come off as more smoky than fishy, combine to make this a winner.
Donburi, rice topped with proteins, also satisfied. The gyu ($9.99), featuring shaved beef in sweet onion sauce, came off as an amiable Japanese Sloppy Joe. Una ($15.99), or eel, showed why eel is the pork belly of Japanese fish. Caramelized and crisped in sweet glaze, its tender fattiness rendered this rice bowl an indulgence.
Not every dish thrilled. The flavor of soba, housemade buckwheat noodles, was lost in traditional bonito broth ($8.99), and the broken strands of pasta got mushy fast. Pork-stuffed pan-fried gyoza dumplings ($7.50) were average.
As with many new restaurants, consistency could improve. One night the boneless thighs of fried chicken karaage ($7.50) were alive with ginger and garlic; the second time, it was bland. The daigaku imo, deep-fried sweet potato chunks in caramel sauce ($5) was tasty, but cut into sugar-cube-sized chunks. At Sato, the chunks were much larger, heightening contrast between crusty exterior and creamy interior.
That said, eating at Sato Ramen made me wish I was a University at Buffalo student again, only a short stroll away from a Main Street where such fresh, filling food could be had fast. I suggest you put thoughts of plastic packets behind you, and get your ramen education started.
Start your education in real ramen at casual University Heights place.
HOURS: 11:30 a.m. to 10 p.m. Monday through Thursday; 11:30 a.m. to 11 p.m. Friday; noon to 11 p.m. Saturday. Closed Sunday.
PRICE RANGE: Appetizers, $2.50-$7.50; entrees, $8.99-$15.99.
WHEELCHAIR ACCESS: Yes, but tables are counter height.