Barbara and Jim Bono have had a "decent" size garden at their home in the Parkside neighborhood for years, but it's been a very strange summer for growing, Barbara said.
"My eggplants are nowhere this year," she said. "We're getting tomatoes now, not in the abundance we would like to, but we're getting them. We have greens, except for the weeds overwhelm things if you're not on them. We do a lot of Swiss chard."
Candice Burks grows a vegetable garden in the front yard of her North Buffalo home.
"Everything. Tomatoes, eggplant, collards, kale, squash, pumpkins," she said.
Burks and the Bonos compared notes and chatted with other growers at the Brewster Street Farm in Buffalo on Saturday. It was their first stop on the Urban Farm Day tour of 15 farms in the City of Buffalo and one in the City of Tonawanda. And it was Gardens Buffalo Niagara's first self-guided Urban Farm Day.
Flat 12's crew has refined its fungus knowledge and practices to increase business 200% despite the pandemic disruptions.
The purpose was to raise awareness about the benefits and importance of urban agriculture while local gardeners learned growing techniques and traded gardening tips.
"Urban farming, growing … it's a level of self-sustainability and community-building that I think we're missing out on," Burks said. "It really teaches you from beginning to end and builds that relationship with your food and your community."
The event also featured interactive workshops and talks at some locations on specialties like raising chickens and harvesting honey.
"I'm here to learn, see everything, see how to get involved," Burks said.
The Brewster Street Farm, located on two separate double lots on the same block, sits in the shadow of Journey's End Refugee Services. The farm also is a training program for the organization's refugee clients such as Bir Rai, who was born in Bhutan, lived in Nepal for 22 years and moved to Buffalo in 2014.
"It was incredible to watch him, and he'd work right along side you," said Bob Weiss, Tony's son and fourth-generation owner of Weiss Farms in Eden.
"I'm Bhutani Nepali. We speak Nepali," said Rai, 59, while passing out edible flowers grown at the site.
Rai is the assistant program manager at the Brewster Street Farm and helps to grow and sell various types of vegetables, herbs and flowers there, such as Nepali and Bhutanese chili peppers, Congolese eggplants, bitter melons and small purple potatoes. There are regular tomatoes and tomatoes from all over the world, including sour ones indigenous to Nepal. There's dill, cilantro, parsley, celery, beets, and red and green lettuce.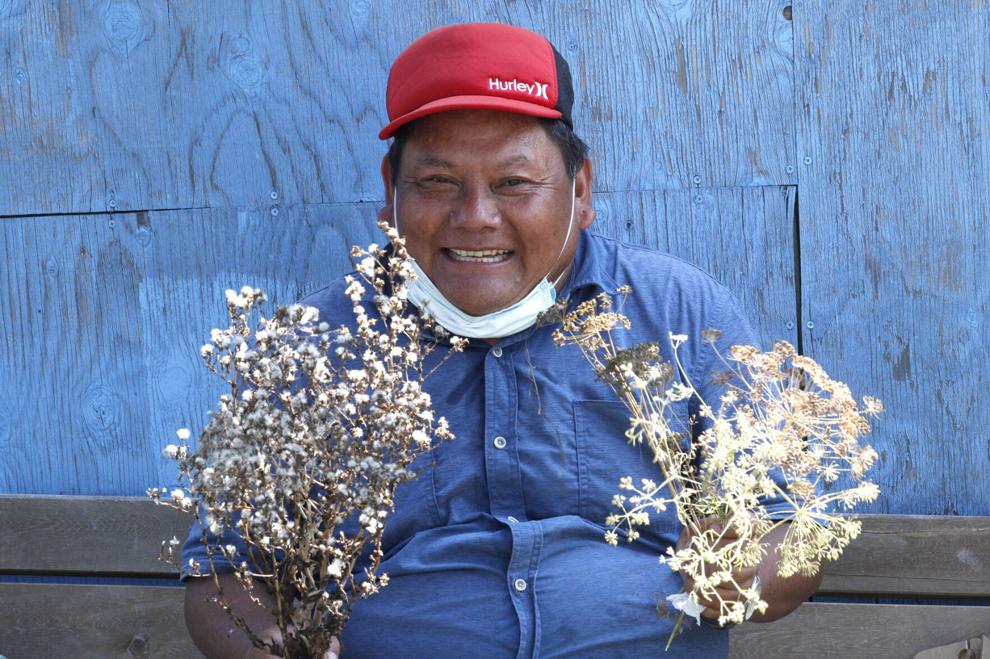 Brewster Street Farm was also the first stop on the tour for Jude McClelland of Amherst, who volunteers at Journey's End.
"I don't think people realize how many urban farms there are in Buffalo," she said. "I sort of knew that there were some urban farms, but I haven't actually visited them. I don't know exactly where are the locations, and this is such a great idea for people to know what's going on in the city."
Other urban farms featured in Saturday's event included:
• Bolyard Garden, 223 Broad Street, Tonawanda
• Chris and Lisa's Garden, 112 Plymouth Ave.
• Common Roots Urban Farm, 309 Peckham St.
• FeedMore WNY, 91 Holt St.
• 5 Loaves Farm, 1172 West Ave.
• Grassroots Gardens Broadway Community Garden, 389 Broadway
• Groundwork Market Garden, 1698 Genesee St.
• Harris Garden, 108 Landon St.
• Kubed Root, 33 Pannell St.
• Massachusetts Avenue Project, 387 Massachusetts Ave.
• Pelion Outdoor Classroom, 206 Best St.
• PUSH Buffalo 14th Street Garden, 309 14th St.
• Urban Fruits & Veggies, 324 Glenwood Ave.
• WestSide Tilth Farm, 246 Normal Ave.
• Wilson Street Urban Farm, 360 Wilson St.