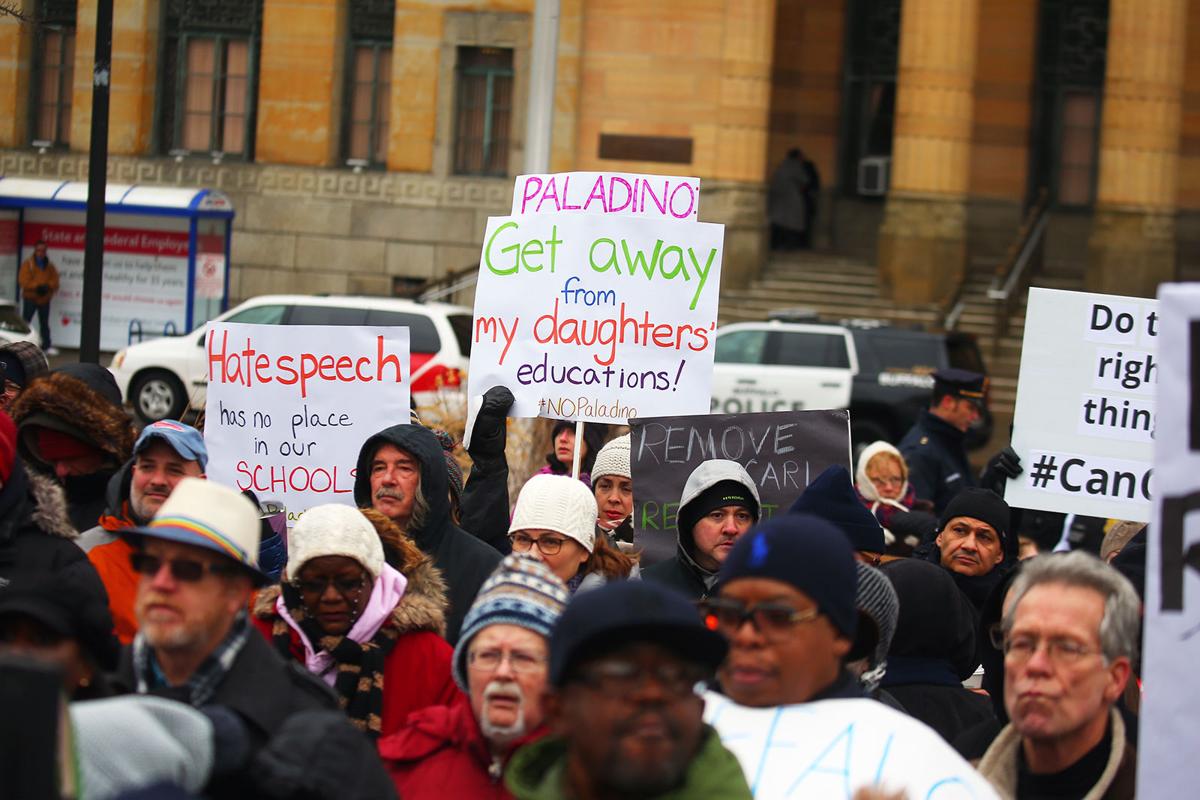 It's been six months since Carl P. Paladino published his now notorious comments about the Obamas, and ever since then calls for his removal from the Buffalo School Board have remained persistent.
This week, the issue comes before New York State Education Commissioner MaryEllen Elia, who will ultimately decide whether Paladino can keep his elected position.
In what some believe is a first of its kind proceeding in Albany that starts Thursday, Elia will hear arguments from both sides before issuing a ruling.
"It's almost going to be like a full trial," said Jay Worona, general counsel for the New York State School Boards Association.
The hearing will not focus on the article published in Artvoice, in which Paladino wished then-President Barack Obama would die of mad cow disease and said Michelle Obama should live with a gorilla. Rather, Elia will consider an allegation that Paladino violated board policy when he shared information discussed in a private executive session.
But in reality, those pushing for his removal – including three other groups that petitioned Elia to take action – have remained focused not just on the comments published in Artvoice last December, but on Paladino's long history of making racially charged statements. Coming on the heels of a divisive presidential election, the comments by Paladino, a vocal advocate for Donald Trump, garnered national attention.
Some of those leading the charge for his dismissal are Paladino foes – including teacher unions – who have sparred with him on how to best reform Buffalo's struggling school system, suggesting calls for his removal also are political. Paladino has been a strong critic of teacher unions and of the recently settled contract with the Buffalo Teachers Federation. He is also an advocate of charter schools and vouchers, which the unions oppose.
Those are the dynamics painting the backdrop as key players descend on Albany this week. The proceedings, and accompanying protests, will also likely be marked by the fierce tensions and racial undertones that often overshadow the business of the Buffalo School Board.
The difference this time is that the players find themselves on a more visible stage with the entire state and nation watching.
Q: How is it going to work?
A: Think of it as a courtroom proceeding. Each side will make its case and call people to testify, either to justify removal of Paladino from the board or dismissal of the petition.
"It's usually pretty dry and technical," said David Bloomfield, professor of educational leadership, law and policy at Brooklyn College. "People don't yell and scream in a hearing. And the decision is made on the basis of the law – not the level of community opposition."
It's not unusual for a petition to be filed with the commissioner to remove a school board member, but it's typically done by submitting papers.
What is somewhat unusual – some say unheard of – is a full-blown removal hearing presided over by the commissioner.
"There is no case that we know of where the State Education Department has held a hearing like this," said Frank W. Miller, the board's attorney. "This is really quite unique."
The other thing that makes this unique, Worona said, is the public interest – both in and outside of Buffalo.
Q: What are the two sides going to say?
A: Miller – who is well-versed on free speech, having argued a First Amendment case before the U.S. Supreme Court on behalf of a small school district in upstate New York – steered the board away from trying to remove Paladino over his comments about the Obamas. He is expected to keep his arguments narrowly focused on Paladino's alleged disclosure of discussions in executive session.
Expect Paladino's attorney, Dennis C. Vacco, to argue, at least in part, that the issue of executive session was an orchestrated conspiracy concocted only when board members realized they couldn't remove Paladino for his Obama comments because of his First Amendment rights.
Q: When will the commissioner make a ruling?
A: She will issue a written decision sometime after the hearing, though there is no specified timeframe.
Q: How often has a commissioner removed a school board member?
Not often. Roughly 600 petitions to remove a school board member have reached the commissioner's desk since 1993, according to the state School Boards Association. Only 15 board members were removed.
Q: Will this hearing be the end of it?
"It's positive that the State Education Department is showing transparency in how this works and hopefully that will result in acceptance of her decision by either side," Bloomfield said, "but this isn't going to be over with Elia's decision."
"I would expect the decision goes up on appeal to the state courts," he said. "In the case of Paladino, he might even bring it to federal court on First Amendment grounds."
Q: When and where is the hearing?
A: Scheduled to begin Thursday in Albany at the state Education Building, 89 Washington Ave., it will continue Friday and roll over into the following week – for how long is uncertain.
Q: How can I watch the proceedings?
A: Go to Albany. The State Education Department said civil rights law prevents it from streaming or broadcasting the hearing. In fact, there are only 15 to 20 seats in the hearing room for the public, so seats will be granted through a lottery. Another room in the building will be set up as an overflow room for the public to watch a live feed of the hearing.
Buffalo News reporters also will be covering the hearings.
The Buffalo News: Good Morning, Buffalo
The smart way to start your day. We sift through all the news to give you a concise, informative look at the top headlines and must-read stories every weekday.