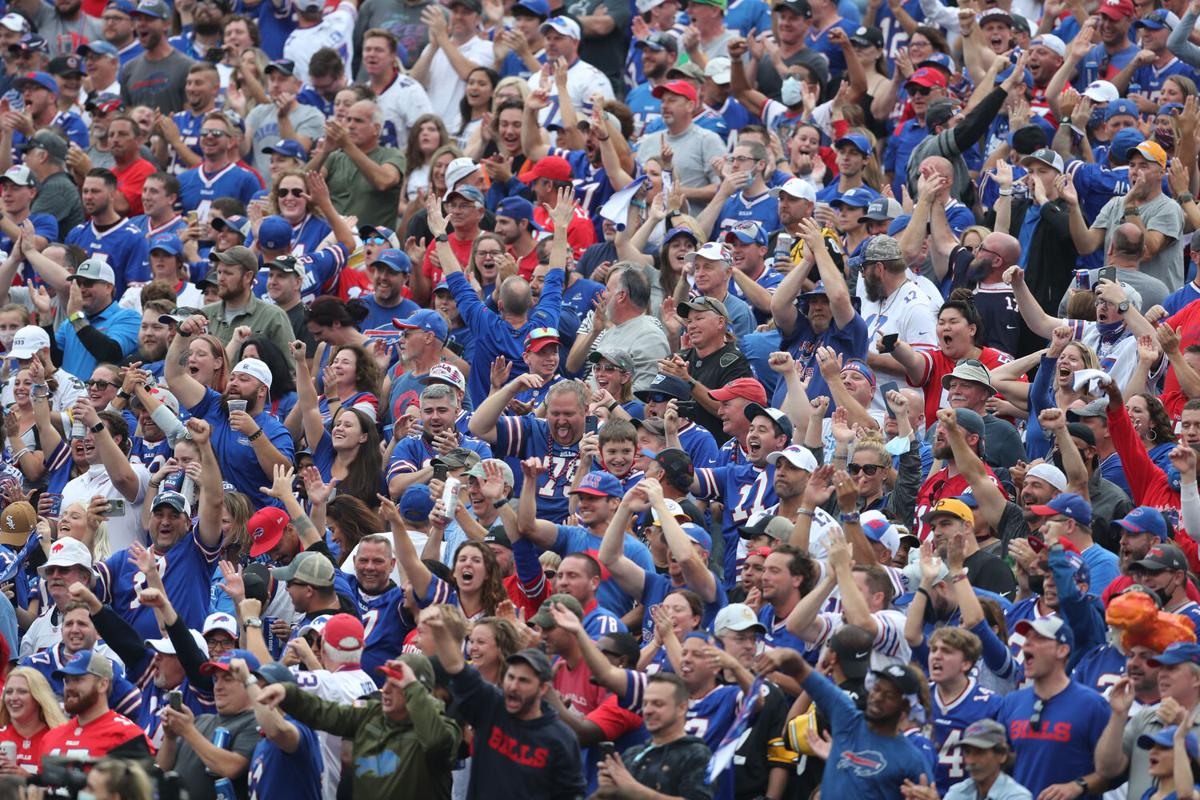 Erie County Health Department employees conducting inspections Sunday during the Buffalo Bills home opener at Highmark Stadium made sure food-service workers were properly masked.
Public health sanitarians cited eight concession stands for violations of county Covid-19 policies, which require face coverings within the concourses and other indoor sections of the stadium. One of the stands, according to the Health Department, was flagged again on a follow-up visit.
As the NFL's opening weekend approaches, in Orchard Park and across most of the league, tens of thousands of fans in soaring stadiums will cheer on the home team without knowing the vaccination status of many of the people sitting around them.
However, representatives for both the Bills and the county did not say whether anyone attempted to enforce mask-wearing rules for the roughly 70,000 fans at Sunday's game against the Pittsburgh Steelers.
A growing number of entertainment and sports venues are requiring ticketholders to show proof of vaccination or a negative Covid-19 test to attend an event – a list that includes three National Football League stadiums. It is a movement encouraged by President Joe Biden. 
Venues in Erie County have not adopted this policy.
"Per the updated guidance from the Erie County Department of Health, masks or facial coverings will be required for all fans, staff and vendors regardless of vaccination status when visiting the indoor settings at Highmark Stadium," the team said.
Erie County, which owns the stadium, requires mask-wearing in the indoor sections of the stadium.
The Bills require unvaccinated fans to wear masks at all times in the stadium, except when they are actively eating or drinking. Vaccinated fans don't have to wear a mask while outside, including such places as the stands.
Asked last week how officials would make sure fans in the 72,000-seat stadium followed the rules, Health Department spokeswoman Kara Kane said, "Please contact Highmark Stadium officials for their enforcement plan."
Bills representatives last week and again Monday did not respond to requests for comment on mask-wearing at the stadium.
Photos posted online show few, if any, fans wearing masks while in the seats, where the unvaccinated are required to cover their faces. Stadium staff do not check fans' vaccination status.
"If you didn't know better, you'd be forgiven for thinking that we were living in the relatively carefree August of 2019, rather than enduring a prolonged pandemic in 2021," writes Jeff Miers.
Compliance within the suites, concourses and other indoor areas appeared only moderately better, based on online photos and comments from fans at the game.
While the county Health Department declined to address fan behavior, employees did check on mask wearing at concession stands as they conducted routine inspections, Kane said Monday.
Sanitarians cited eight stands for improper mask use and, she said, one of the eight was cited for a repeat violation on a follow-up inspection.
"Any potential penalties will be communicated to the permit holder(s) once the reports have been reviewed by our department," Kane said in an email.
Delaware North's Sportservice division operates concessions, premium dining and retail outlets at Highmark Stadium.
It's up to every fan to do his or her own calculation of risk vs. reward in attending a Bills game. It could have been different.
"Proper mask-wearing procedures were communicated leading up to the game and masks were given to associates who did not have one when they arrived for their shift," spokesman Glen A. White said in a statement. "We have heard from the Erie County Department of Health about a small number of associates who were found to be in violation of this policy and we will be following up internally to ensure proper compliance."
Erie County Executive Mark Poloncarz was out of town Monday and wasn't made available for an interview.
He had told reporters last week that county employees would keep a close eye on compliance with mask rules at Sunday's game and, based on what they notice, the county will "make a decision that's appropriate for future games."
"We will be monitoring it and I'll be showing up at the game myself, in all likelihood, just to see how it is and get the reaction from the fans," Poloncarz said. "I do believe that the vast majority of the people who will be going to the football game are vaccinated, but we're going to – we're going to check it out and see if people are really following it. When you have 70,000 fans, you can't have 70,000 observers."