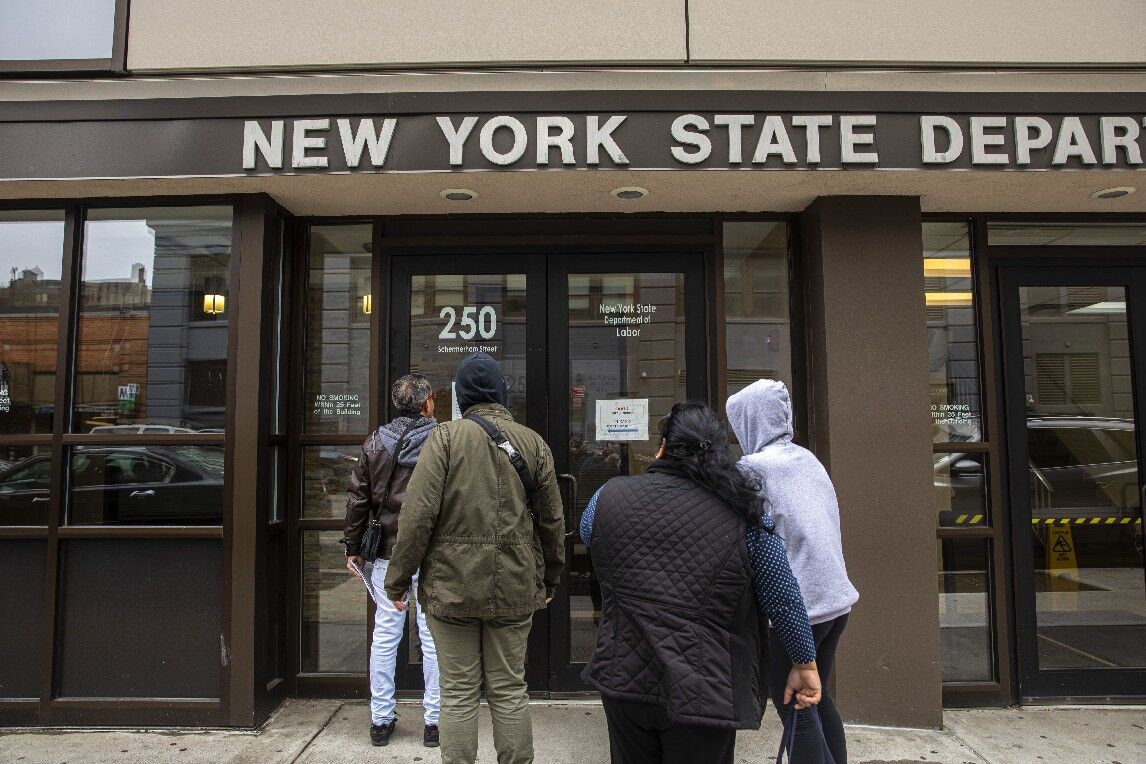 ALBANY – The Cuomo administration was slammed Friday by state lawmakers over the snafus that have resulted in benefit payment delays to hundreds of thousands of jobless New Yorkers, as a new Google-created application system was unveiled to try to ease the backlogs.
Lawmakers say the state Labor Department has been underfunded because of a yearslong spending cap on agencies' operations ordered by Gov. Andrew M. Cuomo and that the ensuing response during the coronavirus spread has caused widespread anxiety and additional financial stress for the increase of out-of-work New Yorkers.
In the state Senate, a top Democratic leader sharply criticized the Cuomo administration's labor department. "This has all the hallmarks of a bureaucracy that is trying to make it difficult for people to access services rather than easier,'' Senate Deputy Majority Leader Michael Gianaris, a Queens Democrat, told The Buffalo News Friday.
By Friday morning, state officials unveiled a new online benefit application – created with the help of Google and the use of its private cloud – that they say will better accommodate jobless people looking to receive benefits under the state-administered unemployment program.
"The UI callback system is now in place,'' Department of Labor Commissioner Roberta Reardon tweeted Friday morning. The previous system was taken down overnight Thursday with a new, more streamlined application that was available starting Friday morning.
The numbers have been overwhelming for a system that officials say was Byzantine in some ways. For instance, the prior system required people to complete an application all at once – even if they discovered part way through the process that they might need to obtain certain financial information unavailable to them at the time they opened the online application.
Closing out an uncompleted application would result in a prompt telling people that they had to call the labor department. But the agency's telephones were overwhelmed.
In the week ending March 28, according to a state official speaking on condition of anonymity, 8.2 million calls came into the Department of Labor's call center, compared with an average of 50,000 per week before the coronavirus pandemic. The agency's website last week had 6 million visits, compared with a typical week of 350,000 visits.
The new system allows users to reopen a partly completed application because the state is using Google's cloud. State officials did not immediately provide state contract payment information for Google, or the other private sector companies – Verizon and Deloitte – that were brought in to help resolve the problems.
Under the new application process, an application with a mistake or that might not be fully filled out will result in a guarantee by the Cuomo administration that the Department of Labor will reach out to those applicants within 72 hours. No longer are people being asked to call and sit on hold for hours if questions arise with their applications.
The unemployment insurance snafus have generated considerable outreach by constituents to their state lawmakers.
"I've been in contact with governor's office about the problems and they have told us they are working on trying to accommodate the high volume of people. This is important to rectify as soon as possible because people need their benefits,'' Assembly Speaker Carl Heastie, a Bronx Democrat, said in a statement about the matter.
Cuomo in recent days has been saying that the thousands who have endured benefit payment delays will, in the end, still get unemployment benefits they are eligible to receive.
That response did not sit well with lawmakers trying to assist constituents who have spent hours on hold without getting to a benefits processor or seen their online applications disappear before their eyes while filling it out.
"People need money now. They have no income now. They're being pressured to pay rent now. And to tell them they'll get their money weeks or months from now is not an answer when people have to feed their families,'' Gianaris said.
State Sen. Jessica Ramos, chairwoman of the Senate Labor Committee, which has jurisdiction over the state labor department, said state agency operating budgets over the years was to blame for the unemployment benefit problems.
"The state is operating under an artificial 2% spending cap, which limits the money the Department of Labor can actually be allocated. The department is understandably overwhelmed as people's jobs are affected by the pandemic, but we could've avoided this man-made crisis by giving DOL the funds it needs to serve New Yorkers,'' she said in response to The Buffalo News on Friday.
"The department is taking the necessary next steps of increasing the number of people working for their call center, increasing their server capacity and making it easier for people to file online,'' said Ramos, a Queens Democrat.
The state official who spoke on background Friday afternoon said the new unemployment application also has fewer – and more clearly worded – questions for jobless people to answer.
The agency Friday morning began working through a backlog of 200,000 applications for which call center workers need more information from applicants in order to process. Payments – either via direct deposit or through a debit card for people without bank accounts – are expected within two to three weeks after an application is approved. The state said benefits will cover the period from when someone is laid off or furloughed, not just from the date of the application approval.
The state on Thursday reported that 811,932 unemployment insurance claims had been made during the last four weeks, compared with 52,507 during the same period a year ago. Nearly 190,000 of the claims came from people who were employed in the hotel and food services sectors, followed by 99,000 in retail trade businesses and 88,000 in health care and social assistance jobs. Of the 348,000 total new claims made last week, 43% were in New York City and nearly 26,000 claims, or just over 7% of the total, were in Western New York.
The state hired Deloitte to staff an additional call center and Verizon is expanding the number of telephone ports for the department's call center from 1,750 to more than 10,000.
"I recognize that this is an extremely challenging time for all New Yorkers. I have been unemployed. I understand the urgency. We want you to be aware of these steps that we are taking to respond to each of you, as quickly as we can,'' DOL's Reardon tweeted.
Many of the Twitter replies to her came from angry and frustrated New Yorkers; some said they had not received benefit application responses in more than a month.
"Hey Roberta! Ever been unemployed during a pandemic with an inefficient Dept. of Labor at the helm?" wrote one person on Twitter in response to the commissioner.