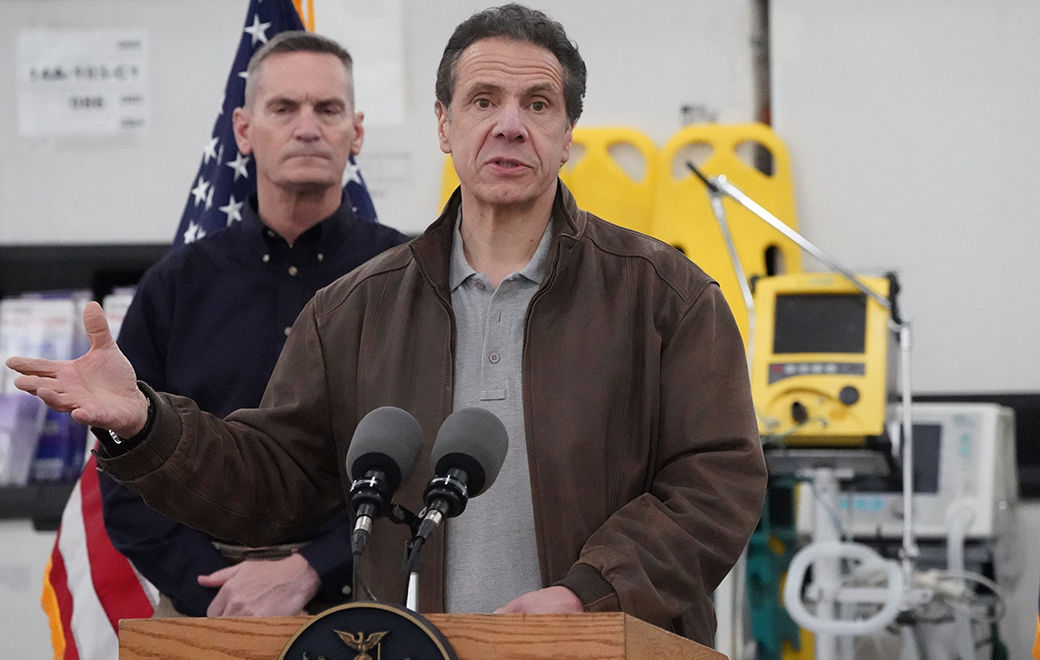 ALBANY – Upstate hospital executives and elected officials said it would be unacceptable to dispatch National Guard troops to pick up ventilators, masks and gowns from hospitals in areas not yet hard-hit by the spread of Covid-19 and deliver them to New York City.
Gov. Andrew M. Cuomo caught many in the state by surprise Friday when he announced the redeployment of medical equipment.
The governor said some hospitals have been reluctant to share ventilators and personal protective equipment, such as masks, for fear that they might need them sometime down the road or that they will never get the expensive ventilators back.
But now there is no choice, he said, as the novel coronavirus keeps spreading and a number of hot spots appear to be forming in the New York City area.
"I don't have an option. I'm not going to let people die because we didn't redistribute ventilators," Cuomo added.
Late Friday night, officials were still waiting to see the wording of the executive order. After Cuomo's press conference, a Cuomo spokesman, Richard Azzopardi, said, "It is essential that we all help each other and the governor is asking upstate hospitals to loan 20% of their unused ventilators to struggling downstate hospitals."
But the Buffalo Niagara region needs everything it has, said local elected officials and health care leaders.
At his regular briefing on the pandemic, Erie County Executive Mark Poloncarz on Friday said he had spoken to the leaders at all the local hospitals and could not find any ventilators that are not in use. He said he had shared that information with the governor's staff.
"There's not going to be any movement of ventilators from Erie County," he said, adding: "There is not a single person who is going to have a ventilator taken away."
State officials did not provide details on how, where and when the order would be carried out.
"Don't use the word 'seize.' I didn't use that word. It's a harsh kind of word," Cuomo told a reporter at the Capitol.
He said the order is about "sharing" the equipment. Demand for equipment is higher downstate, but the caseloads also have been rising upstate.
"We're going to shift resources all across the state to whatever place has that need at that time," he said.
Kaleida Health, Catholic Health, Erie County Medical Center and two smaller hospitals in Niagara County last month reported having a total of 363 ventilators, although the two large hospital systems said they were expanding their ventilator capacity.
Hospital officials on Friday did not immediately say how many ventilators are in use by patients and how many are available. However, Poloncarz said as of Thursday evening, 179 people were hospitalized in Erie County because of Covid-19, including 90 in ICUs, with 79 of them getting "airway assistance," including ventilators.
Kaleida Health, the region's largest hospital system, said it learned of the action as Cuomo was speaking Friday.
"Today I stand shoulder to shoulder with our physicians, nurses and staff to oppose this executive order that is designed to pit upstate versus downstate," Kaleida Health CEO Jody L. Lomeo said in a statement. "In a time of crisis, we do not have the luxury of spending time on public fights and mandates like this. Instead, I would welcome and encourage us all to develop a more collaborative plan that doesn't jeopardize lives and result in further chaos and panic."
"Before announcing an executive order, a solution to work collaboratively and request exactly what is needed would have been a more responsible approach," ECMC CEO Thomas J. Quatroche Jr. said in a statement.
The governor's announcement came one day after workers at area hospitals rallied in Niagara Square to say they needed more masks, gowns and other personal protective equipment.
"Knowing what I know at this moment, it's frightening," said Cori Gambini, a registered nurse and president of Communications Workers of America Local 1168, which represents many Kaleida Health workers.
She said this area hasn't seen shortages of ventilators and personal protective equipment, yet, and she recognizes how dire the situation is at New York City-area facilities.
Republican lawmakers, from the Erie County Legislature to members of Congress, quickly issued statements blasting Cuomo's decision.
"Once they are taken we will not get them back when we need them, and clearly none are available for purchase. We want to help, but if we hit our peak while our resources are elsewhere, Erie County residents will die. We cannot let that happen," said a statement from the Erie County Legislature minority caucus.
State Sen. Rob Ortt, a North Tonawanda Republican, said the order "endangers" residents and health care professionals here. He said the "confiscation of these stockpiles for shipment downstate will leave our health care system dangerously low when our apex arrives."
Niagara County Legislature Chairwoman Rebecca J. Wydysh said she wants more details about the plan and added Cuomo's offer to pay for the ventilators doesn't help because they are in such short supply.
"No amount of money you can give us for a ventilator you borrowed is going to bring back a life that's lost here in Western New York," Wydysh, R-Lewiston, said during the county's daily Covid-19 update.
Even key Democratic lawmakers objected to the Cuomo announcement.
Rep. Brian Higgins, the Buffalo Democrat, said the proposal for National Guard troops to requisition supplies from upstate hospitals for use downstate is "unacceptable." State Assemblylman Sean Ryan, D-Buffalo, blamed the federal government for the shortage but said in a statement, "this is not the time to divert ventilators or other medical resources away from Western New York."
"These institutions cannot now have their legs cut out from under them as we face the Covid-19 peak that surely lies ahead for this region," Higgins said in a statement Friday.
Across the state, 2,935 people had died from the virus as of Friday afternoon. The 24-hour period from Thursday to Friday saw the largest single-day increase: 562 lost lives.
In all, 102,863 people had tested positive in New York State by Friday afternoon. More than half the confirmed cases were reported in New York City.
Cuomo on Thursday said 350 new Covid-19 patients come into the state's hospitals each day requiring a ventilator to help them breath and the state's stockpile of ventilators could run out in as soon as six days.
Cuomo on Friday said the devices taken from upstate facilities would either be returned or hospitals would be paid for the cost of the equipment.
"When the wave moves upstate, we'll change that accordingly," Cuomo said on a Friday afternoon conference call with state Health Commissioner Dr. Howard Zucker and hospital chiefs. "That support is going to be reciprocated when the hour of need turns to upstate New York."
News Staff Reporters Maki Becker and Thomas J. Prohaska contributed to this report.