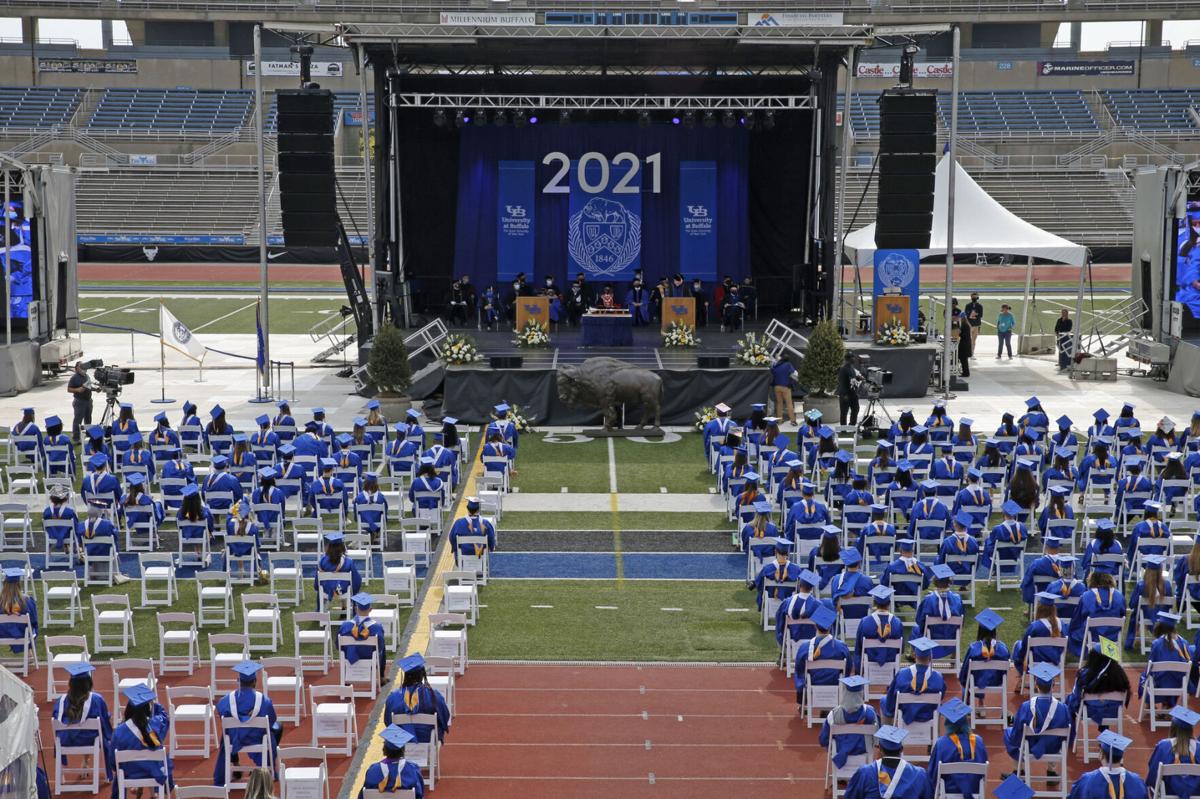 University at Buffalo 2020 graduates finally will get a chance to don gowns, walk the stage and toss caps.
UB President Satish K. Tripathi on Friday announced that the university will host in-person commencement exercises for members of the Class of 2020 in the fall, nearly a year and a half after they were supposed to be feted.
The Covid-19 pandemic forced university officials to cancel in-person commencement in May 2020. The university offered a virtual commencement at the time, with a promise to organize an in-person event when it was safe and feasible.
Tripathi said in a statement that the time has arrived.
"History will always remember the Class of 2020 for graduating at the height of a once-in-a-lifetime pandemic. For our part, UB will remember this historic class for demonstrating exceptional innovation, resilience and adaptability during exceptionally trying times," he said. "Of course, with all the challenges and restrictions that the Class of 2020 endured, disappointment was inevitable—perhaps none greater than being unable to graduate in person."
Tripathi said he hopes as many graduates as possible will participate.
University officials said they don't know at this point how many people to expect.
UB awarded more than 9,100 bachelor's, master's and doctoral degrees in 2019-20.
Two commencement ceremonies – one for undergraduate-degree recipients, the other for graduate degrees – are scheduled for Oct. 1, which traditionally is alumni weekend and homecoming season at colleges and universities.
Both graduation ceremonies will be held inside Alumni Arena.
The undergraduate ceremony will start at 10 a.m., while the graduate ceremony will take place at 2 p.m.
Each graduate will be allotted two tickets for guests to attend. Additional tickets may be available based on participation once registration closes. Both programs also will be livestreamed.
Graduates will receive an invitation to commencement from their respective school or college, with information about how to register.
The ceremonies will follow the university's Covid-19 health and safety guidelines, and unvaccinated individuals will be required to wear a mask.
Unlike regular commencement exercises held in May, the Oct. 1 ceremonies will not be school-specific. All academic units will be combined, with graduates seated according to their school or college.
Tripathi and A. Scott Weber, provost and executive vice president for academic affairs, will deliver the welcome and opening remarks. Each school's dean will give brief remarks before graduates begin crossing the stage.