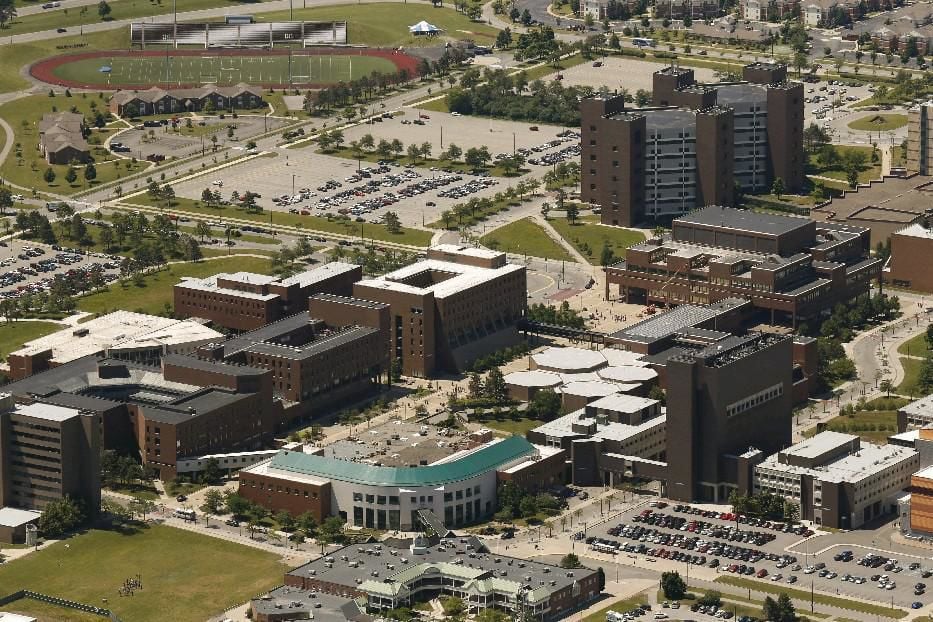 Advocates for racial justice celebrated a decision by the University at Buffalo to strip the names of three historic figures from university buildings, facilities and roads because they supported slavery or promoted racist policies and values.
The names include President Millard Fillmore, for whom an academic building in Amherst is named; James O. Putnam, a New York senator, former UB chancellor and UB Council member who openly expressed racist views as a politician; and Peter B. Porter, a Buffalo resident, congressman and regent of the state university system, who owned five slaves.
"I think it's a good move, and I think symbolism is important," said Henry Louis Taylor, a professor at UB's Department of Urban and Regional Planning. "For the nation to deal with the issues of race in this country, we have to be honest about our history."
The Millard Fillmore Academic Center will simply be called the "Academic Center" until a new name is chosen. The building houses academic departments, student residences and other services at the Ellicott Complex.
The former Putnam's Marketplace Eatery at the UB Student Union will be renamed the "Union Marketplace and Eatery." In addition, Putnam Way, a road on the North Campus, will be renamed Mary Talbert Way in honor of the Buffalo civil rights pioneer.
The Porter Quadrangle residence hall at the Ellicott Complex will be renamed. A new name has not yet been chosen.
"We have no intention of erasing our history, and this is part of our history," President Satish Tripathi told The Buffalo News. "But we can purposefully determine who we want to honor this way."
The UB Council unanimously voted Monday to rename Putnam Way as Mary Talbert Way, in honor of Talbert, who was a founder of the Niagara Movement, a precursor to the National Association for the Advancement of Colored People. An advocate for African Americans and women, she also served as a nurse in World War I. UB opened Talbert Hall in her honor in 1977.  
Millard Fillmore gets little love from presidential historians, but he's enjoyed favorite son status in Buffalo for more than 150 years.
Students who have been pushing for these changes over the past year or two said they were excited to see the university take this step.
"Especially during this time, in the wake of the Black Lives Matter movement, it's important to acknowledge figures that were monumental in terms of black history, as opposed to people who have oppressed Black people," said Helen Bamiro, president of the UB Black Council, which represents nine different student groups and has pushed for name changes.
The decision by the university is an outward gesture that UB cares about its African American community, she said.
The university had been taking a critical look at the naming of its spaces, buildings and grounds for the past two years. That included a focus on Fillmore, the 13th president of the United States, who was the founding chancellor of UB, serving from 1846 until his death in 1874.
A lawyer who also served in Congress, Fillmore helped establish some of Buffalo's most enduring institutions. But his brief, three-year presidency is remembered in modern times for his support of the Compromise of 1850, which included the Fugitive Slave Act. That act required fugitive slaves to be returned to their owners even if they were found in a free state.
The decision to rename these UB landmarks was endorsed by the President's Advisory Council on Race, which formed in June.
A lot of research and vetting was done on the building and landmark names throughout the college campus before the recommendation was made to remove the names of these three men from campus sites, Tripathi said.
Supporters of the name change said they hope other political leaders in the city and region consider following in UB's example.
Robert Silverman, another Department of Urban and Regional Planning professor, said there has been growing pressure and momentum over the past several years to have UB's campus environment better reflect the university community's contemporary views on social justice.
"The Fillmore issue just kind of seemed to stand out," he said.
The university has taken previous steps to minimize the Fillmore name. Last year, the university stopped cosponsoring an annual gravesite ceremony for Fillmore.
While slavery is part of the nation's past, Taylor said, "the evils it created on a racial front are very much with us today. And so the simple process of changing these names is beginning to recognize that we have to move away from that history."
He also said he rejects the argument that these men were products of their time.
"People were given choices," he said. "If we use the framework of time argument, then we forgive every evil that has ever been done."
While no formal plans have yet been made to rename the Academic Center or the Porter Quadrangle dorm, Tripathi said he expects there will likely be some type of campus competition help determine what the new names will be.