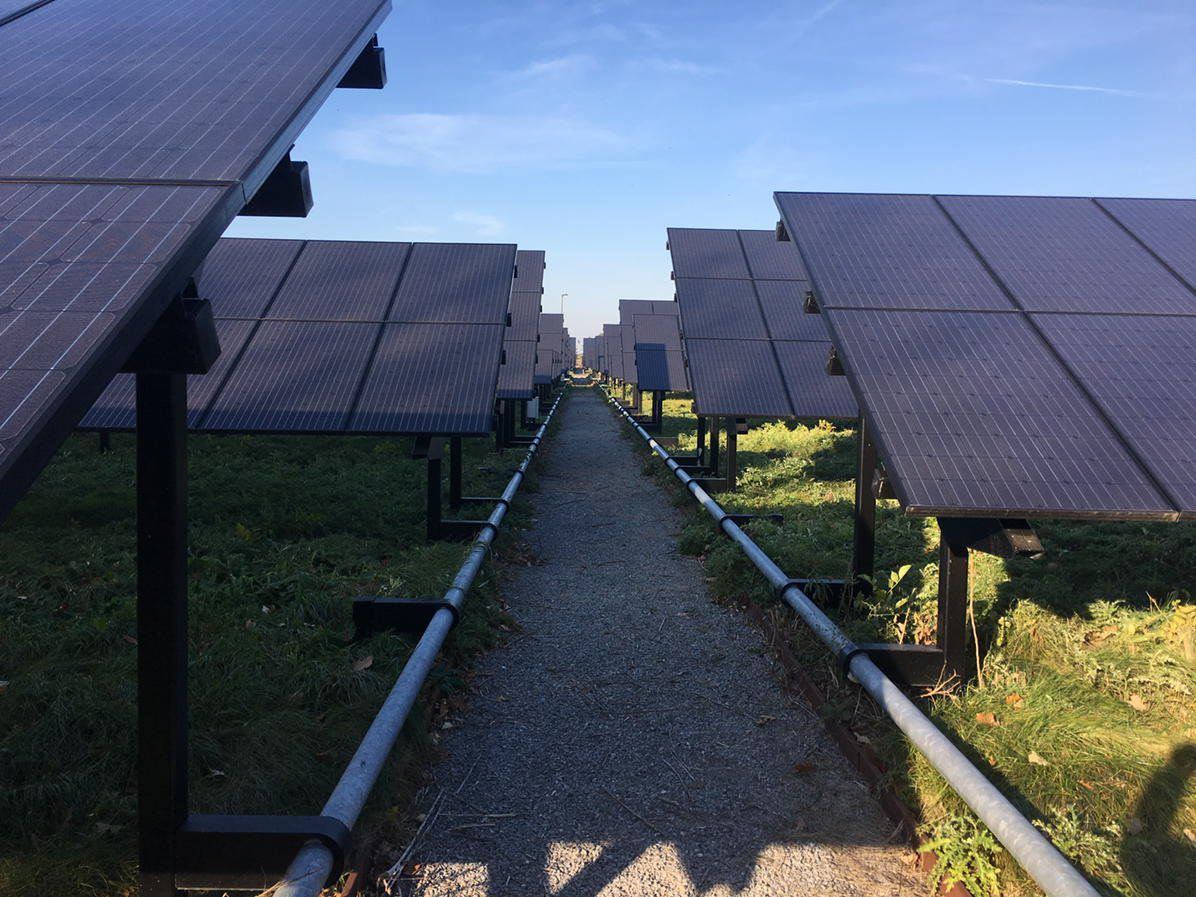 Construction soon will start on a major new solar array on the University at Buffalo's North Campus meant to bring the school closer to its goal of buying all of the energy needed to power its operations from renewable sources.
A contractor will install nearly 17,000 solar panels on a 25-acre field on the Amherst campus that, when complete, will generate the equivalent of the energy used each year by more than 1,300 homes, university officials said.
It joins an existing array on the North Campus and several other arrays planned both on and off campus that are part of a major solar-energy initiative backed by New York State, UB and several other local institutions.
"After a lot of planning, analysis and work, we are looking forward to dramatically increasing the amount of clean energy we generate here at UB for our students, staff and faculty," Laura Hubbard, vice president for finance and administration, said in a statement. "In addition to lowering our carbon emissions, this work will assist with decreasing volatility in the energy prices we pay and increase stability in our university budgeting."
Amherst-based Solar Liberty will begin work on the largest piece of the project in the next couple of weeks, the university said.
The sun skipped the ceremony, but the University at Buffalo celebrated its new solar array anyway as a blend of clean energy, artistic vision and cost savings. The Solar Strand, installed on UB's North Campus just inside the Flint Road entrance, was on the job Monday while the dedication was forced indoors by blowing, wet snow under overcast skies.
The company by next spring will install 16,770 solar panels on the 25-acre, UB-owned site, east of Millersport Highway near the Amherst bike path, WBFO's radio tower and the 9/11 Memorial Grove. The public will still have access to the bike path and memorial grove during and after the array's construction.
This array, when finished, will produce roughly 8.3 million kilowatt-hours of electricity in its first year – offsetting the energy used annually by 1,354 homes. Over the course of its lifetime, UB said, this array is expected to reduce greenhouse gases by an amount equivalent to driving a car 348 million miles.
UB also is planning a smaller set of solar arrays on 6 acres near the John James Audubon Parkway/Interstate-990 interchange and Bizer Creek, just south of Sweet Home Central School District offices.
All told, this section will have 5,850 solar panels and generate about 2.9 million kilowatt-hours in its first year, equivalent to offsetting the annual energy usage of 487 homes each year, the university calculated.
UB officials said work to construct this portion of the solar project requires removing some trees on the six-acre site, including many infected by the emerald ash borer, and they pledged to plant a comparable number of new trees elsewhere on campus.
Gov. David A. Paterson will announce today that the state's two power authorities will purchase up to 150 megawatts of solar power through a program aiming to make the state the nation's second-biggest solar power producer. Paterson chose a solar power conference in the Buffalo Niagara Convention Center attended by about 3,000 people from around the nation to unveil
Work on the smaller arrays is set to begin shortly after construction starts on the larger array and it should conclude on a similar timeline.
Ryan A. McPherson, UB's chief sustainability officer, said he couldn't provide an estimate of the cost of the solar project. He said UB is not responsible for paying its upfront cost.
Rather, as is standard for solar installations of this type, Solar Liberty will own and operate the arrays and the university has promised to buy all of the energy they produce over the next 20 years at an agreed-upon price.
McPherson said the price of solar energy has fallen to the point that it has reached parity with other sources of energy. He said the university won't necessarily save money through this project but, echoing Hubbard, noted it provides the benefit of reduced greenhouse-gas emissions and budget certainty over the next two decades.
The new arrays, as is the case with the university's existing, ground-based array, will be open to the public and not closed off by fencing, McPherson said.
UB's current solar strand, located to the east of Flint Road and north of Maple Road, went live in 2011 and has 3,200 solar panels.
Combined with some existing and future rooftop solar panel installations, the current and planned arrays together should produce enough energy to meet about 7% of UB's annual needs, McPherson said.
UB isn't stopping there, however. The university soon will put out a request for proposals for a large, off-campus solar array that, when completed, should help UB reach 100% of its energy needs by directly purchasing from clean-energy sources, McPherson said.
This project, like the on-campus arrays at UB, is backed by the New York State Energy Research and Development Authority, or NYSERDA.
The agency wants to see more clean energy generated and bought by a group of major local institutions made up of UB, the City of Buffalo, Erie County, SUNY Buffalo State and SUNY Erie Community College.
The institutions are working on their own, on-site solar projects and will partner on the larger, off-site development.