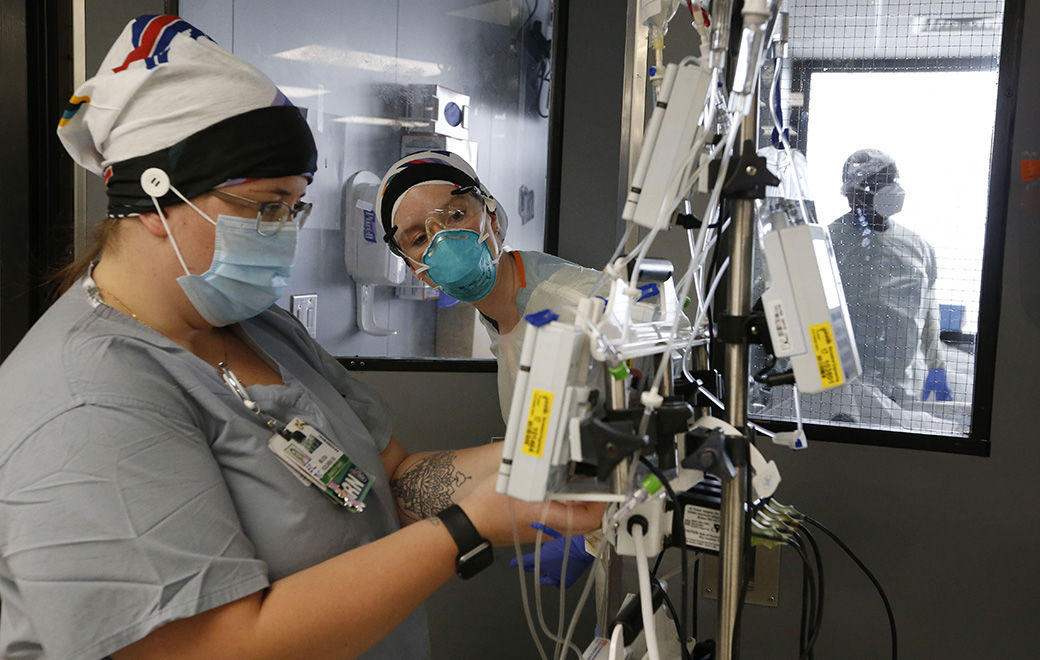 There is no immediate threat of new coronavirus infections overwhelming the hospital system in Erie County with current social distancing measures in place, a new University at Buffalo model of Covid-19's impact on Erie County hospitals shows.
But with the governor preparing to relax some of the state's restrictions May 15, local hospitalizations are projected to rise.
That rise may not exceed total hospital bed capacity, but could overwhelm intensive care units if mitigation efforts aren't taken, said Dr. Peter Winkelstein, executive director of the University at Buffalo's Institute for Healthcare Informatics.
"We're sitting on a powder keg," Winkelstein said. "And if you open it up too fast, you're going to blow up."
The goal of the UB modeling, which is guiding decisions made by Erie County officials and local hospitals, is to ensure hospitals are prepared for a potential surge in Covid-19 cases and to advocate other measures to keep Covid-19 hospitalizations manageable.
Without a careful and cautious approach to reopening Erie County, the UB model projects, the number of people who need ICU care could exceed the region's capacity by sometime in mid-July. To guard against that possibility, Winkelstein and other UB researchers recommend:
• Environmental changes: Being selective about which businesses can open most safely, keeping areas disinfected, installing barriers to protect workers and establishing social distancing protocols.
• Behavioral changes: Requiring everyone to wear masks in public, discouraging people from pressing elevator buttons with their fingers, etc. "These are things we have to start living with," Winkelstein said.
• Increasing testing and contact tracing: Rapidly expanding diagnostic tests and contact tracing so that if someone tests positive for Covid-19, the people they have been in contact with can also be tested and isolated from the rest of the community, if needed.
"We're not going to get it right all the time," said Winkelstein, who is heading the Covid-19 Analytics Group. "We're going to see some surges, and the hospitals will have to be ready to put some surge plans in place at a moment's notice. And we have to be ready to step back if we went too far."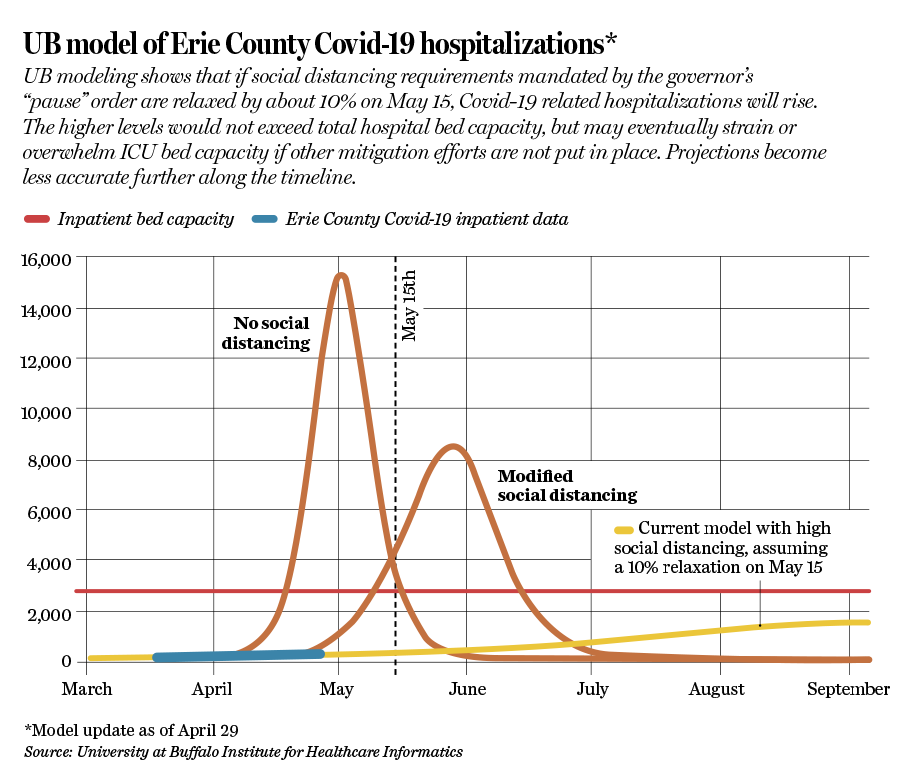 Early modeling
UB first began developing an Erie County Covid-19 hospitalization model about six weeks ago at the request of hospital leaders who wanted a better sense of how long they had to prepare for a surge in Covid-19 hospitalizations, said Winkelstein, a clinical professor of pediatrics at the UB Jacobs School of Medicine and Biomedical Sciences.
Though Winkelstein had extensive prior experience handling biomedical data, he said epidemiological modeling was a new field for him and required him to bring together a team of eight that included an epidemiologist and biostatistician.
"The most important thing to me was assembling a team that was smarter than me," he said.
Early modeling projections were difficult to create because it was harder to predict the behavior of the virus and harder to predict how willing people would be to adopt social distancing and other virus containment measures.
As a result, UB's early projections included alarming hospitalization projections that never became reality, in large part because people were more compliant than expected with social distancing measures. That averted an anticipated peak of up to 15,000 hospitalizations.
As actual county data was added in recent days, it became clear the early projections were wrong.
"We only learned in the past two weeks or so that we have really dodged those bullets," Winkelstein said.
Model limitations
There are limits to what the model can show. Winkelstein said the UB projections for July, August and September are more "illustrations" than actual forecasts right now.
The data used by the model include things like the coronavirus spread and reproduction rate, its level of contagiousness, hospitalization and ICU percentages and reinfection rates. Because that information is so new and so limited, it's always being updated.
"We're basing it on the prior experience with the virus everywhere else in the world," Winkelstein said.
The model has been further adjusted based on Erie County's own experience with the virus. A mathematical formula, developed by the University of Pennsylvania, served as the foundation of the UB model, Winkelstein said, though it was heavily adjusted to better reflect Erie County's experience.
He cautioned that, like a weather forecast, the existing model isn't good enough to provide a realistic prediction of what will transpire months out.
While the modeling of ICU cases shows the potential for exceeding ICU bed capacity in July, that trendline requires context, Winkelstein said.
"I do not actually think that these illustrate the future," he said. "They illustrate a possible future if we don't do anything."
And it's highly unlikely that nothing will be done, he said.
Current model use
County Executive Mark Poloncarz said Wednesday that past long-term projections have been off, but the near-term projections have been reliable.
"For most of the models that we've seen from Dr. Winkelstein and his team, they've been pretty much spot on for the week to 10 days, to at most two weeks," Poloncarz said.
Both Poloncarz and Winkelstein said the UB model supports the position that the county has flattened the curve for hospitalization rates. Efforts at social distancing have been so successful that Winkelstein no longer refers to a "peak" in infection rates.
The county executive also said the modeling shows that the resumption of elective, outpatient surgery in Erie County would not tax hospital capacity. Winkelstein agreed that this is a reasonable position based on the current modeling data and the fact that hospitals are currently at only 60% capacity.
But what troubles local leaders is that the current UB model doesn't yet mirror the same downward slope in cases that downstate New York is seeing.
"We're definitely not on a 14-day decline," Winkelstein said.
County Covid-19 hospitalizations have actually increased for three straight days, from Saturday through Monday, according to state Department of Health data provided by the county. Without being able to show two weeks of hospitalization declines, as recommended by the U.S. Centers for Disease Control and Prevention, Gov. Andrew Cuomo is unlikely to relax his "pause" orders here.
The UB modeling is updated weekly based on new county data and adjustments to the modeling formula, Winkelstein said. Long-term projections were changed significantly over just the past week.