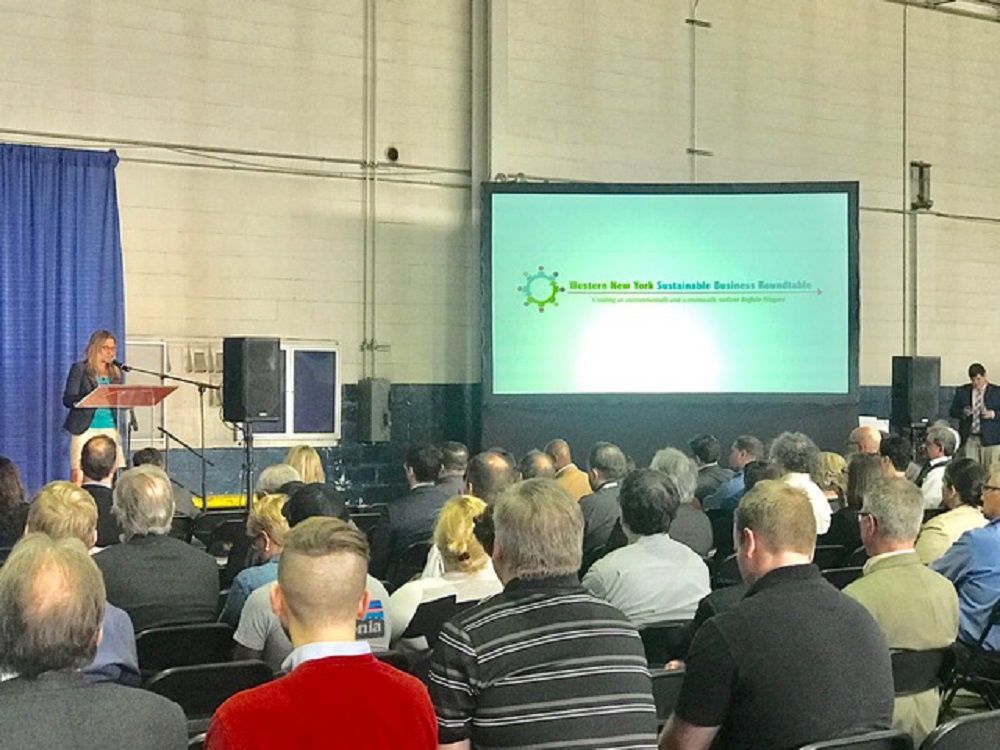 By Jashonda Williams – Contributing Writer
Although the health of our environment impacts us all, not everyone is concerned about it. There's still lot of work to be done spreading awareness and importance of a sustainable environment.
Earth Week – which has taken place this week and culminates with Earth Day on Saturday – has been a tradition at the University at Buffalo for more than five years, and the Office of Sustainability is always looking for new ways to engage students both on and off campus.
The office and other organizations have hosted several events this week to help students better understand how to create and maintain a sustainable environment.
"I hope eventually we can think about sustainability all year round, and incorporate it in our thinking all the time," said Ryan McPherson, chief sustainability officer at UB Sustainability.
People should practice environmental sustainability every day, McPherson said.
The weeklong celebration kicked off Tuesday with the WNY Sustainable Business Roundtable, a business expo and panel discussion held on Buffalo's East Side at the historic American Axle Building. Guests were able to browse exhibits until the panel discussion and presentation, followed by an informal mixer.
Attendees were able to connect with local businesses and other exhibitors to learn about new products and how Buffalo businesses were able to incorporate the Triple Bottom Line practices into their operations. The panel discussion featured Vincent Stanley, of Patagonia; John Fullerton, of the Capital Institute; and Fred Keller, of Cascade Engineering.
Triple Bottom Line (TBL) is an accounting structure with three parts: social, environmental/ecological, and financial. This framework is used to measure performance beyond typical business values.
Stanley, chief storyteller at Patagonia, began working for the company in 1973. Back then, company officials realized they had a problem with harsh chemicals. Materials in their plants were making employees sick, but the company was determined to implement a Triple Bottom Line practice for their operations.
"The more employees knew (about) what the chemicals were doing, the more they understood what the company was doing," Stanley said.
Ali McPherson, principal of Niagara Share – which looks to help designed globally motivated business strategies – moderated the talk and shared her connection to the environmental well-being of Western New York. As a result of all the intentionality of local businesses to create a sustainable and green future for Buffalo, it has become a better place for people like McPherson to raise families, she said. She recalled family photos of her kids surfing and kayaking on Lake Erie, which some who saw the photos mistook for spots off California or Florida.
"We need an organization like the Roundtable to help us work towards a better future, McPherson said.
More than 300 people representing more than 200 companies attended the roundtable event. A special video presentation featured messages from officials at Curbell, UB, Erie County and more.
Other events being held this week include the Celebration of Excellence, sustainability poster symposium, a state Pollution Prevention Institute Research and Design Competition (NYSP2I), a Q&A for leaders in sustainability, and the American Society for Engineering Education conference, the latter of which will be held on Friday.
Due to the high volume of events that the university wanted to hold, the Office of Sustainability decided to expand on Earth Week and make April Sustainability Month. Events and programs will continue throughout the remainder of the month.
"The hardest part about Earth Week or student programming in general is reaching other students who are not already members of environmental majors or clubs," said Brian Stuhlmiller, director of environmental affairs for the UB Student Association.
Alpha Kappa Chi and the SA looked to broaden the appeal through an open mic night Thursday night. Proceeds will be donated to Grassroots Gardens of Western New York, a nonprofit that helps collaborate, cultivate and manage more than 300,000 square feet of green space in Buffalo and Niagara Falls.
Earth Week also is meant to educate the student body about environmental programs, engage them in unique hands-on opportunities and empower those who take part to generate a lifestyle change or learn something new.
Most student organizations with a focus on environmental issues are participating in Earth week. Madeleine Dewey, part of Engineers for a Sustainable World, is spending the week educating students on recycling and the importance of clean lakes and rivers.
"Throughout the week, we are raising awareness of sustainability knowledge and practices by encouraging recycling via a daily bottle drive, challenging our peers in water-related trivia, serving up solar smoothies (made with the power of the sun) and volunteering with Buffalo Niagara Riverkeeper," said Dewey, a junior environmental studies major.
The UB chapter is also participating in the research and design competition on Friday with its sustainable rainwater collection system, created in partnership with the UB's Campus Garden.
Click here to see Earth Week and Sustainability Month events across the region.