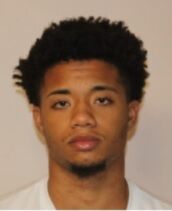 A University at Buffalo basketball player was arrested Friday after North Tonawanda police said he stabbed a basketball player from Canisius College during a pickup game.
Malik Zachery was charged with second-degree assault and fourth-degree criminal possession of a weapon, in connection with the incident at 875 Eggert Drive, which is the address of St. Matthew Lutheran Church.
In a statement, the university said Zachery has been suspended indefinitely from the UB men's basketball program, but remains enrolled in school.
The athletic departments at both schools confirmed earlier Friday that a player from each program was involved in an incident Wednesday night in North Tonawanda.
Zachery is being held, pending arraignment in North Tonawanda City Court.
According to the police, an investigation found that the incident took place Wednesday night during a pickup basketball game, and there was a physical altercation between players. Zachery allegedly stabbed a member of the Canisius men's basketball team in the leg and fled the scene. The victim was not identified, and the severity of any injury is not known.
"The University at Buffalo and its Division of Athletics are aware that North Tonawanda Police is investigating an alleged incident involving a member of our men's basketball team," the UB athletic department said in a statement. "We are cooperating fully with its investigation. Until we learn more from police, we won't have further comment."
Canisius also issued a statement.
"We are aware of the situation involving a member of our men's basketball program that occurred Wednesday night, and we are working to gather more information," the statement said. "Canisius College is cooperating with local law enforcement officials.
"We will have no further comment on the matter at this time."
Zachery joined the UB men's basketball team this summer, as a transfer from Chipola College in Florida. 
Zachery played high school basketball at West Genesee in Camillus, and was a point guard at Chipola for two seasons. He did not play during the 2019-20 season, as he sustained a knee injury in the fall, then underwent season-ending surgery in December to repair a tendon in a finger on his right hand.
The Buffalo News: Good Morning, Buffalo
The smart way to start your day. We sift through all the news to give you a concise, informative look at the top headlines and must-read stories every weekday.