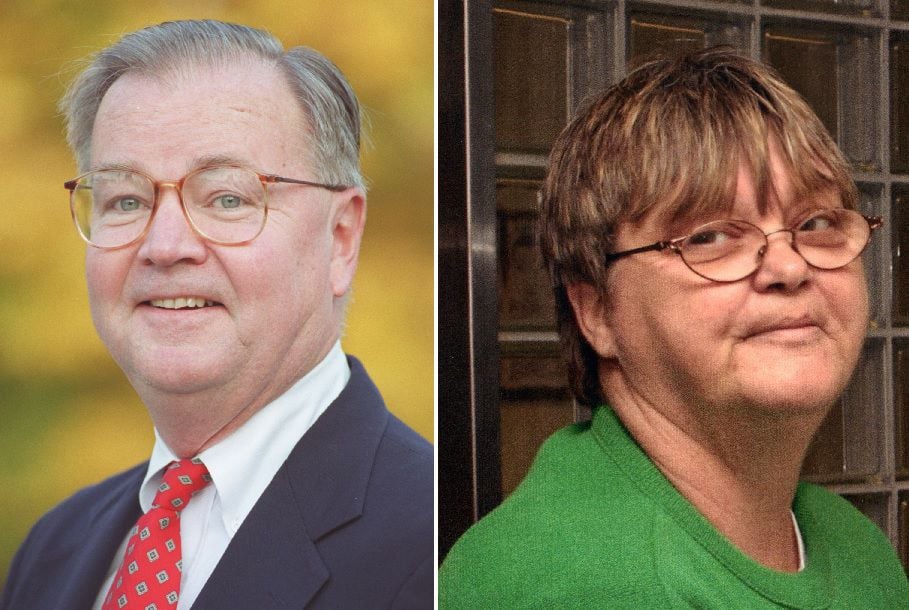 The line of people snaked deep into the parking lot of Canaan Funeral Home in Orchard Park back on the afternoon of Dec. 21.
Most of the hundreds of mourners paying their respects that day veered into the right line, where the family of James P. Keane gathered near his casket. He was the former South Council member and deputy county executive with a long career in politics who died at the age of 70 on Dec. 19.
Some in line that afternoon turned left into another room for the wake of Ellen Schuta Feeney. She was known for helping the developmentally disabled, and was 61 when she died on Dec. 17.
Now, lawsuits filed in State Supreme Court suggest why Keane and Feeney – both living normal lives a few days earlier – were lying in Canaan's viewing rooms.
Both died within about 45 hours of each other in South Buffalo Mercy Hospital after surgery performed by different doctors on Dec. 14 and 16. Both suffered perforated bowels during operations considered routine and minor. And both died from the sepsis that resulted, the lawsuits allege.
The separate pieces of litigation claim that both patients would be alive today if Mercy's doctors and nurses had recognized the signs of sepsis, which occurs when the poisons of a punctured bowel spill into a patient's system – eventually shutting it down.
Attorney James J. Kelleher, a South Buffalo native now practicing in Florida, has joined a suit filed on behalf of his sister-in-law – Margaret Keane. She is the widow of  Keane and also a retired deputy commissioner of the Buffalo Fire Department.
Kelleher serves in the suit "of counsel" with attorney Donald P. Chiari of the Brown Chiari Law Firm, who is representing both the Keane and Feeney families.
Both suits name Mercy Hospital and its parent agency – Catholic Health.
The Keane litigation also names Drs. Kenneth H. Eckhert III and Michael P. Rade, as well as Surgical Associates of WNY, with which they are affiliated.
The  Feeney family suit names Dr. Carlos Santos and OB/GYN Associates.
Both patients died of infection and septic shock following minor, laparoscopic surgery – Keane for a hernia, Feeney for an ovarian cyst, the attorneys at Brown Chiari say.
Chiari describes the failures in the Keane case as "egregious," and says deviations from proper procedures and protocols were later documented by the state Department of Health in a subsequent investigation.
"According to the medical records in our possession, the hospital on at least five occasions failed to properly assess obvious signs of infection and violated its own sepsis protocols by not notifying a physician," he said.
He and Kelleher also note that Keane's death certificate originally listed "natural" causes, but was subsequently changed by the coroner to "accidental."
"Margaret and the family were shocked to learn that Jim's death was unnecessary and absolutely preventable, and was not due to 'natural causes' as was initially indicated on his death certificate," Kelleher said. "They are both sad and angry that Jim was taken from them before his time as a direct result of the terrible medical care he received at Mercy Hospital."
John Lopez, practice administrator for Surgical Associates, declined comment on the lawsuit. Becky Mecca, administrator of OB/GYN Associates, did not return several calls seeking comment.
JoAnn Cavanaugh, Catholic Health spokeswoman, said the hospital system cannot discuss specific cases, but "is committed to providing the highest quality patient care and has an active Quality and Patient Safety Department that continually reviews policies and procedures to ensure the highest level of patient safety."
"In general, it should be noted that no two surgical cases are alike, and all surgeries involve an element of risk, regardless of precautions and safety measures," she said. "Situations like these are difficult for everyone involved, especially for family members, to whom we extend our deepest sympathies."
Bowel injury is often under-reported, but is a rare complication in basic laparoscopic surgery, according to a May, 2015 article by Dr. Sebastiano Cassaro in the American Surgeon publication.
"Up to one in five inadvertent injuries is missed at the time of the original surgery," Cassaro wrote. "The ensuing diagnostic delay is uniformly associated with post-operative morbidity and dramatically increased costs, results in significant mortality, and frequently leads to malpractice claims against the surgeon."
He also noted that tools quantifying thermal damage induced by electrosurgery in laparoscopy are being developed.
"But short of avoiding the use of electrosurgical devices altogether, no measure is likely to succeed in completely eliminating these injuries," Cassaro added.
Keane had retired from a long public career that started as a Buffalo firefighter and ended as regional representative for then-Sen. Hillary Clinton, attorneys for his family said. He also was a Common Council member, deputy to County Executive Dennis T. Gorski, unsuccessful Democratic candidate for Congress and two-time unsuccessful candidate for county executive.
In his retirement, Keane split his time between homes in Orchard Park and Florida. After spending early December of 2016 in Florida, he returned home for the hernia surgery performed by Eckhert that he expected to be routinely completed before Christmas.
Keane entered Mercy Hospital on Dec. 16. But by the next day, Keane was in pain and not following the expected path to recovery, the attorneys say. His pulse shot to 106 per minute (80 is normal) and his temperature to 100.6 degrees.
Lab reports from earlier tests showed an elevated white blood cell count while the patient's abdomen became distended, Chiari said. At that point,  protocols call for a physician to be notified, he said.
"However, the hospital staff did not notify a physician about these symptoms," the suit says.
By Dec. 18, Keane had no fever but his abdomen remained distended, while white blood cell count remained elevated, he said. Similar observations were recorded throughout that day, Chiari said.
The conditions persisted into Dec. 19, Chiari said, claiming that the hospital missed key test readings at several points until Keane was rushed back into surgery that morning, where the perforation and spilled contents of the bowel were discovered.
The bowel was re-attached, he said, but Keane continued to undergo complications.
"He just never really makes it after that," Chiari said.
At 1:10 p.m. Dec. 19, Keane suffered a heart attack.
Chiari said Keane was stabilized, but the sepsis was preventing cardiac activity from returning to normal. Keane suffered another "code" (cardiac arrest and loss of other vital signs) at 6:45 p.m.
At 7:33 p.m., the former firefighter and Air Force veteran was pronounced dead.
Chiari said Keane's wife was told the death certificate listed "natural causes" as the cause, so she felt no need for an autopsy.
Feeney's case was similar, according to a separate suit. It notes that the mother of four entered Mercy as an outpatient on Dec. 14 to undergo a laparoscopic oophorectomy, and that surgeon Santos noted no complications. Feeney was discharged at 2:30 p.m. the same day.
Early the next morning, however, she woke up with pain and vomiting. The suit says she returned to Mercy at 7:40 p.m. with blood pressure of 80/40.
Feeney suffered a "code" in the emergency room and a  tube was inserted into her trachea to assist breathing, but antibiotics were not started until 11:01 p.m., Chiari said, "despite obvious signs of sepsis and sepsis shock."
The patient then underwent emergency surgery. A hole was discovered in the small bowel, which was leaking contamination. Feeney, in critical condition, was transferred to the intensive care unit with a diagnosis of septic shock.
On Dec. 17, Feeney continued downhill. "Comfort measures" were initiated and she died at 10:49 p.m. due to "severe sepsis with multi-organ failure."
Chiari's suit lists several steps that should have been taken, but allegedly were not. They include no efforts to rehydrate, no administration of fluids, antibiotics or testing for septic shock.
Chiari charges Santos was "negligent, reckless and careless" in his failure to make an adequate preoperative evaluation of his patient. He is also cited for failure to avoid perforation during surgery, failing to convert from laparoscopic to open surgery, and failure to perform the proper tests and examinations.
Similar claims are lodged against OB/GYN Associates and the hospital.
"The staff within Mercy Hospital Emergency Department failed to timely diagnose sepsis and/or sepsis shock," the suit states.
Chiari asks for a "substantial sum of money" in both suits to compensate the families.
The lawyers also point to state Health Department reports listing several surgical deficiencies noted during a survey conducted in January. Its summary of standard deficiencies surround the case of "Patient #1," who is not identified by name in the report but whom Chiari said refers to Keane.
"The provider did not ensure the timely documentation of patient evaluation following positive criteria for possible sepsis," the report said in listing deviations from proper protocol. "This has the potential to negatively impact the continuity of patient care."
Another department finding indicated that "based on policy review, observation and interview, surgical staff did not follow facility policy related to surgical attire [during a subsequent inspection on Jan. 26], specifically coverage of all head hair when in the restricted areas of the surgical suite. This has the potential to increase the risk of infection."
State records also indicate that by May, Mercy had submitted a "Plan of Correction for the Statement of Deficiency" that outlined its remedial steps. The hospital would not comment about that plan.
Later in May, the hospital was advised by the U.S. Department of Health and Human Services' Centers for Medicare and Medicaid Services that it complied with applicable standards as a result of the state Health Department action.