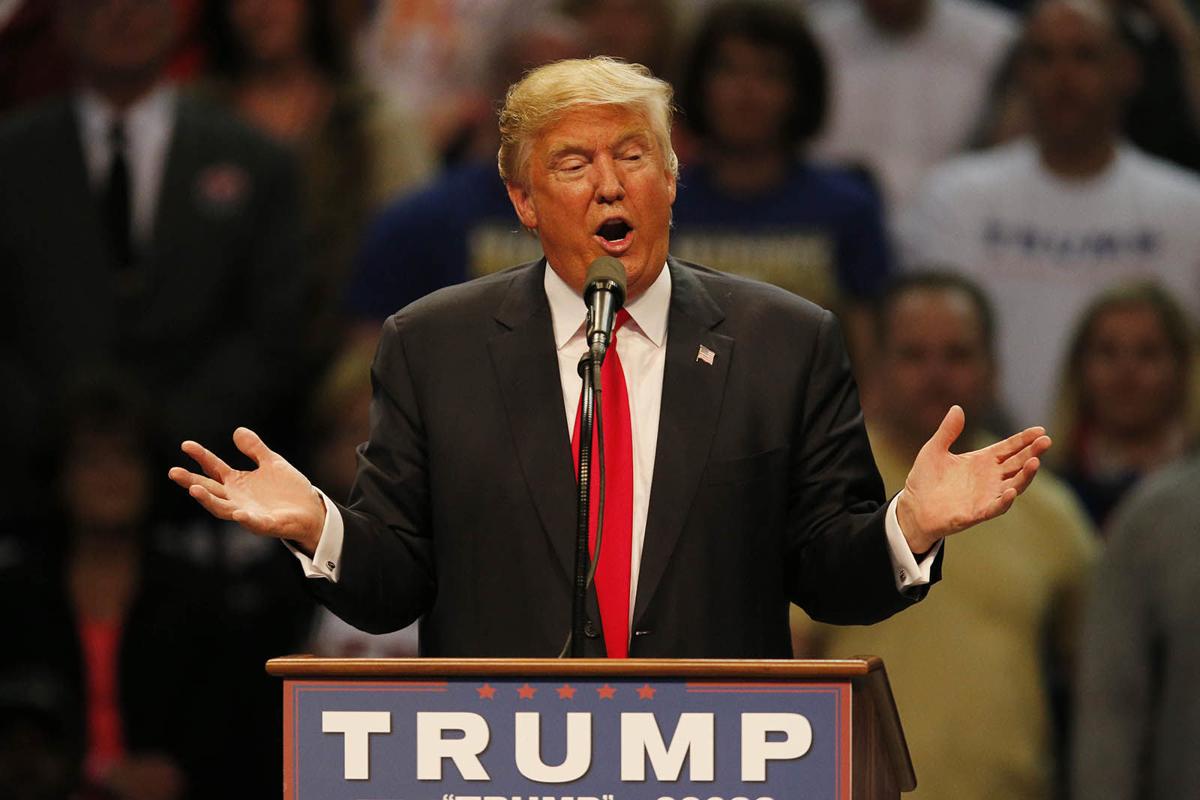 WASHINGTON — President Trump has a message for down-on-their-luck blue-collar workers all across upstate New York:
And don't look back on the house you left behind.
In a Wall Street Journal interview published Wednesday, the president said that people in New York and some other states are going to have to move to states such as Wisconsin, Iowa and Colorado, which, he said, are adding manufacturing jobs.
"You're going to need people to work in these massive plants," Trump said. "I'm going to start explaining to people: When you have an area that just isn't working like upper New York state, where people are getting very badly hurt, and then you'll have another area 500 miles away where you can't get people, I'm going to explain, you can leave."
Not surprisingly, Trump's comments drew a strongly negative reaction from Dottie Gallagher-Cohen, president of the Buffalo Niagara Partnership, as well as from Democrats.
"First of all, his assertion is wrong," said Gallagher-Cohen, who added: "In Buffalo, we're doing better than we've done in decades."
Trump's chief congressional defender — Republican Rep. Chris Collins of Clarence — and the Business Council of New York State noted that there are reasons for the president to perceive his home state as an economic laggard.
"We would never encourage anyone to leave New York State, but if we don't enact more polices that encourage economic growth they may leave on their own," said Zack Hutchins, director of communications for the Business Council.
Trump appeared to make his comments about "upper New York state" in passing, in an interview in which he said Apple Inc. had committed to build "three big plants, beautiful plants" in the United States.
He also said Foxconn, a Taiwanese manufacturer of video screens, was planning a U.S. facility, which will be in Wisconsin.
That appeared to be what prompted Trump — who won election in part by appealing to blue-collar workers — to recommend that such folks in "upper New York" ought to pull up stakes and move elsewhere.
"It's OK," the president said in the Wall Street Journal interview. "Don't worry about your house."
Asked by The Buffalo News for further details on what the President meant, a White House spokesman who asked not to be identified by name said: "High taxes, an unfriendly business climate, and a lack of skills-focused education have hurt many communities...As companies return from overseas and look to invest in American workers, the administration encourages every state and local government to compete for that investment."
Gallagher-Cohen said the president's comments were off base in several ways.
First, there's Buffalo's turnaround. Federal figures showed the region saw a 2.1 percent increase in manufacturing jobs between January and June — not quite the the 2.8 percent rise in Milwaukee, but not exactly a bad sign about the Buffalo economy.
Secondly, Gallagher-Cohen said, a lack of jobs is not the main problem these days.
"Our problem is finding the right people to fill those jobs," she said.
Buffalo, like many areas, is suffering from a "skills gap" that means companies are having trouble finding qualified people to take the jobs that are available, Gallagher-Cohen said.
The Obama administration had promoted apprenticeships and training programs to try to close that skills gap. But asked what the Trump has had to say about addressing the skills gap, Gallagher-Cohen said the new administration has been "well, you know, silent."
The White House spokesman disagreed, saying: "President Trump also recognizes the value and need for skills-focused education. The administration has and will continue to take steps to expand apprenticeships and improve job-training programs to create an American workforce that will thrive in a 21st century economy."
Rep. Brian Higgins, a Buffalo Democrat, dismissed Trump's comments as yet another example of presidential babble.
"It's more empty rhetoric from him," Higgins said. "It's incoherent and lacking of a factual base."
A longtime advocate of a major investment in highways, bridges, the power grid and the like, Higgins noted that Trump's budget called for only $200 billion over a decade in infrastructure spending — which he said, is hardly the grand jobs-producing infrastructure plan the president had promised.
"He really should stop tweeting and get to work," Higgins added.
Trump is right about one thing. Upstate New York has lost thousands of manufacturing jobs over the last several decades, as have Rust Belt states such as Wisconsin, as many factories have automated and others have closed or moved overseas.
"Unfortunately, current state policies, especially in taxation, energy infrastructure and the overall regulatory environment, have impeded overall growth," Hutchins, the Business Council spokesman, said.
Collins — one of Gov. Andrew M. Cuomo's most persistent critics — turned the president's comment into criticism of the governor.
"The President is delivering on his promises to put America First, oppose bad trade deals like TPP and to bring our manufacturing jobs home, yet Upstate New York will continue to lag behind because of downstate politicians like Andrew Cuomo," Collins said. "Instead of managing the decline of the Empire State with gimmicks like Start-Up New York, Governor Cuomo has made us the least friendly business state in the nation and should focus on real relief for small businesses and taxpayers."
Richard Azzopardi, a Cuomo spokesman, offered a vastly different take on Trump's comments. He noted that unemployment in the state fell from 8.4 percent in December 2010 to 4.5 percent in June, and that the state has gained nearly 1 million jobs since Cuomo took office in January 2011.
"We deal in facts — not fake news," Azzopardi said. "The facts are unemployment has been cut nearly in half and private sector jobs are at an all-time high in New York — a change deeply felt in Buffalo and across Western New York."
Asked by The Buffalo News for further details on what the president meant, a White House spokesman who asked not to be identified by name said: "High taxes, an unfriendly business climate, and a lack of skills-focused education have hurt many communities...As companies return from overseas and look to invest in American workers, the administration encourages every state and local government to compete for that investment."