Thomas Matusak supports President Trump, so when the Covid-19 pandemic wiped out his usual business selling a variety of small goods at fairs and festivals, he decided to use Trump-themed goods as a financial lifeline.
The location for his Trump Store, however, has caused some debate. He parked his trailer beside the main driveway leading into Gratwick-Riverside Park, a North Tonawanda city park along the Niagara River.
City Attorney Luke A. Brown said the business is illegal under a strict reading of the city code, but enforcing its ban on commercial advertising on city property would endanger the popular city market, which also is held on city land.
"My opinion to the Council was there shouldn't be any advertising or any business on public property," Brown said. "Because it is political, this particular one, you can't selectively enforce it against that, because then you might have a constitutional issue. You would have to enforce it on all property."
Mayor Arthur G. Pappas, who signed the city peddler's permit for the store, said the city has only received "a handful of complaints."
"I think there's some holes in our city code," said Alderman Austin J. Tylec, the only Democrat to win a local election in North Tonawanda in recent years. "Based on that code, if we were to set parameters in place for the Trump vehicle not to be there, we would then have to not allow market vendors to be at the market, which seems odd to me."
Matusak said he was working at a fair in Sarasota, Fla., in March when the pandemic shut it down. One after another, he received emails telling him that all the other events he planned to sell at also were canceled.
"I guess I was home for the first month, watching too much Fox News, and I said, 'I'm gonna go out there and I'm gonna start selling some stuff promoting this guy.' And here I am," Matusak said.
North Tonawanda is a conservative city. According to Niagara County Board of Elections figures, Trump carried the city in 2016, polling 7,623 votes to 5,482 for Hillary Clinton. In local elections, Republicans almost always win.
Some residents have complained that the Trump Store violates a city code provision barring "concessions" in city parks. Brown disagrees.
"Although there's no definition of concessions in our code, the layman's definition of concessions is food or drink, typically, so I didn't think it would fall under (that section)," Brown said.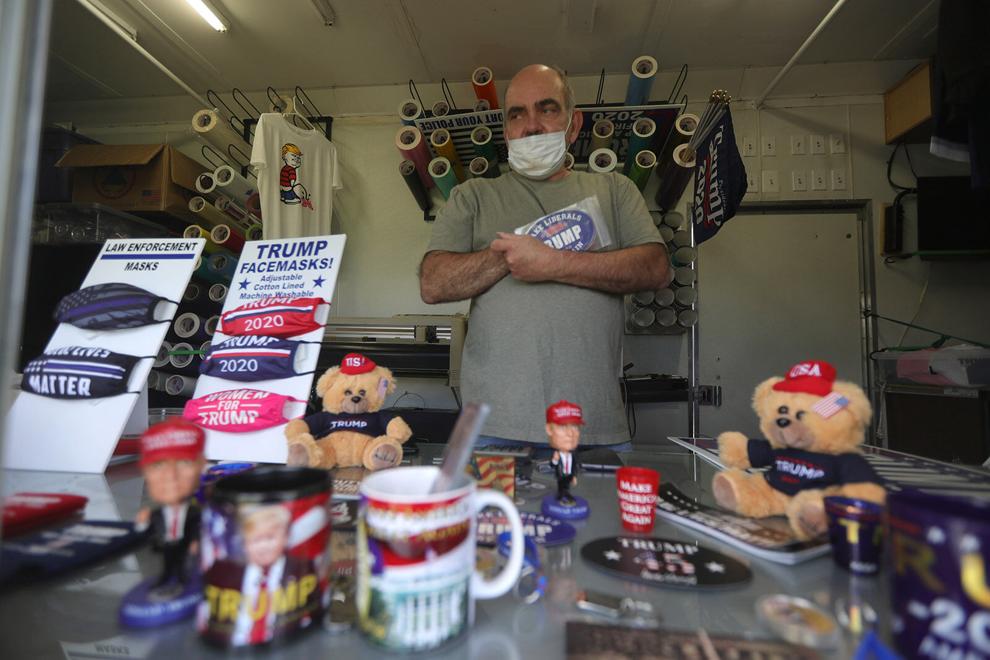 Matusak paid $35 for a city peddler's permit for the rest of the year, and Pappas signed it June 26. Matusak said he tried other locations in the city before settling in the park. The Council then asked Brown for a written opinion.
"I advised that, reading the code strictly, there should not be any advertising in Gratwick Park or any of the city property including the city market, Deerwood Golf Course, Gateway Harbor, etc.," Brown said.
Brown said he has asked the Council how he should proceed but has not received a response.
"What it comes down to is, I don't care if it's a red truck or a blue truck, I just don't think politics should be in public spaces like that, especially public parks," Tylec said. "If it was something where he wanted to sell things at the market, I think that's a discussion piece. I think he has every right to be there based on our city codes unless or until we ever change them."
Among a steady stream of customers Tuesday was Gary Favero, of Wheatfield, who bought a Trump flag.
"This is going to fly high," Favero said. "It's the party that I chose and I'm proud of it and he's doing a great job. That's the way I feel. Right now the political climate's pretty crazy so it's risky even flying this, but what are you going to do?"
Matusak said he likes the business because he meets a lot of like-minded people.
"A lot of people even thank me for being here," Matusak said. "They're finally saying, 'I'm tired of not saying how I feel about things and I'm going to buy some merchandise because I've had it.' "
But, he said, he's also threats.
"We get a lot of negative comments every day from the road. You can hear them," Matusak said. "They're at the red light, screaming. It's all in a day. It doesn't intimidate me. "