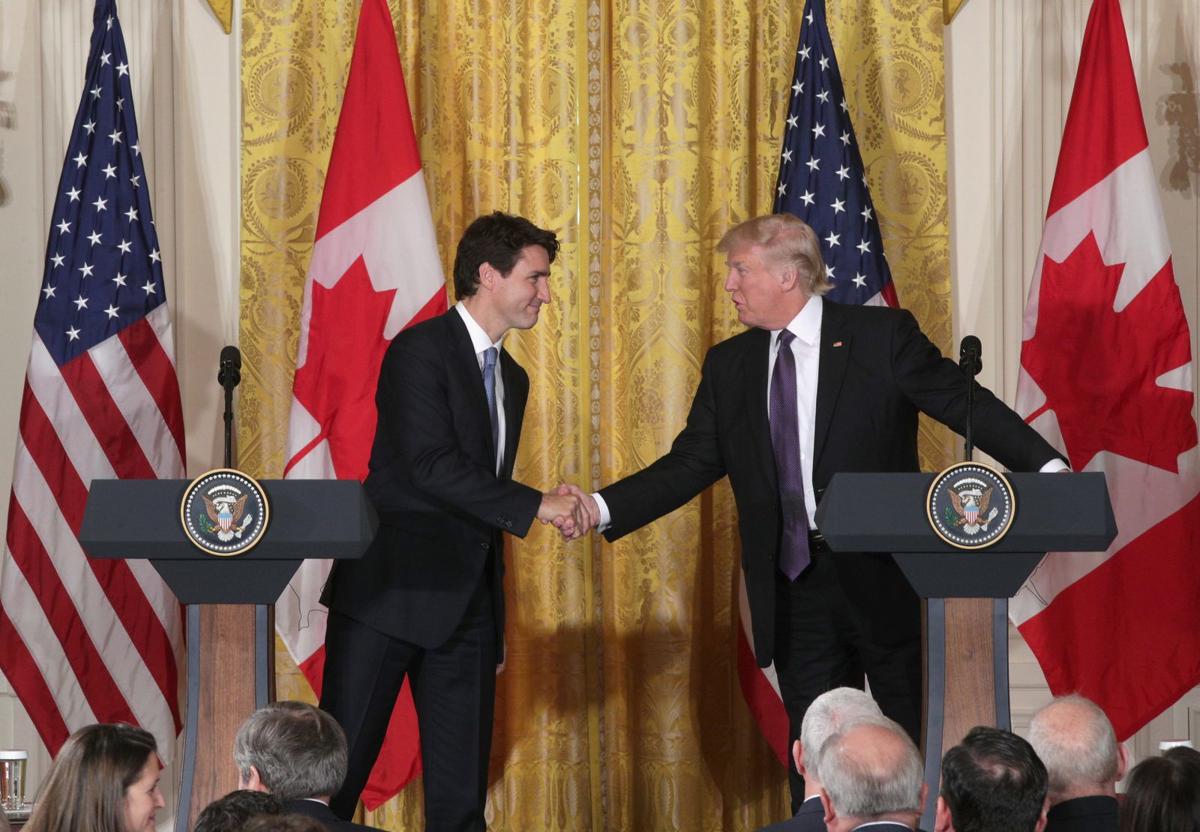 When John Kincaide thinks of NAFTA, he certainly doesn't think of the trade deal between the United States, Canada and Mexico as what President Trump calls it, which is: "The worst trade deal in the history of the world."
Instead, Kincaide thinks of the North American Free Trade deal, now a third of the way through its third decade, as the impetus behind 40 percent of his company's profits last year.
Kincaide started a company called WeRecycleBatteries.com in 2010, and thanks to NAFTA, his Alden-based firm can ship worn-out industrial, auto, computer and cellphone batteries to a Canadian firm that reprocesses them without paying duties when they cross the border.
But if Trump follows through on his threat to withdraw from the trade deal, NAFTA would disappear — and so, most likely, would a big share of Kincaide's business.
"It would probably really put a crimp on things," Kincaide said.
Even experts who criticize NAFTA agree that pulling the U.S. out of the trade agreement would put a crimp on a lot of things — from small businesses like Kincaide's to the auto industry as well as Western New York's farms and consumer pocketbooks.
That's why many think Trump is bluffing — in order to strengthen his hand in negotiations to improve a trade deal that has hurt American factory workers.
"He just wants to get a better deal, because not everything has been good with NAFTA," said Nallan Suresh, a trade expert who serves as distinguished professor and chair of Operations Management and Strategy at the University of Buffalo's School of Management.
Here are key questions and answers about ending or changing the trade deal, and how it all might affect the Buffalo area:
What would happen if the U.S. leaves NAFTA?
Trump's latest comments on the trade deal came in a speech in Arizona last week, where he said: "I think we'll end up probably terminating NAFTA at some point, OK?"
Economists and business leaders say that's much more easily said than done.
Since NAFTA took effect on Jan. 1, 1994, the economies of the United States, Canada and Mexico have become intertwined. Countless small businesses such as Kincaide's have sprung up, especially near the borders, to cash in on what's now largely a big, open economic zone. Meantime, big manufacturers have created complex cross-border supply chains where industrial products cross the border duty-free, sometimes more than once, as companies seek the cheapest parts for their products.
That being the case, by ending NAFTA, "you would be throwing a wrench into the economy," said John Manzella, CEO at the World Trade Center Buffalo Niagara.
Border-dependent companies such as Kincaide's would lose plenty of business, and big manufacturers would have to look for American components to replace those imported parts that suddenly got more expensive with the imposition of duties.
Of course, companies would pass on those higher costs to consumers. The Boston Consulting Group issued a report this summer that said a withdrawal from NAFTA would likely increase the cost of the average new vehicle by about $1,000.
What's at stake in the Buffalo area?
Much has changed in the Buffalo area economy in the three decades since Trico, the windshield wiper manufacturer, moved its manufacturing facilities from Main Street to Matamoros, Mexico.
These days, an increasing share of the Buffalo area economy depends on international trade.
Proof can be found in statistics published by the U.S. International Trade Administration, which reported that Buffalo-area companies exported nearly $2 billion in goods to Canada and Mexico in 2015. That represents a 21.3 percent increase over six years.
"Canada is New York State's number one customer, with exports reaching $12.6 billion in 2016," Dottie Gallagher-Cohen, president of the Buffalo Niagara Partnership, noted in a letter to the U.S. Trade Representative at the outset of NAFTA renegotiations earlier this summer. "The trade relationship does not stop there, as nearly 681,000 New York jobs depend on trade and investment with Canada."
All of that, then, is at stake in the NAFTA renegotiations.
What changes would Buffalo-area businesses like to see in the agreement?
The Buffalo Niagara Partnership suggests some relatively minor changes to NAFTA, such as:
Provisions that would encourage the U.S. and Canadian governments to make border crossings more efficient.
Modernizing visa programs to make sure they cover an up-to-date list of professions so that more people can work on both sides of the border.
Efforts to harmonize U.S. and Canadian business regulations to make it easier for more companies to do business in either the United States or Canada.
What does the labor movement think?
Labor leaders cite statistics from the left-leaning Economic Policy Institute that show the United States lost more than 670,000 jobs because of NAFTA between 1993 and 2010. The U.S. lost nearly 5 times more jobs to China over that time span, but to hear organized labor tell it, NAFTA must be changed to prevent a bad situation from becoming even worse.
To that end, the AFL-CIO says a new NAFTA must:
Guarantee labor rights in all three countries.
Strengthen currency rules to prevent companies from shifting jobs to take advantage of currency fluctuations.
Bolster "rules of origin" to make sure more component parts are manufactured in America.
Be renegotiated in the open, with input from Congress and the public.
"It is time for the Trump administration to rewrite NAFTA the right way," said AFL-CIO President Richard Trumka.
What's at stake for the auto industry?
For General Motors, Ford and Chrysler, the very way they make vehicles is at stake.
No one buys a strictly American car anymore, and NAFTA is one big reason why. Mitch Bainwol, president of the Alliance of Automobile Manufacturers, said the trade deal allowed the auto industry to save money by creating a seamless three-country market for auto parts.
"In many cases, auto parts and components cross U.S. borders more than eight times in the production and assembly process," Bainwol said in a letter to the U.S. Trade Representative.
Yet that's just one of the things the Trump administration hates about NAFTA. Opening renegotiations earlier this month, U.S. Trade Representative Robert Lighthizer said that open borders allowed the auto industry to economize at the expense of American workers.
"Thousands of American factory workers have lost their jobs because of these provisions," said Lighthizer, who is demanding tougher NAFTA rules of origin that would dramatically increase the percentage of each car that must be made in the U.S.
What about New York's farmers?
New York's dairy farmers have a love-hate relationship with NAFTA, and now they're looking for a little more love from the renegotiated trade deal.
They love the fact that thanks to NAFTA, Mexico is New York's largest dairy export market. Kelly Young, deputy director of public policy at the New York Farm Bureau, said farmers worry about an end to NAFTA because that would mean an end to easy access to the Mexican market. In addition, that would flood an already flooded U.S. dairy market with even more milk, thereby depressing the prices farmers can get for their product.
At the same time, New York dairy farmers hope a renegotiated deal gives them greater access to the Canadian market.
"That's one of the provisions where we didn't make out so well in the original agreement," said Young, who noted that Canada's protectionist dairy policies were largely allowed to remain in place under NAFTA.
What do local members of Congress think?
Neither Rep. Brian Higgins, a Buffalo Democrat, nor Rep. Chris Collins, a Clarence Republican, is a big fan of NAFTA.
Higgins said a new NAFTA should find ways to enhance trade between the United States and Canada, making that border more seamless, while including protections aimed at preventing American companies from fleeing to Mexico for cheap labor.
Noting that the American economy is the world's largest, and that countries long to do business here as a result, Higgins said: "We have great, great leverage here to press for a better deal."
Meantime, Collins said: "I'm a supporter of bilateral trade agreements and each country negotiating individually with one another. The vast differences between our northern and southern borders play a role in the mess that is NAFTA, and we need to focus on stopping jobs from fleeing to Mexico while encouraging trade with Canada."
What's the timetable look like — and can NAFTA be renegotiated in that timetable?
Negotiators for the three countries aim to wrap up talks by the end of the year, long before next year's presidential election in Mexico, so that a new NAFTA can be submitted to legislatures in the three countries in early 2018.
Suresh, the UB management professor, wonders if that is even possible, just because the sprawling trade agreement touches on so many facets of the economy.
"There are just so many little details to be worked out," Suresh said. "It is just mind-boggling the amount you have to negotiate here."
Get local news delivered to your inbox!
Subscribe to our Daily Headlines newsletter.