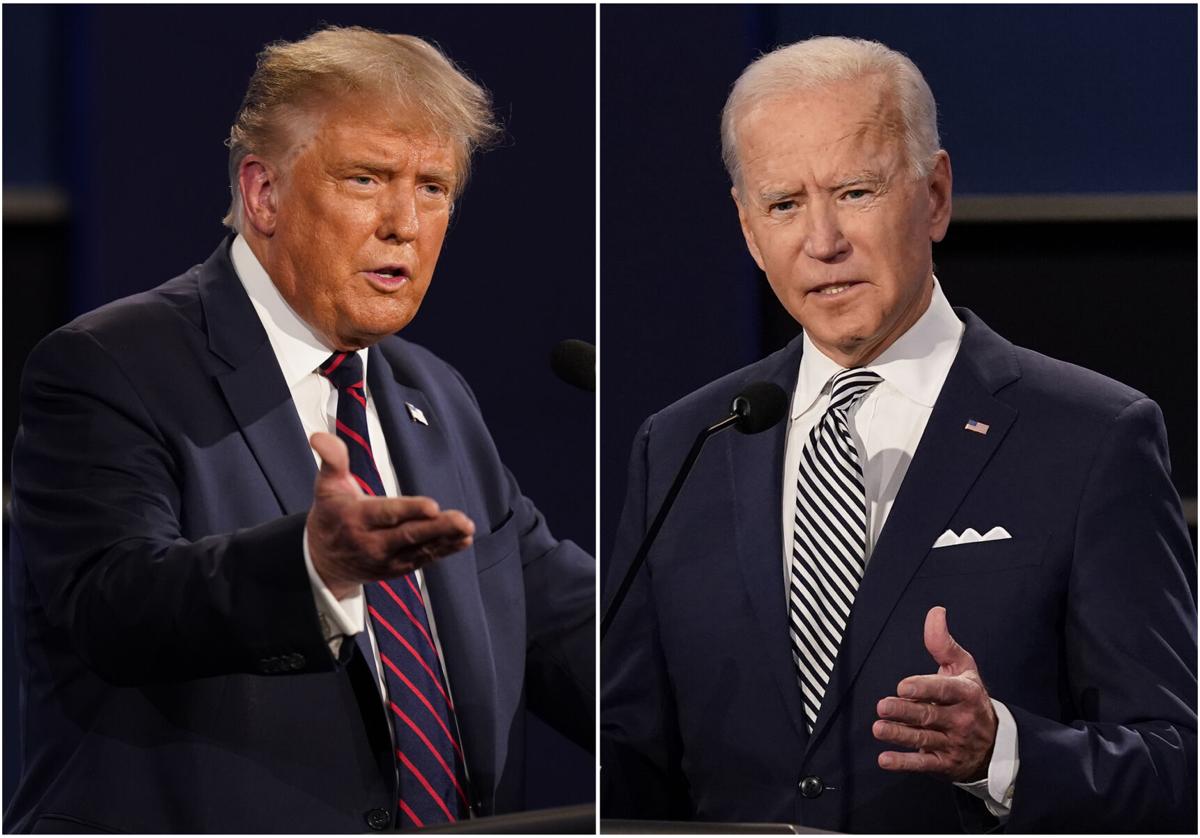 WASHINGTON – For Western New Yorkers, the presidential campaign is both omnipresent and far away. It is jamming the airwaves and Twitter feeds and conversations even more so than usual, even though neither President Trump nor Joe Biden have campaigned in Buffalo.
The campaign is omnipresent, in part, because the Republican president and his Democratic rival offer radically different visions that could, over the next four years, reshape metro Buffalo, as well as the nation.
President Trump largely promises more of the same: an administration that is light on regulation but heavy on rhetoric – and sometimes policy – that often takes aim at blue states such as New York. If you are against the federal government taking the lead on addressing the pandemic's impact on state and local governments, if you want to see refugee resettlement programs narrowed and if you oppose environmental regulation and gun control, then he's your guy.
Meanwhile, Biden promises a robust reinvention of the federal pandemic response, big investments in infrastructure and the environment, a huge new wave of refugee resettlement, another attempt at federal gun control and the restoration of the full tax deduction for state and local taxes.
Of course, political reality often gets in the way of promises, and Trump's promises must be gleaned from his record and his rhetoric, given that the Republican Party decided not to write a platform this year. Biden and his party, meanwhile, have been more specific in making promises that they may or may not be able to keep.
The "other" Erie County – the one just over the border in northwestern Pennsylvania – ranks as a key battleground for both Joe Biden and President Trump.
No matter who wins, though, much is at stake for Buffalo Niagara. Here's a look at the some of the issues that matter most in Western New York:
No issue more starkly illustrates the difference between the candidates than the Covid-19 pandemic.
"The light at the end of the tunnel is near," Trump told supporters in Fort Myers, Fla., on Friday. "Don't listen to the cynics and angry partisans and pessimists."
Count Biden as one of the pessimists.
"We're in a situation where we have 210,000 plus people dead," Biden said during an ABC town hall Thursday. "And what's he doing? Nothing."
Trump opted for a trickle-down approach to the pandemic, allowing states to take the lead on everything from testing to personal protective equipment while pushing them to reopen their economies. In contrast, Biden promises robust federal efforts on testing, contact tracing and equipment purchases, while saying he will use the president's bully pulpit to encourage mask-wearing.
For New Yorkers, there's also a dollars-and-cents difference between Trump and Biden on the Covid-19 issue. The candidates disagree completely on federal aid to state and local governments suffering revenue shortfalls due to the pandemic.
"Well run States should not be bailing out poorly run States, using CoronaVirus as the excuse!" Trump tweeted in May. He's said the same thing ever since, making state and local aid one of the toughest issues in negotiations over another Covid-19 relief package.
In contrast, Biden's Covid-19 relief plan – spelled out on his campaign website – would "establish a renewable fund for state and local governments to help prevent budget shortfalls, which may cause states to face steep cuts to teachers and first responders."
It is unclear, though, whether Biden's fund would fill the $14.5 billion hole in New York's budget, or if it would cover the $65 million in federal pandemic aid that the City of Buffalo included in its current budget based largely on a wish.
Buffalo-area officials long for federal funds for all sorts of projects. And while both candidates are interested in a huge infrastructure investment, partisan bickering shredded Trump's various plans to rebuild highways, airports and the like.
Democrats blanched at his original idea, which was to emphasize public-private partnerships rather than government funding for road projects. When the two sides met on the issue in May 2019, Trump demanded that Democrats stop investigating him – and then he stormed out of the meeting.
Little has happened since. That would seem to indicate that a second Trump term would likely include an infrastructure effort only if the two sides start talking again.
Trump remains interested in infrastructure, though, White House spokesman Judd Deere told Bloomberg News in June.
"Since he took office, President Trump has been serious about a bipartisan infrastructure package that rebuilds our crumbling roads and bridges, invests in future industries and promotes permitting efficiency," Deere said.
Biden is pushing a $2 trillion infrastructure plan, but the proposal's fate would depend on the new Congress. If Biden wins and Democrats take both houses of Congress, the plan could pass in some form. But that is unlikely if Republicans retain control of the Senate, given that Majority Leader Mitch McConnell has signaled a turn toward fiscal austerity.
Rep. Brian Higgins, a Buffalo Democrat who has been pushing a big infrastructure plan for years, is optimistic. He said Skyway replacement, a new parkway to replace the Scajaquada Expressway, a rebuilt Humboldt Parkway and the final restoration of cars to Buffalo's Main Street are among the projects that could be funded under an infrastructure bill.
Meanwhile, organized labor sees such a bill as a big jobs producer amid the recession.
"This would be a major infrastructure rebuild of our country, and we're very fixated on that," said Richard Lipsitz, president of the Western New York Labor Federation.
Trump spent four years paring back environmental regulations, but now he seems to be turning a shade of green – a color Biden has worn proudly for years.
In Michigan last month, Trump touted the Great Lakes Restoration Initiative, which he had tried to cut until a reversal last year. And in announcing a ban on offshore drilling in Florida, he said: "Who would have thought Trump is the great environmentalist?"
Environmentalists never have thought of him as that. The Healing Our Waters Great Lakes Coalition harshly criticized Trump's loosened restrictions on coal-fired power plants and farm run-off, although the New York Farm Bureau said the new runoff rules would be less confusing for farmers.
Expect more deregulation under a second Trump term and something very different under Biden. His infrastructure plan is, in part, a green energy plan, and he also promises to bolster the sort of environmental regulations that Trump has been trimming.
Higgins is happy about that.
"The full protection of the environment, including Lake Erie and Buffalo and Niagara rivers, will be restored," he said.
The Buffalo Niagara Partnership's federal priorities include pandemic loans for employers, liability protections and aid for the states and municipalities. But the local chamber of commerce is also pushing another issue that offers a stark contrast between the candidates: immigration reform
Local companies such as Moog need to recruit more skilled workers from overseas, said Dottie Gallagher, the partnership's president.
Trump, however, this month tightened the visa program for high-skilled foreign workers – something Biden hopes to expand.
Similarly, Trump last month cut refugee resettlement to a record low, saying the U.S. would admit only 15,000 newcomers from the world's trouble spots in the coming year, down from 18,000 in 2020.
The judge ruled the ban violated the federal Administrative Procedures Act, which aims to make sure that federal regulations are fair to all citizens and reviewable by the courts. 
The cut "reflects the Administration's continuing commitment to prioritize the safety and well-being of Americans, especially in light of the ongoing COVID-19 pandemic," the State Department said.
Biden, in contrast, wants to increase the number of refugees to a record high: 125,000 annually. That's 40,000 more than the number the Obama administration resettled at its peak in 2015.
The winning candidate, then, will have a hand in shaping metro Buffalo. Through the George W. Bush and Obama administrations, thousands of refugees moved to the region, stabilizing Erie County's population. That refugee influx slowed dramatically under Trump, but it would accelerate under Biden.
"Refugee resettlement is a boon to cities like Buffalo to increase our population and increase our workforce," Gallagher said.
Gun control gets little notice in the campaign, and there's nothing surprising about where the candidates stand on it. Trump is adamantly against further federal gun regulation, and it is one reason he is expected to do well in the rural stretches of the Southern Tier represented by Rep. Tom Reed, a Corning Republican.
"I think your Second Amendment rights will be under attack in a Biden administration," Reed said Friday.
Biden wants to ban the manufacture and sale of assault weapons and high-capacity magazines. He wants to start a gun buyback program. He wants to close loopholes in the existing background check system.
Not surprisingly, then, Everytown for Gun Safety endorsed Biden back in early March.
"I'll use this in the future to explain what not to do," teacher Ted Lina said, pointing to President Trump's constant interruptions and attempts to drag his opponent down various "rabbit holes."
"Joe Biden is unquestionably the candidate in the race who has spent a lifetime fighting to protect Americans from gun violence while repeatedly taking on the NRA and winning." John Feinblatt, the group's president, said at the time.
State and local tax deduction
Trump promises more tax cuts in a second term, although he hasn't offered many specifics. Biden, meanwhile, wants to raise taxes on families earning more than $400,000 and collect $1 trillion more in corporate taxes.
For New Yorkers, there is another intriguing promise in the Biden tax plan. He wants to repeal the $10,000 cap in the deduction for state and local taxes, which was included in the Trump tax overhaul that the Republican Congress passed in 2017.
The Biden campaign confirmed to the Wall Street Journal last December that he supports restoring the state and local tax deduction, but he has had little to say about it since.
And any plan to repeal the limit on the state and local tax deduction will run into the same hard fact that every Trump and Biden spending proposal will run into: the record $3.1 trillion deficit that the federal government amassed amid the Covid-19 pandemic.
"With the budget already on an unsustainable track, new tax cut or spending proposals – no matter how attractive in the abstract – will need to be paid for, or the debt burden will simply expand," Robert Bixby, executive director of the Concord Coalition, a group that pushes fiscal responsibility, said in a blog post.
The Buffalo News: Good Morning, Buffalo
The smart way to start your day. We sift through all the news to give you a concise, informative look at the top headlines and must-read stories every weekday.