Quentin Suttles was driving to his mother's house on Mother's Day when two Buffalo police officers in a patrol car began following him, according to his attorney.
After three to four minutes, when Suttles turned onto a one-way street going the wrong way, they pulled him over. Suttles' girlfriend was also in the car.
"They committed a minor traffic violation," attorney Joshua Ramos said at a Friday morning news conference.
Suttles complied with the officers' orders, got out of his car voluntarily and wasn't causing any problems, even as a police officer searched around his genitals, the attorney said. But suddenly the May 10 arrest turned violent as the officers took Suttles to the ground.
A cellphone video taken by Suttles' girlfriend shows Officer Ronald Ammerman repeatedly punching Suttles in the face while Officer Michael Scheu held him down.
"You can't hit him like that," Suttles' companion can be heard yelling in the video.
One of the officers looks up and tells her, "He's trying to eat the drugs," then looks back down at Suttles and tells him repeatedly to stop. 
Suttles, 30, appeared next to Ramos at the news conference with his arm in a sling and wearing a black face mask with the words "Justice for Quentin" written across it. He did not speak. He was joined by community activist Nate Boyd at his side.
A short clip of the cellphone video that was widely shared in May led to an internal investigation by police and prompted Erie County District Attorney John J. Flynn to open an investigation. Suttles' case is one of several that has drawn the attention of Black Lives Matter protesters in Buffalo.
Now, police body camera footage obtained and released this week by Suttles' attorney shows new details about the traffic stop leading up to the incident.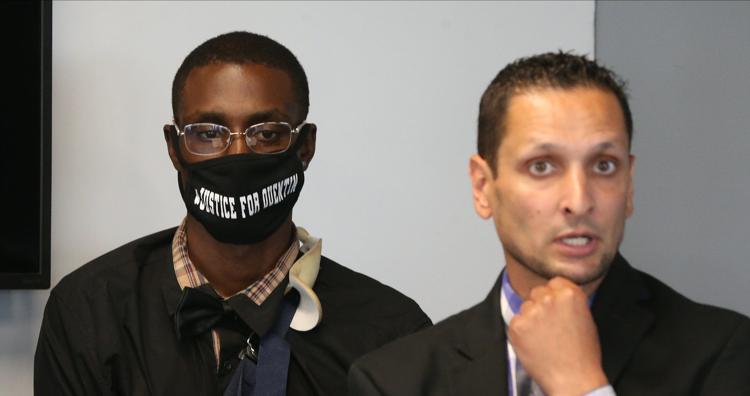 "They say if you're not doing anything wrong, the police wouldn't bug you," Ramos said while talking about a planned lawsuit related to the case. "But that is what happened."
Suttles suffered a fractured shoulder blade and orbital bone as a result of the incident, according to legal papers filed by his attorney in State Supreme Court. 
Suttles faces a felony charge of destruction of physical evidence and misdemeanor charges of resisting arrest and obstruction of governmental administration. He was released on his own recognizance and is due back in court in on Aug. 13. 
On Thursday, Ramos announced he had filed a notice of claim for Suttles against the two officers, Police Commissioner Byron Lockwood, the police department and the city. That's the first step toward filing a lawsuit. 
"We decided it was the right thing to do. We want to get what's just for Quentin as well as the community," Ramos said.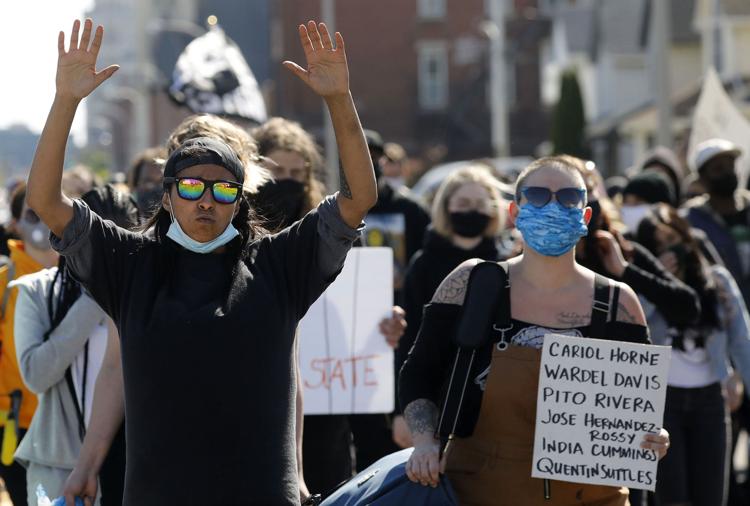 Ramos also made other allegations at the news conference Friday:
He said no drugs were found on Suttles except for a small bottle that contained Miralax, an over-the-counter laxative. 
Ramos said that while he had received body camera footage from Ammerman's camera, he did not have any from Scheu and said that was because Scheu wasn't wearing a body camera.
He also raised questions about why Ammerman and Scheu were allowed to work at the protests on May 30 and 31 in Buffalo given the ongoing investigation.
Ramos said he's disturbed by the differences in how the Buffalo Police Department has dealt with Suttles' case and the incident involving a 75-year-old protester who was pushed and fell, hitting his head, while Buffalo riot police were clearing the front of City Hall on June 4. 
"Lo and behold, a white guy gets hurt and the following day you have charges filed against those men and then on top of that the officers are off duty," Ramos said. Two Buffalo police officers were immediately suspended without pay and then charged two days later in that incident.
"Yet Quentin, who gets the crap kicked out of him, a young black man in the city, it's been six, seven weeks. No update. They're still investigating. I don't know what else you need to make a decision on it." 
Ramos acknowledged that Suttles has had dealings with law enforcement before.
In the body camera footage Ramos released, Suttles can be seen face down on the ground under an officer. "I don't have nothing," he said as they scuffle. "Why every time I see you, you've got to do something to me. Every time." 
Court records show that Suttles had two open criminal cases against him at the time of the incident. In February, he was arrested on a felony charge of criminal contempt for allegedly violating an order of protection involving a woman. An arrest report said he drove by the woman's home several times and called and texted her despite the order.
And in September, he was charged with a felony possession of a loaded weapon after a car he was a passenger in was stopped by police. 
"This is nothing we're shying away from or hiding from because the truth is what it is," Ramos said. "He was a backseat passenger of a car. They found a gun after the fact in the car. They charged everyone with gun possession."
Ramos said Suttles' case from Mother's Day would likely never be taken seriously without the bodycam footage and cellphone video from the incident. 
Without it, Ramos said, "It ends up coming down to a cop they're going to play up as this outstanding citizen versus this black kid who gets in trouble. What's a jury going to do?"
Get local news delivered to your inbox!
Subscribe to our Daily Headlines newsletter.