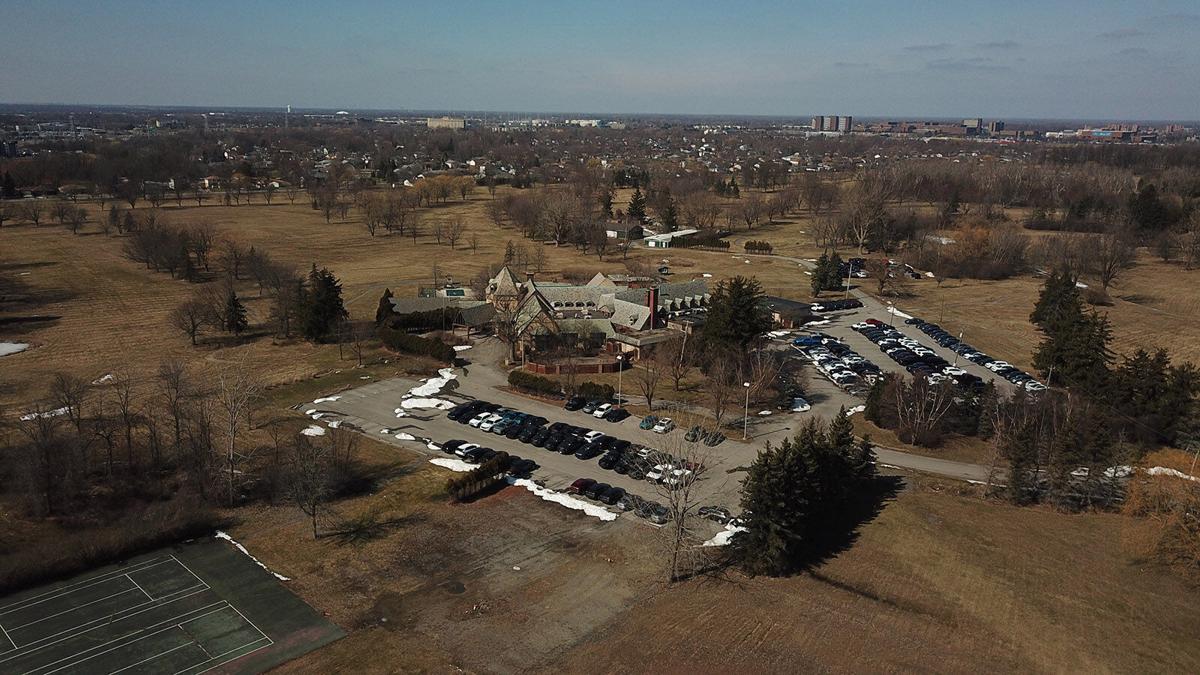 Hours before Town Board Democrats backed a tentative agreement guiding nearly $300 million of proposed development in central Amherst, town Republicans held a news conference blasting the deal as a taxpayer rip-off negotiated without public input.
It was the first campaign salvo from the Republican slate trying to win a foothold on a Town Board where Democrats hold every seat following their sweep of the races in 2017.
Republicans say voters will respond well to their message that Supervisor Brian J. Kulpa and his fellow Democrats haven't been good stewards of town government, spending too much and raising taxes too high while touting pie-in-the-sky plans.
"We have a reckless, out-of-control Town Board," said Amherst GOP Chairman Brian Rusk.
The races include an intriguing contest for town justice, with a Democratic incumbent facing a former radio talk show host known for her conservative views.
The Republican candidates face an uphill battle in Amherst, a blue town getting bluer where Joe Biden enjoyed a comfortable wide margin of victory over Donald Trump last year. And Democrats point to steady leadership during the Covid-19 crisis and say residents will welcome the long-lasting benefits of the Amherst Central Park plan.
"It's going to be a legacy for the Town of Amherst," said Councilman Shawn Lavin, a Democrat seeking reelection.
The GOP roster is led by supervisor candidate Jay DiPasquale, who studied public administration and urban planning in graduate school and who worked as an adviser with the U.S. State Department for two years in Iraq. His experience includes positions in local government in Georgia and New York, including as deputy Allegany County administrator. 
The Town Board candidates are: Ray Herman, a lawyer and former assistant district attorney for Erie County whose great uncle, Albert J. Herman, served as town supervisor; and Daniel J. Rider, a licensed professional engineer and former deputy Erie County commissioner of highways who served in the Navy and sits on the Amherst Traffic Safety Board.
It's no surprise Republicans are hammering Democrats over the nearly 8% increase in the property tax levy included in the 2021 town budget. With the tax rate rising by just under 7%, the owner of the average home will pay an extra $124 in town property taxes this year.
Kulpa has defended the increase as the result of an exceptionally challenging pandemic budget year, when the town's typical revenue streams dried up. The town also borrowed $6 million to close a budget hole, although it is in line to receive $15.5 million in federal aid under the American Recovery Plan.
Republicans say the Amherst Central Park deal is another example of how Democrats aren't looking out for taxpayers' interests.
The town, following public debate and behind-the-scenes negotiations dating to 2012, has reached a tentative deal with Mensch Capital Partners, the development group that owns the former Westwood Country Club. The agreement approved March 8 lays out the financial terms under which Amherst will buy the 170-acre former golf club from Mensch and, in turn, sell 38 acres of town-owned sports fields to the developers.
DiPasquale and the other Republicans say the town negotiated the agreement in secret and rushed to OK it without getting feedback from residents. They also questioned "sweetheart" conditions in the agreement obligating the town to retain Mensch as construction manager for future Amherst Central Park development.
"There is so much information that is missing that needs to be addressed before the town even entertained a resolution," said DiPasquale, who also worked in the town's Planning Department, adding, "We're the ones who are going to be obligated to pay for all of this."
Democrats say all construction and professional services for upcoming development will be put out to bid and Kulpa and town employees extensively engaged the public throughout the planning process. A complicated financing mechanism is meant to ensure revenue generated by development at the Amherst Central Park sites cover the town's cost for this work.
"We've been very open about what we're trying to do," Lavin said.
Democratic candidates this fall include Kulpa, Lavin and Councilwoman Jacqualine Berger, all seeking second terms.
The town justice race could draw more attention than usual.
Incumbent Kara Buscaglia, an attorney, won election in 2013 and again in 2017, when the Democrat was cross-endorsed by town Republicans, a frequent practice for local, county and state-level judicial positions.
This year, Kathy Weppner said she decided to enter the race when she realized Amherst Republicans were considering cross-endorsing Buscaglia again.
Weppner is best known for her stint as a outspoken host on WBEN radio. She also unsuccessfully ran against Rep. Brian Higgins, D-Buffalo, in 2014.
In New York, town judges are not required to be practicing attorneys, but Amherst Democratic Chairman Jerry Schad said he believes Weppner's lack of legal experience and her right-wing views will turn off voters.
"I think Kathy Weppner is simply a confirmation that this Amherst Republican Party is still the party of Donald Trump," Schad said.
Buscaglia, who did not respond to a message left at her chambers, is the endorsed Conservative candidate. Weppner will challenge Buscaglia in the Conservative primary and could face a challenge from Buscaglia in a Republican primary.