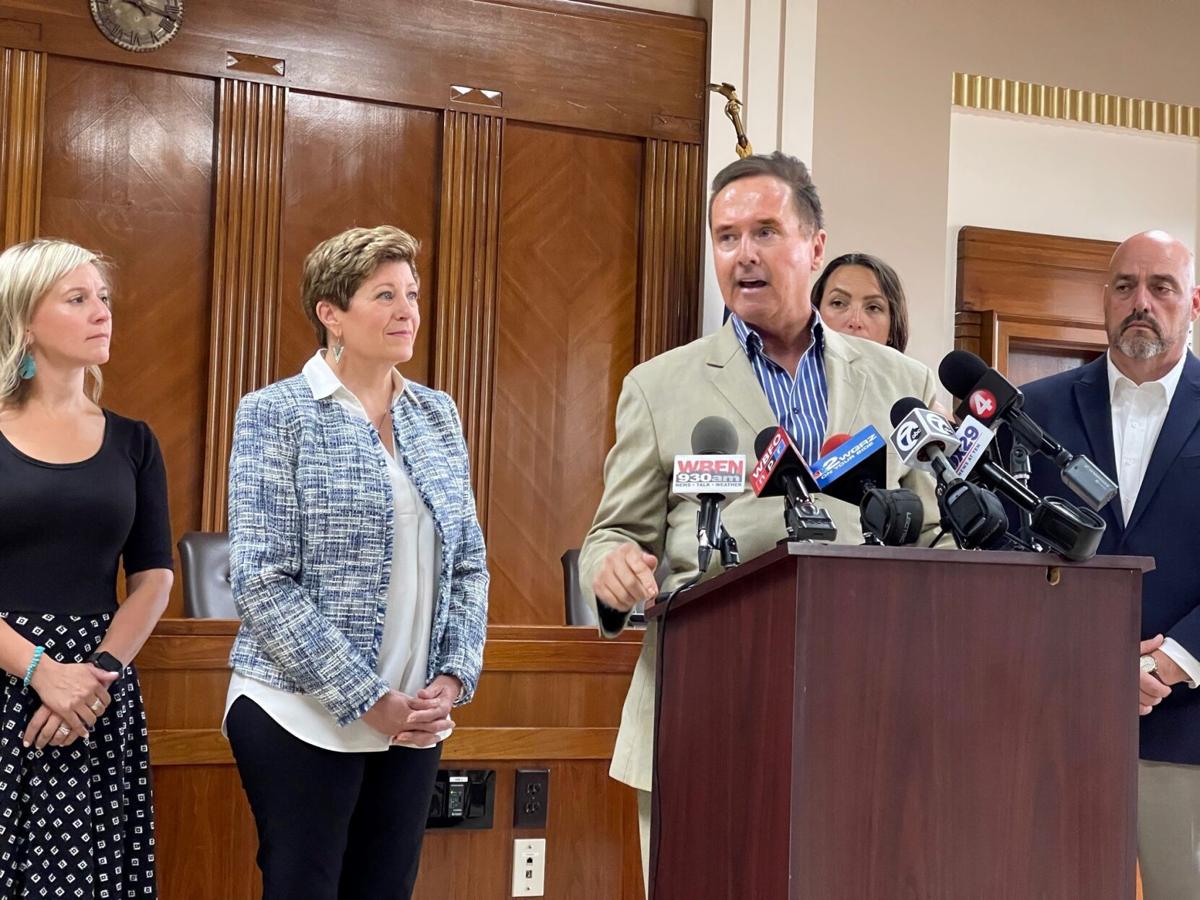 The Town of Tonawanda will provide $2 million in grants to hundreds of small businesses using federal stimulus funding the town received. 
The town will provide up to $5,000 each to companies with 20 or fewer workers to use on payroll expenses and to pay for new equipment and other business needs as part of the "Small Business – Big Impact" grant program, which will be overseen by the Kenmore-Town of Tonawanda Chamber of Commerce, officials announced Tuesday morning.
Officials in recent weeks have begun planning how to use the aid included in the American Rescue Plan, worth at least $822.7 million to the eight-county WNY region.
Tonawanda Supervisor Joseph Emminger, Ken-Ton Chamber CEO Catherine Piciulo and Rep. Brian Higgins, D-Buffalo, whose district includes the town, on Tuesday revealed details of the grant program, which is meant to provide relief to restaurants and other small businesses battered by the economic effects of the Covid-19 pandemic.
"It's not going to make or break a business," Emminger said at a news conference in the Municipal Building in Kenmore, but it will offer a boost to companies that have struggled for much of the past 18 months.
President Biden's $1.9 trillion American Rescue Plan provides $350 billion in state, local and tribal aid, including at least $823 million for the eight-county Western New York region.
"We're investing millions of dollars into parks and roads in the City of Buffalo, when the City of Buffalo is getting $330 million of their own American Rescue Plan," said Minority Leader Joseph Lorigo, C-West Seneca. "Why are we doing these things? These things deserve a conversation."
Communities throughout the region have started to put together plans for how to spend their stimulus aid to make sure that, within the guidelines of the legislation, it has the best possible return on investment.
The Town of Tonawanda is receiving $40.4 million this year and next through the rescue plan, and will apply $2 million toward the small-business grant program.
There are as many as 2,800 businesses in Kenmore and the Town of Tonawanda with 20 or fewer workers that are eligible for the grants, Piciulo said.
Companies must apply online at kentonchamber.org/bigimpact/ for acceptance into the program. The application period opens Monday and ends Aug. 30. 
Businesses must say what they plan to do with the money, but they do have wide leeway in how to use it.
Common Council members have weighed in with their ideas on how to spend $331 million in American Rescue Plan funds. Now, they are waiting to hear back from the Brown administration.
An independent committee formed by the chamber will review the applications and recommend which should be approved for the program and at what level of funding, Piciulo said.
If all 2,800 apply and are accepted, the businesses would receive $714 each on average. The maximum award is $5,000.
The Town Board, which must approve the funding decisions, could announce which businesses were accepted into the program at its Oct. 18 meeting, Emminger said.
Higgins said he's confident that the rescue plan money will provide desperately needed relief through programs like the one announced Tuesday in Tonawanda, for which he praised Emminger and Town Board members.
"This will achieve maximum effectiveness because of the people involved here," Higgins said.
The town plans to use most of the rest of its $40 million in funding to pay for badly needed sewer and water line improvements, Emminger said.
"Investing in our infrastructure is investing in economic development," he said.