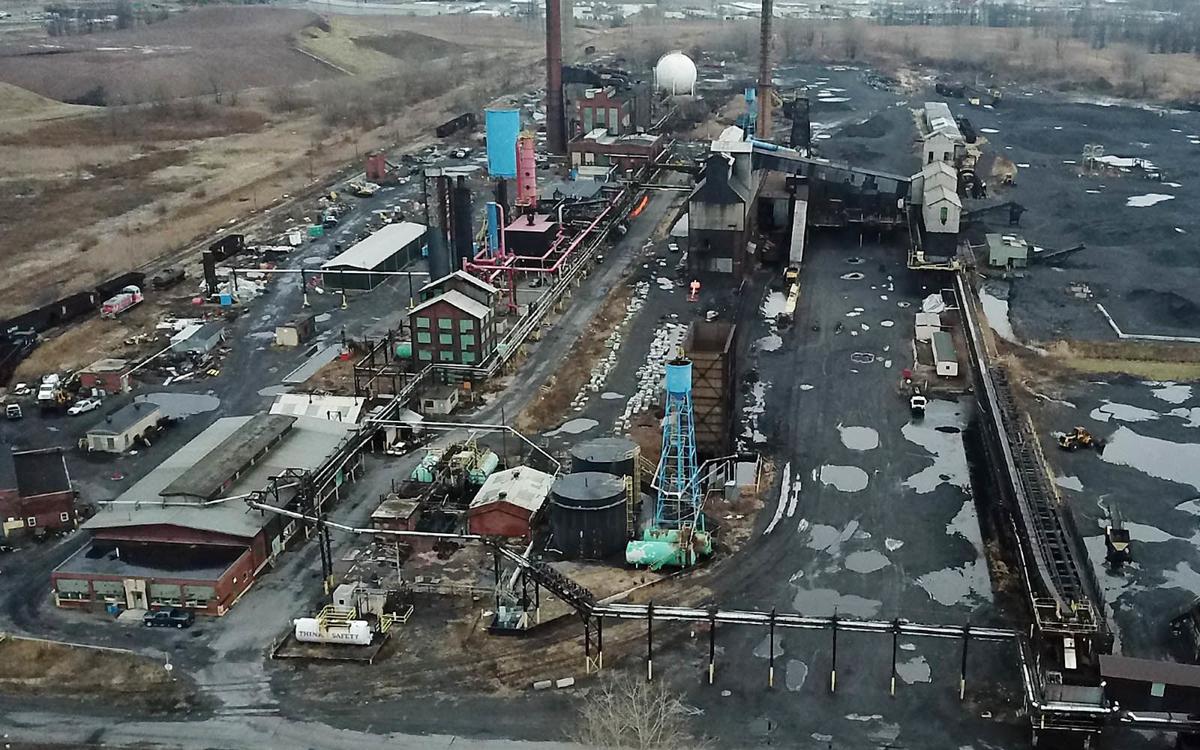 The Tonawanda Coke site could be cleaned up and put back into use — possibly as a data center — in as soon as five years if the contaminated 160-acre River Road site gets cleaned up and redeveloped under the state's Brownfield Cleanup Program.
That's the message Honeywell International and Ontario Specialty Contracting officials are bringing to the community.
"We've talked to a number of data center operators. There is a significant level of interest," said Jon Williams, the Ontario Specialty's president and CEO.
Williams pointed out that the site's proximity to water and power sources, in addition to stable geology, make it attractive to developers.
A lot would have to happen between now and then.
First, the site would have to be eligible for cleanup under the state Brownfield program.
That idea is meeting strong resistance.
At least one community organization and a former U.S. Environmental Protection Agency official said a full Superfund designation is warranted given the toxicity and scope of the Tonawanda Coke cleanup.
"This is not even a close call," said Judith Enck, former EPA regional administrator. "The state Brownfields program was established to deal with lightly contaminated sites such as gas stations and dry cleaners. Tonawanda Coke Corp. is a heavily contaminated site and does not belong in the state Brownfield program."
Rebecca Newberry, the executive director of the Clean Air Coalition, said Honeywell and Ontario Specialty are lobbying community groups and public officials for a Brownfield designation.
"It's inappropriate to lobby for the status of a site," Newberry said. "It is completely inappropriate."
Newberry said Tonawanda residents suffered while the plant was operating. She demanded a thorough and deliberate clean-up process using the federal and state Superfund programs, dedicated pools of money for cleaning up contaminated sites.
"This is not a site that should be cleaned up in 18 months," Newberry said. "It does not make rational sense."
Tonawanda Coke, which had numerous air quality and other environmental violations in 2018, shut its doors in October and declared bankruptcy. The company was unable to make its final court-ordered $2 million community service payment required from its 2014 criminal pollution case.
The cost of the cleanup remains unclear.
But officials for Honeywell and Ontario Specialty contend the state's Brownfield program would achieve the same cleanup objectives faster and less expensively than either the federal and state Superfund programs.
"The federal Superfund program is a more robust legal program. We don't take issue with those people who say, 'Hey, that's a much stronger program,' " John Morris, Honeywell's global remediation director, said during a meeting with reporters and editors of The Buffalo News on Thursday. "It's got a bigger hammer to take on responsible parties. But, that really only comes into play when you have responsible parties who are recalcitrant or are not otherwise wanting to step up and fulfill their obligations."
Honeywell's predecessor Allied Chemical founded a coke manufacturing plant at the site from 1917 to 1977 before selling the site to J.D. Crane. It has agreed with regulators that it bears some responsibility for the site's cleanup.
"We have been proactive. We have a very strong technical program. We have an extremely strong community outreach program. We listen to the community," Morris said.
That's going to be paramount if they want to make any headway, according to Jackie James-Creedon, the founder of Citizen Science Community Resources and an environmental activist who launched the campaign against Tonawanda Coke more than a decade ago.
James-Creedon said her organization is taking a wait-and-see approach before deciding which avenue it supports for Tonawanda Coke's cleanup.
"As a group, we haven't decided what we're going to do, but we're definitely making it plain and simple: Whatever happens, they need to get the community's trust," James-Creedon said. "Time will tell."
Most recently, Honeywell and Ontario Specialty partnered to clean up the former Prestolite battery-making plant in Niagara Falls that led to the development of the new Tulip Molded Plastics Corp.
"We're a firm believer in the state Brownfields program because it has demonstrated success," Morris said. "It gets the property back into use much faster than Superfund."
Superfund sites are prioritized based on their threat to human health and the environment. But the program can result in cleanups that can span decades.
As of Thursday, the state Department of Environmental Conservation said it had not received a Brownfield application for Tonawanda Coke.
That stands to reason. Ontario Specialty would need to get title to the property first. The disposition of title in the Tonawanda Coke property remained unclear on Thursday.
The Tonawanda Coke Corp. remains in bankruptcy proceedings in federal bankruptcy court. Until the bankruptcy court releases the property, there can't be an application.
EPA's work stabilizing and securing the Tonawanda Coke site has been ongoing since the company's closure last October.
Once that's finished, further investigation of on-site contamination will be done before EPA and DEC conduct "a full analysis of cleanup strategies, which will inform the selection of an appropriate cleanup action to prepare the property for future reuse," the DEC said.
The DEC didn't take a position on how the site gets cleaned up — via Superfund or Brownfield — other than to say it's "committed to a comprehensive cleanup."
"The scope of the work would essentially be the same," said Martin Brand, DEC deputy commissioner of its Office of Remediation and Materials Management.
"We're really keeping all of our options on the table here," said Sean Mahar, DEC's chief of staff. "Our ultimate goal is to see this site cleaned up and see this cleanup happens as expeditiously as possible to put this community back together."
"Fundamentally, these programs are grounded in the same approach. Any plan that's developed has to be fully protective of human health and the environment," Mahar said.
EPA and Town of Tonawanda officials weren't immediately available to comment.
The Buffalo News: Good Morning, Buffalo
The smart way to start your day. We sift through all the news to give you a concise, informative look at the top headlines and must-read stories every weekday.