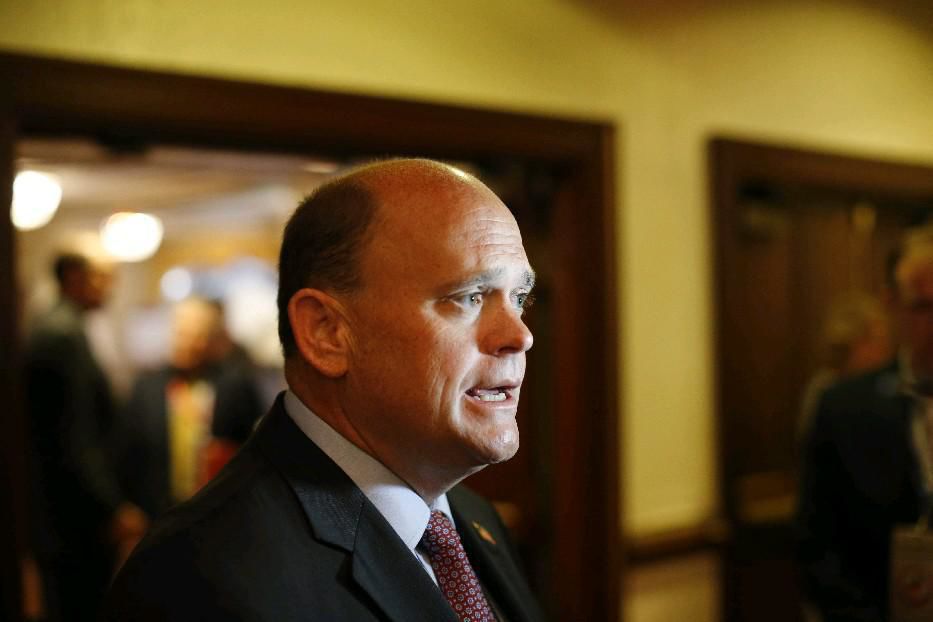 WASHINGTON – Rep. Tom Reed bills himself as a problem-solver in the nation's capital, but he's increasingly turning his attention to what he sees as a partisan problem in Albany: New York Gov. Andrew M. Cuomo.
The friendly Republican lawmaker from Corning has grown increasingly feisty in the past two years when it comes to the combative Democratic governor. On his weekly conference calls with reporters, in press releases and in newsletters to his constituents, Reed has lambasted Cuomo again and again with a ferocity he never uses against his Democratic colleagues in Washington.
To hear Reed tell it, he's just trying to add a reasonable Republican voice to the political conversation of his home state. He sees Cuomo as a governor who's driving recklessly on the left side of the highway, whereas Reed would rather steer the state to the right.
"It's progressed to a point where (Cuomo) is not in any way standing up to this extremism that I see taking over Albany in the Democratic Party," Reed said. "I become frustrated, as a proud Republican and as a New York State resident. Somebody needs to stand up to this."
Reed lists a litany of actions that the governor has taken that, in the congressman's view, don't sit well with most upstate New Yorkers. From banning fracking to giving driver's licenses to undocumented immigrants, Cuomo is governing from a downstate point of view that, in Reed's view, leaves upstate New York behind.
But others who have noticed Reed's anti-Cuomo stance think something else is behind the congressman's actions.
"My theory is he's running for governor," said Chautauqua County Democratic Chairman Norman P. Green.
Bigger ambitions?
In an interview in his D.C. office earlier this fall, Reed didn't rule out the possibility that he may challenge Cuomo in 2022.
"People are asking us about it," he said. "Where I'm at right now, I'm doing what I believe is the right thing to do. I'm trying to represent all of New York, with prioritization for our folks in Western New York and the 23rd Congressional District, while running for reelection."
But that's in 2020. Reed will likely face an entirely different set of circumstances two years later, when Cuomo will be up for election for a fourth term.
When first elected to Congress in 2010, Reed vowed to serve to no more than six terms – meaning that in order to keep his word, he would either have to lose his 2020 re-election bid or retire voluntarily two years later.
On top of that, Reed's congressional district may not even exist in 2022. New York will lose one or two congressional seats in the reapportionment that will take place that year. And if Democrats still control both chambers of the State Legislature, they will likely try to chop up a Republican-held district or two.
So Reed might find himself looking for something to do in 2022. And to hear some Republicans tell it, it would not be a bad thing for him to turn his eyes toward Albany.
State Republican Chairman Nicholas A. Langworthy lauded Reed for his work as co-chairman of the House Problem Solvers Caucus, a meet-in-the-middle group that won some good-government reforms in House rules last year as well as a compromise on funding for U.S. operations at the southern border this year.
"He's looking for ways to find common ground with people of all stripes, which is what we need to do to expand and succeed statewide," Langworthy said. "So I think, you know, it would be intriguing to consider Tom for statewide office."
A problem-solving attack dog?
Whatever Reed's motivations, it's clear his approach to the governor has changed since both were elected to their current offices in 2010.
A search of Reed's website finds that 38 times in the past two years he has attacked Cuomo either in a press release or a newsletter. That compares to a mere three mentions of the governor in previous years.
What's more, Reed has gone after Cuomo far more often than he has criticized the nation's current top Democrat, House Speaker Nancy Pelosi, or the previous top Democrat, President Barack Obama.
Cuomo made him do it, Reed said.
"He's very proud of his progressive bona fides," Reed said. "And I don't know if it's because he's running for president or positioning for a presidential run, but at the end of the day, people in New York are suffering from these policies."
Reed and Cuomo first clashed years ago, when Cuomo issued a statewide ban on fracking, a natural gas extraction process that could have led to an energy boom in Reed's Southern Tier District. And Reed has long taken Cuomo to task on budgetary issues such as the state's Medicaid spending.
This year, though, Reed has broadened his field of attack against the governor.
"Did you know that Governor Cuomo – in the dead of night – sided with illegal immigrants over hardworking New York taxpayers?" Reed said in a June newsletter criticizing the state's "Green Light law" that awards undocumented immigrants driver's licenses.
"REED HAMMERS CUOMO OVER STALLED PIPELINE RESULTING IN BINGHAMTON DEATH," read a headline on a Reed press release in October.
In September, Reed called Cuomo "the biggest bully in New York State" amid a bitter dispute the two men had over the state's refusal to do Thruway repairs on Seneca Nation territory amid the disagreement between the tribe and the state over casino revenues.
To hear Reed tell it, what New York needs is a governor with a gentler touch.
"There's some folks that we're working with, and that we're learning from and that I look up to," Reed said, citing Gov. Charlie Baker of Massachusetts and Gov. Larry Hogan of Maryland. Both are Republicans elected in states that, according to a 2017 Gallup study, are even deeper blue than New York.
Reed has met with both Baker and Hogan – and he said they take a better approach to governing than Cuomo ever has.
"You know, those are two of the most popular governors in the nation," Reed said. "And they figured out a way to govern in split government. And, you know, right now, without anybody really challenging that one-party control and that extremism in our state capitol, someone's gotta step up. I mean, this is our home, right?"
Gov. Reed? Really?
Then again, some people on both sides of the political aisle think it's preposterous to think that Reed could be governor someday.
To Camp Cuomo, Reed is the guy who sold out the state in the 2017 Republican tax overhaul. With the Republican House leadership primed to entirely wipe out the deduction for state and local taxes, Reed fashioned a compromise: a $10,000 cap on the so-called SALT deduction. Cuomo says that cap is strangling state tax revenues and driving wealthy people to leave the state.
In the eyes of Cuomo's aides, Reed is also an apologist for President Trump – who, polls show, is hugely unpopular in New York State.
"We will always put the governor's nationally significant record of accomplishments against anyone, anytime, anywhere," said Rich Azzopardi, senior adviser to Cuomo. "And we should be so lucky to contrast that with a do-nothing legislator turned Trump cheerleader who lets down his constituents at every turn."
Cattaraugus County Democratic Chairman Frank Puglisi isn't particularly impressed with Reed, either. He said the congressman is trying, unsuccessfully, to be two things at once.
"You can't say you're a problem-solver, a middle-of-the-road person, and then attack everything that Democrats do on the state or local or national level," Puglisi said. "It's double talk."
Puglisi acknowledged, though, that Reed is a formidable political force. The onetime mayor of Corning who at first could not even get county chairs to take his congressional bid seriously in 2010, Reed is now a member of the powerful tax-writing Ways and Means Committee and a lawmaker with good friends on both sides of the political aisle.
But even Reed's strongest supporters mix kind words with grave doubts when they discuss the possibility of him running for statewide office.
"I've always had a lot of respect for him because he does the right thing for the right reasons," said Anthony H. Gioia, a longtime Buffalo businessman and prominent Republican fundraiser.
But when asked whether Reed could ever be elected governor, Gioia – who has raised funds for Reed's congressional campaigns – cited the Democratic Party's increasing enrollment edge in the state.
"I think it would be a real difficult thing for Tom unless Andrew gets indicted," Gioia said.
There's no sign of that happening. But with the next race for governor more than two years away, it's pretty clear that Reed plans to continue handing down indictments of Cuomo's performance as governor.
"I think he's turned his ear off to that voice that we represent – upstate New York – and someone needs to stand up to it," Reed said. "And one-party control can kill New York."