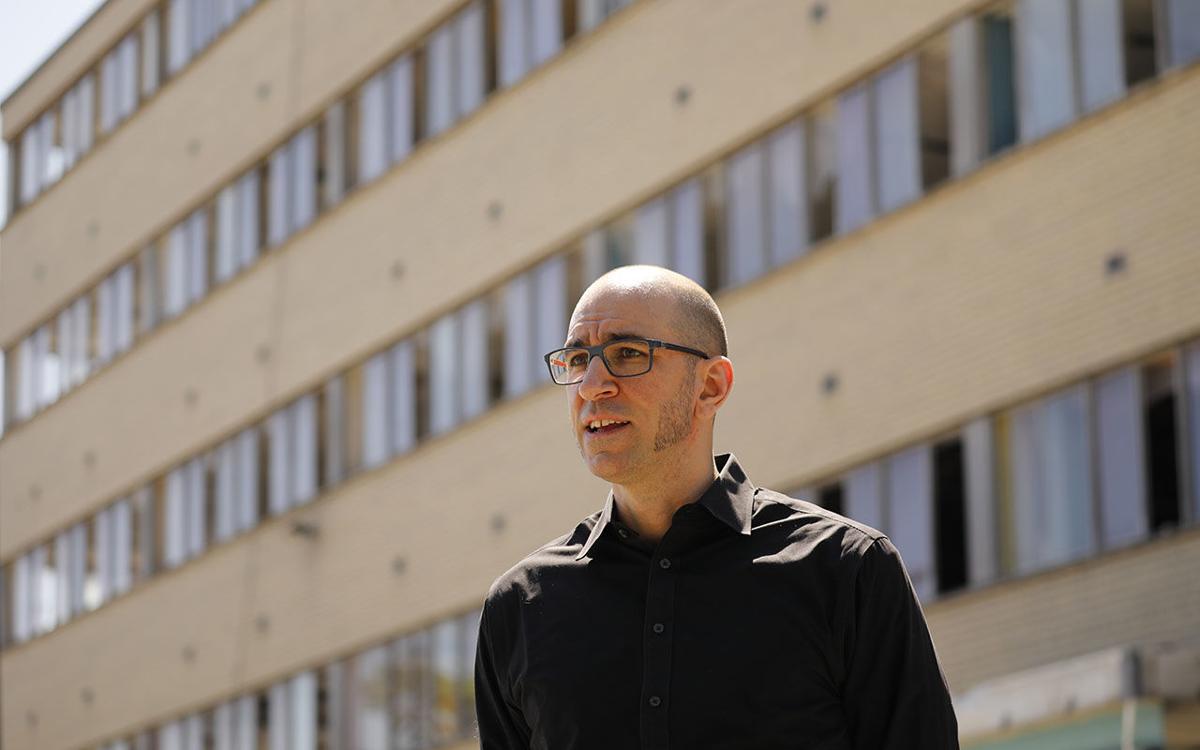 TM Montante Development kicked off construction Tuesday on its first project near Gates Circle,  renovating a 70-year-old medical office building on Delaware Avenue into 33 apartments, commercial space and a ground-floor cafe and restaurant.
The development firm owned by Thomas Montante began work at 1275 Delaware, a six-story medical office building just south of Gates Circle and adjacent to a parking ramp. Crews had already erected fencing and begun limited demolition work.
"Now we're moving forward full-bore as of today," said Montante President Christian Campos.
Designs by Carmina Wood Morris for the $12.4 million project include 22 one-bedroom units and 11 two-bedroom units. The units range in size from 700 to 1,200 square feet, while rents will vary from $1,100 to $2,400 per month. Campos said he expects to start leasing when the project nears completion, expected in early 2021.
Campos noted that the building's mid-century style features "ribbon windows," with an uninterrupted row of windows that "literally circles the entire floor on every floor," bringing in "a tremendous amount of natural light." Additionally, three units on the fifth floor will be set up as duplexes, with an internal staircase up to a second level on the 6th floor. Those units will also have exterior patios on the roof, since the 6th floor is smaller than the rest of the building.
Additionally, the building will have 9,000 square feet of commercial space on the ground floor and lower level, but Campos said they don't have any commercial tenants yet. "There's been a significant amount of interest, and we're getting close with some commercial tenants," he said.
Montante also plans to rehab and restore an original diner from the 1950s - with a lunch counter and stools - for a 1,000-square-foot restaurant, which will also have a large outdoor dining patio in front on Delaware. The firm has a letter of intent for a restaurant operator, Campos said.
The 50,000-square-foot building, constructed in 1958, was listed on the National Register of Historic Places last year, qualifying it for state and federal historic tax credits. The project also received sales and mortgage tax breaks from the Erie County Industrial Development Agency, totaling $380,000, plus a $120,000 grant through National Grid's Brownfield Redevelopment Program. Montante just closed on its construction financing from Bank on Buffalo.
"It is great to bring a building like this back to life," Campos said. "That's going to bring some vibrancy and activity and life to that side of Delaware."
The next step is to put the 750-car ramp back in service, also early next year. The developer acquired it from the city last year, to support the parking needs of both 1275 Delaware and especially the larger Lancaster Square at Gates Circle redevelopment.
Montante has already demolished the former main hospital tower and other structures, cleaned and cleared the site, and constructed new roads, but has not yet begun a series of new buildings planned for the 6.7-acre site.
That's because ownership remains tied up with embattled Rochester developer Robert C. Morgan, who is facing felony mortgage fraud charges. Montante has been trying to extricate itself from its partnership but has not yet reached agreement with the Morgans on repurchasing their stake.
"That will have to be fully resolved before we move forward with additional building projects on site," Campos said. "That is a challenge that we have to overcome."
Additionally, a court last year invalidated the city's designation of the Gates Circle site as an Urban Development Action Area - effectively, an impoverished area that allows for more lucrative tax breaks and incentives for the project. An appeal is still pending, but Campos said a public-private partnership of some type was critical to make the projects viable.
"To do high quality construction projects in this market, the economics are very difficult if not impossible to work," he said. "It's a historic and important site, and that's what that site deserves."
Get local news delivered to your inbox!
Subscribe to our Daily Headlines newsletter.