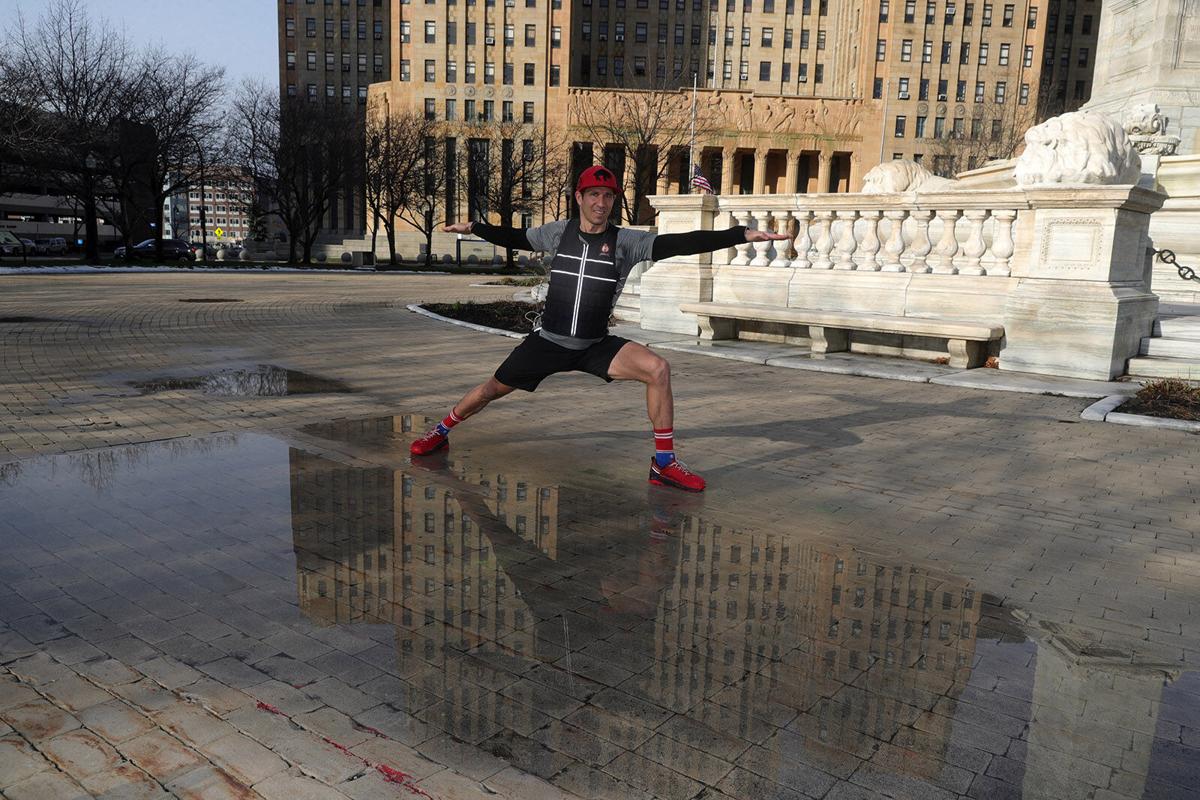 Addressing stress that comes with the coronavirus pandemic can help you better adapt in such uncertain times.
It starts with structure. Get up, eat and go to bed at roughly the same times each day, even on weekends.
Focus the best you can on one thing at a time, one day at a time.
Eat a healthy diet, exercise regularly and take time throughout the day to safely do what you enjoy.
Socialize: Stay in contact with loved ones, including family and friends, even if you can only do so safely online or by phone. Connecting with others can increase happiness and reduce stress.
"Working in the mental health field is stressful for all the reasons that you can imagine – what you get exposed to, burnout. But this has been exceedingly different."
Choose comfort wisely: Try to avoid increased use of foods heavy in salt, sugar or fat, as well as alcohol and other drugs. These give a false, fleeting sense of happiness. Instead, practice other coping skills to improve your mood and decrease your stress.
Move: Stress often becomes stored in our muscles, causing tension. Yoga, tai chi and simple stretching can focus attention on your muscles, easing tension and clearing your mind. A brisk walk can help, too.
Laugh: It will boost your mood and health. Find time to let your guard down and get a good laugh in every day.
Write: Journal writing can start with a positive thought. For example, "If I made myself a priority in my life, what would that look like?"
Feed your soul: Nurture relationships in your religious or spiritual community. This can develop your peace of mind and reduce stress.
Limit negative news: This can heighten anxious and troubling thoughts. Proactively choose some sources that reflect more solution-based news and inspiring stories.
Meditate: Anxiety can be the consequence of experiencing too much stress at once. Stress is physical and emotional. Meditation eases pressure and improves mind-body balance. Breathing exercises stabilize physical stress and can reduce your emotional stress.
Visualize: Take time to relax with images of a favorite vacation or special place – whether through photos or only in your mind. This is a great way to unwind and relieve stress.
Sleep well: Maintaining good sleep hygiene seven to eight hours each night improves mood and reduces stress.
Be kind to yourself: Get help to boost physical and mental health, and remember they are connected. Keep perspective, including if you test positive for the virus. Accept what you cannot change and address what is in front of you. Act responsibly and gratefully.
Sources: Substance Abuse and Mental Health Services Administration (SAMHSA); Dr. Michael Cummings, associate medical director at Erie County Medical Center; Cindy Voelker, associate CEO of Spectrum Health and Human Services
If it nears the point when someone appears a danger to themselves or others, it's time to reach out any time to Crisis Services at 834-3131 or call 911.
Otherwise, the following resources can build a bridge to better mental health:
Telehealth: Call the customer service number on your insurance card and ask for a telehealth referral with a mental health counselor. Telehealth was the least-used way to access help before the pandemic. It is now "a 16-lane highway," said Dr. Ken Duckworth, medical director of the National Alliance on Mental Illness (NAMI), this week during a Harvard University program on Covid-19 and mental illness.
Project Hope: This new state program is designed to help people cope with pandemic stress.  nyprojecthope.org, 844-863-9314.
Mental Health Advocates of WNY: Provides information for those with questions and concerns, as well as their families. Staff also is available weekdays by phone at 886-1242. mhawny.org.
Mental Health America health care worker support: Visit mhanational.org/frontline, call 800-273-8255 or text MHA to 741741 to reach a trained crisis counselor at any time.
Other Crisis Services 24-hour hotlines: Addiction, 831-7007; Erie County Domestic Violence Hotline, 862-4357; Emergency Mental Health Mobile Response Services (for 18 and over), 834-3131.
Spectrum Crisis & Re-Stabilization Emergency Services (CARES): 882-4357; for youth and their families and caretakers. 
Alcoholics Anonymous: 853-0388, aa.org; the website can help you find a support group, many of which have moved online.
Buffalo Area Narcotics Anonymous Helpline: 878-2316, nawny.org; the organization can help you find a support group, many of which have moved online.
BryLin Behavioral Health: 886-8200, 632-5450, brylin.com.
Christian Counseling Ministries of WNY: 632-3200, ccmwny.org.
Community Health Center of Buffalo: 986-9199, chcb.net.
Endeavor Health Services: 895-6700, ehsny.org.
Erie County Medical Center: Those in need of services can visit ecmc.edu, call the Comprehensive Emergency Psychiatric Program (CPEP) at 898-1676 or contact the Help Center at 898-3415.