Pay for three of 10 supervisors in Erie County's largest towns will be going up next year.
The base for Orchard Park Supervisor Patrick J. Keem will increase from $70,761 to $79,735. Keem also receives a $6,000 stipend for being budget officer. The raise will make him the third highest-paid supervisor in Erie County, while the town ranks eighth in population.
Grand Island Supervisor Nathan D. McMurray will get a 3.1 percent increase to $70,387, and Lancaster Supervisor Johanna M. Coleman will make $69,704, a 2 percent raise.
It's been 11 years since any Orchard Park supervisor received a raise, but next year the salary will catch up.
It had been 26 years before the Amherst Town Board raised the supervisor's pay last year.
"It's very difficult to raise it. I think that's why in Amherst it went so long, because nobody wants to take the back-biting and criticism for raising their salary or anyone else's salary," said Amherst Supervisor Barry A. Weinstein, who voted against his pay increase at the time.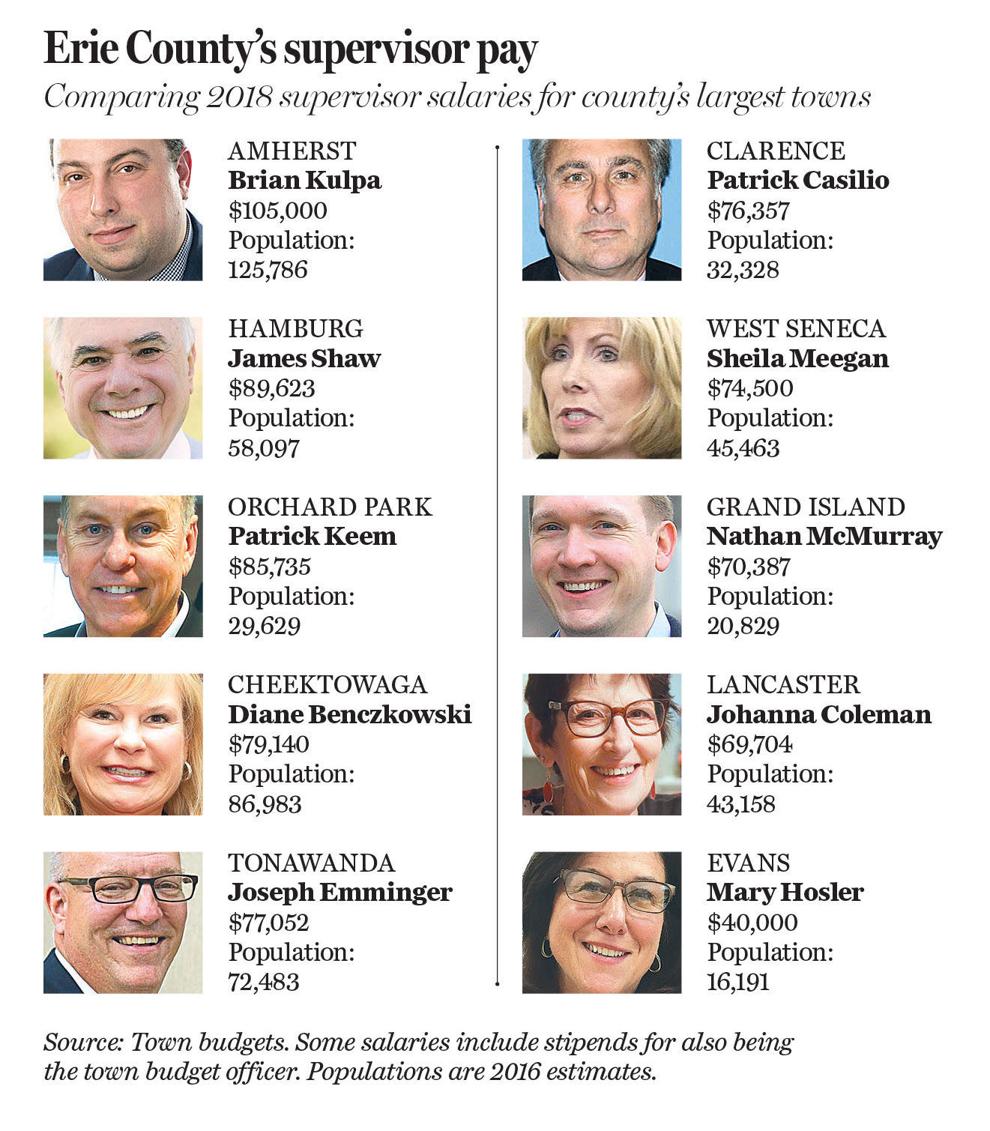 But Weinstein, who did not run for re-election this year, said a higher salary attracts higher-quality candidates.
"The difference in the quality of the public servants is dramatic," Weinstein said.
Keem said his increase works out to about 1 percent a year, and if the salary were raised each year based on the actual cost of living, it would be about $85,000.  Some of Erie County's biggest incomes are in Orchard Park, where the median household income is about $85,600, according to the U.S. Census.
He said the proposed salary and stipend were clearly laid out in the official schedule of salaries for elected officials, which was put out five weeks before he was re-elected earlier this month. No one spoke at a public hearing on the tentative budget.
The supervisor's salary hike did not seem to bother Orchard Park residents as much as their counterparts in West Seneca, who were still smarting this year over their supervisor's raise last year.
 West Seneca Supervisor Sheila Meegan last year defended the raise at a public hearing, saying she works hard for the town "day in and day out." Her salary will remain the same next year.
Lancaster Supervisor Johanna Coleman said the size of the salary could give the wrong impression on the scope of the job.
"It's a lot of work. I certainly wouldn't want someone to take on the job to think it is a job that doesn't require more than full-time work," she said.
She said she's on call 24 hourrs, seven days a week, works weekends, and holidays.
"You are always doing something related to work," she said, adding, "I'm not complaining about it."
The Lancaster supervisor's salary was considerably higher in 2011, when Dino J. Fudoli was running on a platform that included cutting the salary by 10 percent and eliminating the stipend for budget officer. The combined salary and stipend were already set at a total of $82,573 when he took office, and he asked that the stipend be removed and the salary lowered to $66,997. That's where it sat until this year, when it went up 2 percent. Coleman will also get another 2 percent raise next year, as will all elected officials and town employees.
"It was just across the board, 2 percent. Nobody go any more than anyone else," Coleman said. "I felt it was appropriate to do that."