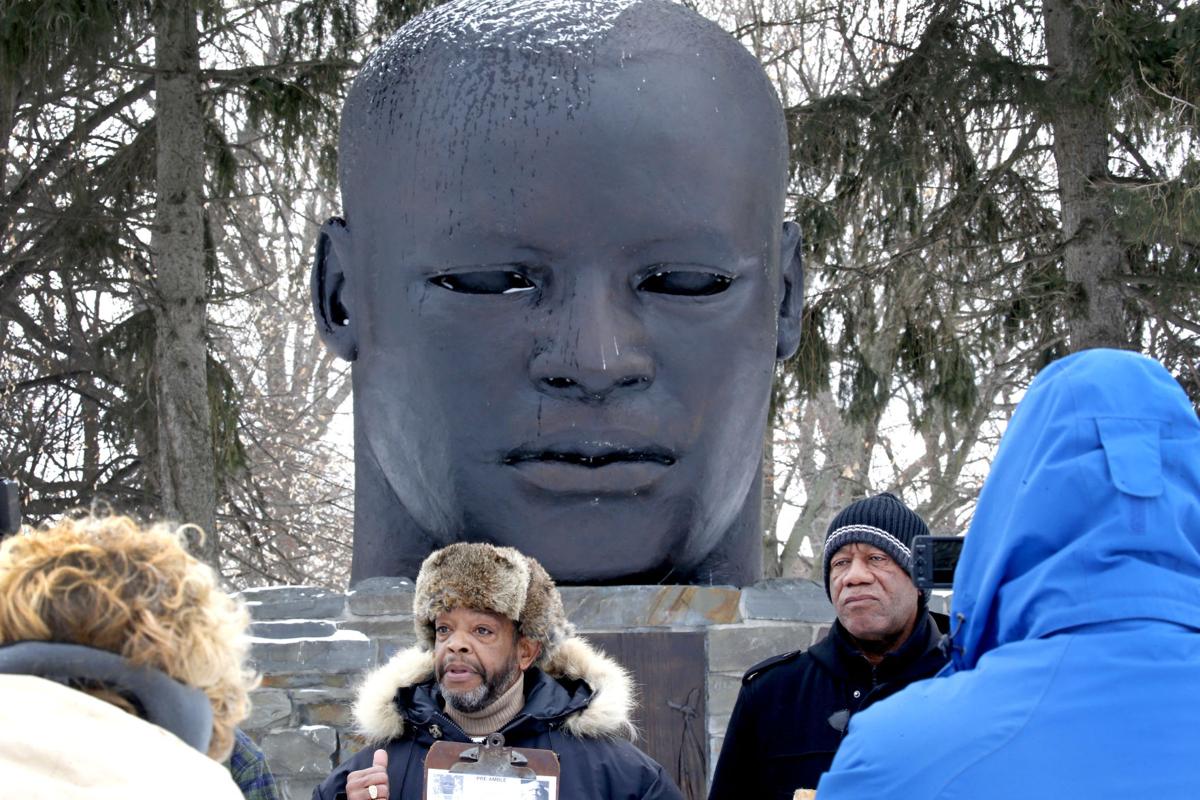 Samuel A. Herbert likes to show children a photo of a statue of Martin Luther King Jr. and the large bust that is in MLK Park.
He asks them which one is King, and they never point to the picture of the 8-foot-tall bronze bust in the park, he said.
That's the point, said the man who wants to replace the sculpture by John Woodrow Wilson with one that looks more like the civil rights leader.
Herbert said the effort is about halfway through Phase One, which is collecting signatures on a petition calling for the existing sculpture to be removed and replaced. He and supporters collected 6,082 signatures as of Wednesday, he said. They started last January, on Martin Luther King Jr. Day, when Herbert announced the petition drive.
He plans to present the petitions to local, county and state leaders. The second phase is fundraising, and Herbert said he wants professionals to organize and run that part. He would like to see a new sculpture installed in 2020.
Wilson was 92 when he died in 2015. When his sculpture of the large head was unveiled in Buffalo in 1983, it was not meant to look exactly like King, but to be a sort of "every man" that young black men and others could look to and identify themselves in King's legacy.
"He knew he was making a lightly abstracted work that would convey the dignity, strength and power of Martin Luther King and the whole civil rights movement," said Edmund J. Cardoni Jr., executive director of Hallwalls Contemporary Arts Center.
But some people thought otherwise.
Herbert said a woman exclaimed, "We've been robbed!" at the installation. He had donated money that should have gone to bills to help fund the sculpture, and he was disappointed when he saw it, he said.
"Dr. King was born on American soil. Dr. King was born as a black man," Herbert said. "As an American, he is deserving to have a statue that looks just like him."
Herbert said he has run into a lot of people who want to keep the sculpture the way it is. But, he said, God intervened and told him to "correct that wrong." He is hoping to run into at least 4,300 others who feel the same way and want to sign the petition.
Signatures are still being collected, and Herbert said petitions can be found at Margie's Soul Food at the Broadway Market; Avenue Pizza and Subs, 1575 Broadway; Mattie's, 1412 Fillmore Ave.; Ansar Fragrances and More, 1371 Fillmore Ave.; Sam's Express Mart, 880 Fillmore Ave.; Doris Records, 286 E. Ferry St.; and East Ferry Liquors, 405 E Ferry St. There also is an online petition at change.org.