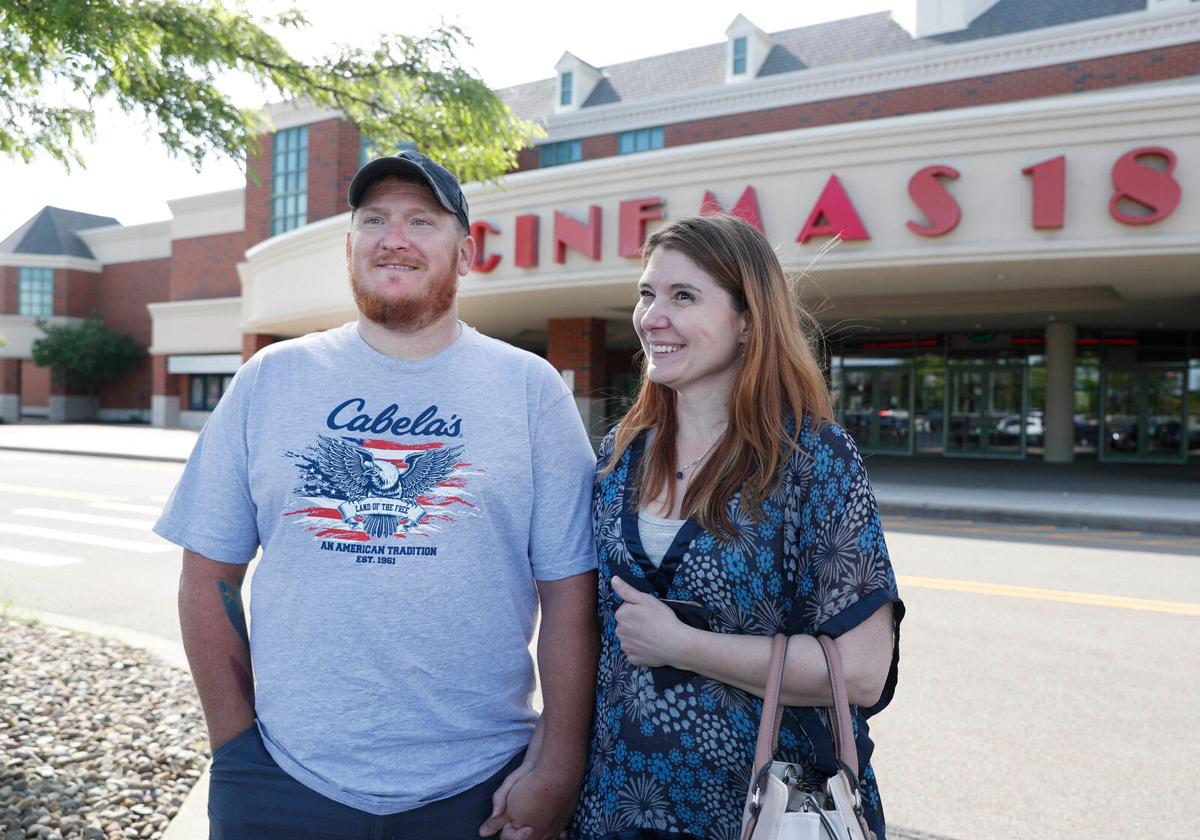 That's what Western New Yorkers are saying after seeing "A Quiet Place Part II" Thursday evening. 
The film, shot in Western New York in the summer of 2019, follows the Abbott family as they try to survive without making a sound after an invasion of blind, alien creatures that use a super sense of hearing to find their prey.
But it wasn't just to see what happens to the Abbotts that attracted viewers; it was the chance to feel like the horror was happening in their hometown – because it was.
Recognizing places such as Akron, Olcott, the Grand Island bridges and the former Bethlehem Steel plant made the suspense all the more thrilling.
We've all fought family battles on behalf of quietude for those we love. Here's another cannily made 90-minute movie about folks whose enemy is another species' monstrous hearing.
Amber and Tad Wesser of Derby had tickets last year to a double feature with both "A Quiet Place" and Part II.
"It was worth the wait," Amber Wesser said after watching the movie at Regal Cinemas at Quaker Crossing in Orchard Park.
The couple enjoyed spotting locations in Western New York. Amber recognized a summer camp.
"I went to camp there! It's the Dunkirk Conference Center Camp. It was very cool to see it," she said.
"A lot of movies, when they've had Buffalo in there, they change it so much," Tad Wesser said. "This one was awesome!"
Matt and Jean Schoeffield of Orchard Park said they liked the movie.
"It's unusual for me, but yes, I stayed awake," Matt Schoeffield said.
"We don't normally see scary movies because I'm too impressionable," Jean Schoeffield said. "This one was done really well. "
Bill Joyce of Buffalo liked "A Quiet Place" better, but that may be because he's seen it four times.
"It was good, though," Joyce said. "I think they're setting you up for No. 3."
The sequel to "A Quiet Place" was written and directed by John Krasinski and stars his wife, Emily Blunt, as Evelyn Abbott. Millicent Simmonds and Noah Jupe return as her children, Regan and Marcus.
Tim Clark, the commissioner of the Buffalo Niagara Film Commission, said Monday he wouldn't be surprised if the former star of "The Office" came here.
The movie shows the invasion of Akron, aka any Small Town USA. 
A fraught scene with an oncoming bus meeting a car driven by Blunt began in the parking lot of Village Hall, Village Clerk Jayne DeTine said.
"It started out of our parking lot, so we could watch them speed out of here, and that was really cool," she said.
It was an intense time when scenes were being shot, and actors and workers were all over the village, DeTine recalled. They were respectful of the residents, she added.
The movie was scheduled to be released in March 2020, but was delayed for 14 months because of the Covid-19 pandemic shutdowns and restrictions.
A group from Akron, including the Village Board, members of the Chamber of Commerce and other residents bought tickets to see the movie together at the Dipson Theatre at Eastern Hills Mall.
They have been holding onto the tickets for more than a year. They had planned to go to a showing scheduled March 20, 2020.
"Last year, it was going to be a really big deal," DeTine said, a little disappointed that it took so long to see the movie. "Now I feel like people forgot about it."
Filming also took place in North Tonawanda, Orchard Park, Dunkirk and Chautauqua County throughout the summer of 2019.
"A Quiet Place," a Paramount Pictures film, grossed more than $340 million worldwide and was a hit with fans and critics. The sequel picks up right where the first movie ended, shortly after Evelyn gives birth to her fourth child.
But for Akron residents, Thursday evening was about remembering the exciting time when they got to look behind the scenes when a movie came to town, and you could glimpse movie stars walking down the street.  
It's been nearly two years of wondering about the rest of the story of the Abbott family, how they survive and how the sequel compares to the first movie.