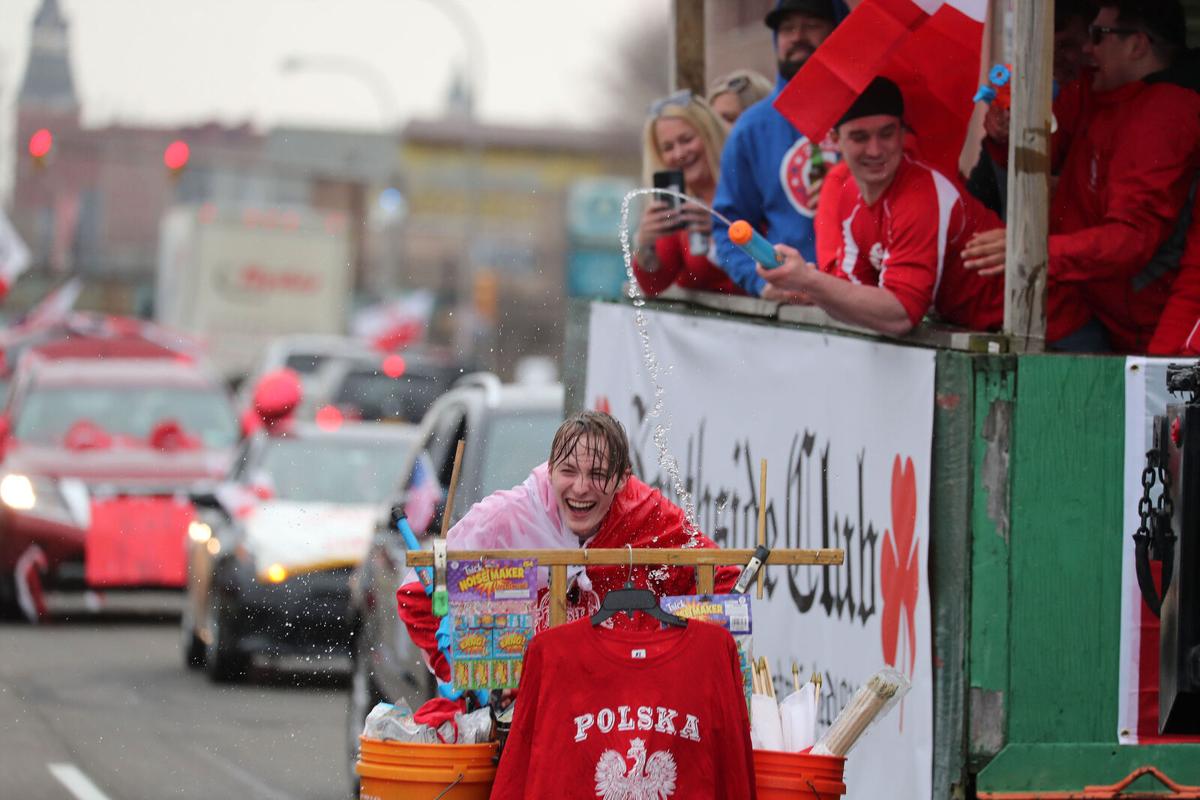 Under overcast skies, but with mild temperatures prevailing Monday, about 250 people lined both sides of Broadway – from Memorial Drive to Fillmore Avenue – to watch a truncated version of the raucously gleeful Dyngus Day parade in Historic Polonia on Buffalo's East Side.
The Covid-19 pandemic forced the cancellation of the post-Lenten celebration last year, but it was cautiously brought back Monday as a semi-return to normal.
Diehard spectators, including Kathy Leo of South Buffalo, huddled in small groups, decked out in red and white attire. Leo has been attending the annual Dyngus Day parade faithfully since it began more than a decade ago.
"Well, this is my third child. I brought my 30-something-year-old, my 20-somthing-year-old and now I'm bringing my teenager," said Leo, who referred to Buffalo as the Dyngus Day capital of the world.
"You know, I think it's not just about Dyngus Day. I think it's also about just rejoicing. This time, winter is over. Pretty soon, Covid will be over. This is a time to rejoice, get out there and say, Hallelujah! Maybe something good will happen, finally. That's what I'm looking for," she said.
While the pandemic forced an intermission for the traditional post-Lenten celebration in 2020, plans are in place for the Dyngus Day parade to make a cautious comeback this year.
The after-Easter celebration, with its parade, parties and polkas, is intended to observe the end of Lenten sacrifice and mark the season of rebirth. Colorful beads have been added to traditional pussy willows and squirt guns that have become an authentic part of observing the Dyngus Day holiday.
Upwards of 60,000 people are attracted each year to the Broadway-Fillmore neighborhood to take part in the ritual.
However, the party for 2021 had to be pared down considerably as the Covid-19 pandemic rages and the number of infections has risen and fallen and risen again over the past year.
During his briefing this week, County Executive Mark Poloncarz said he was concerned about keeping the festivities Monday to a minimum, or he'd be forced to shut it down.
That didn't appear to be a problem, as the parade attracted only a moderate number of spectators who watched the event in-person. 
The parade took up only one lane as it proceeded west on Broadway. Eastbound motor vehicle traffic proceeded uninterrupted up Broadway. The parade, which started with horse-mounted Erie County sheriff's deputies, was more of a motorcade that included no more than 200 participants and lasted no more than 20 minutes.
"Better than no parade at all," said John Delellis of East Amherst.
Leo, who attended the parade with her teenage daughter, Melissa Mills, said she was a bit concerned that the Dyngus Day event might attract too large a crowd to safely practice social distancing.   
"We did discuss that if it got too big, we'd leave," she said, regarding the crowd size. "But, so far, these people have been kind of staying their distance when they're walking by. So it hasn't been too bad."