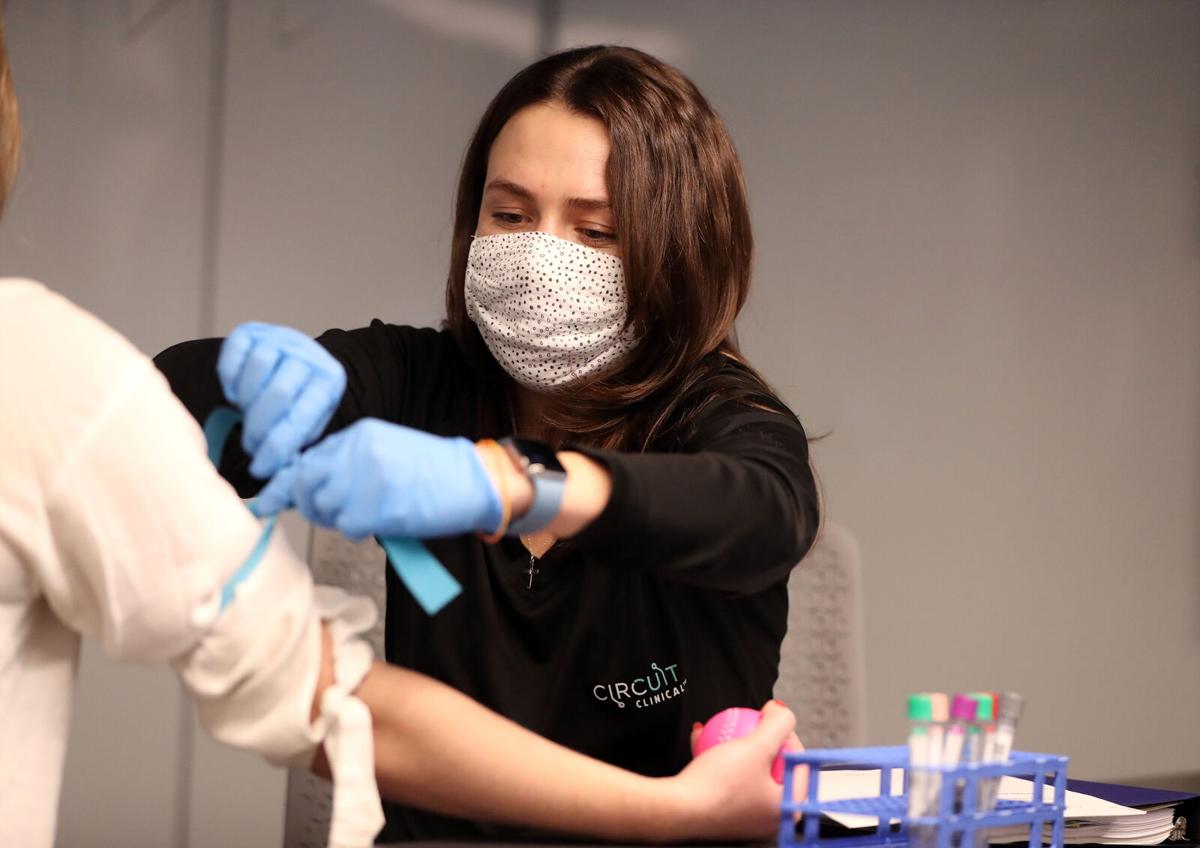 Gene Morse was among leading global researchers who got a sinking feeling 14 months ago that the world was on the brink of the kind of pandemic they had feared for decades.
The U.S. had a resource-rich medical industry designed to address potentially fatal diseases, but that did not mean the nation would easily handle an outbreak the World Health Organization declared a pandemic on the day the conference ended.
"It may not work out that way," Morse, a University at Buffalo pharmacy professor, told a Buffalo News reporter that week, "depending on the region you're in, the state you're in, and the leadership around you."
Related infections, hospitalizations and deaths have since roiled America and most of the world, reminding veteran HIV researchers including Morse of the earliest days in their careers.
It also provided a similar challenge: How best could they find ways to strip a new virus of its power to infect, sicken and kill?
"I think we're going forward now with a lot of the same type of research," he said in a recent interview.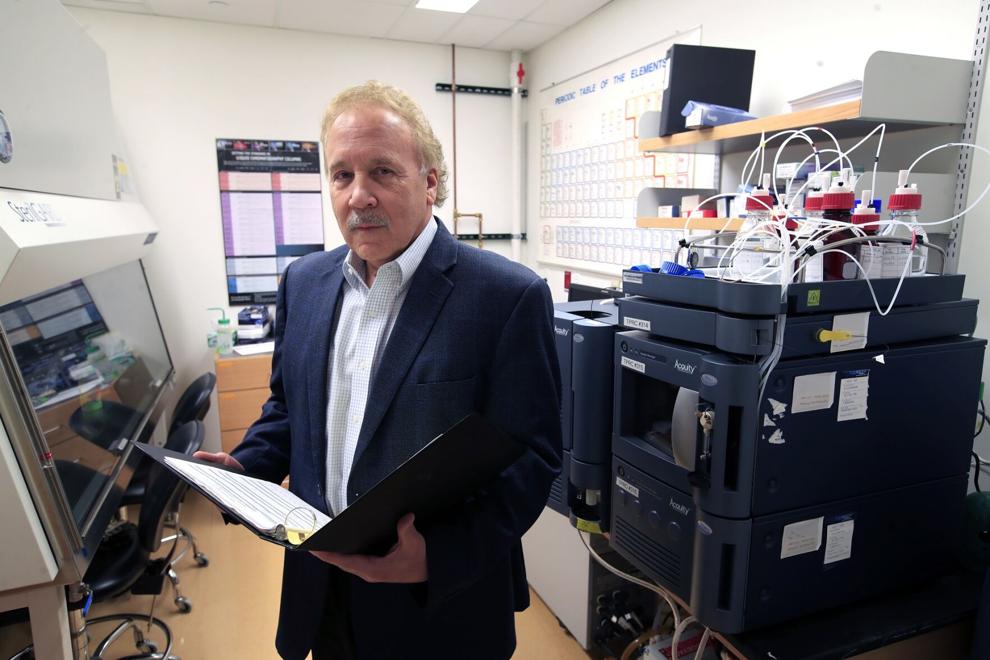 Morse arrived at UB in 1983. He soon secured the first AIDS research money at the university and, in years to come, led HIV clinical treatment trials which helped with federal approval of drugs to help weaken that virus.
Morse and colleagues also have spent much of the last decade improving therapies to cure those with Hepatitis C.
Along the way, Morse became director of the UB Center for Integrated Global Biomedical Sciences and the UB Center of Excellence in the Global Virus Network, formed a decade ago to strengthen medical response to viral causes of human disease and prepare for pandemic threats. 
Early in the coronavirus pandemic, Morse also became co-director of the Western New York Covid-19 Research Collaborative. For the first time, the group combined the efforts of regional health care providers into a united front to conduct coronavirus testing, prevention, research and treatment strategies, and tie them into a global study network determined to yield best practices and patient outcomes.
"These recent collaborations are a perfect illustration of the power of team science," said Dr. James Mohler, the other collaborative co-director, and chief of Inter-Institutional Academics at Roswell Park Comprehensive Cancer Center.
"We united UB's pioneering work in virology and Roswell Park's deep experience in areas like drug development, clinical trials, immune analysis and immunology in a way that moved Covid-19 research forward more quickly and effectively than would ever have been possible by working alone."
Both believe the new cooperation will set the stage for more pandemic-related clinical trials in the region, as well as development of therapies that prevent and treat a variety of other chronic and life-threatening diseases.
The collaborative created the opportunity to bring several emergency use authorized clinical trials into the region last year – including remdesivir and monoclonal antibody treatments that remain available for those threatened by Covid-19.
"Before Covid, we had our standard operating approaches to life," Morse said, "and there was enough funding in the system for people to do what they wanted to do. If they didn't necessarily want to work with another institution or another kind of group, they could say, 'We'll just do it on our own.'"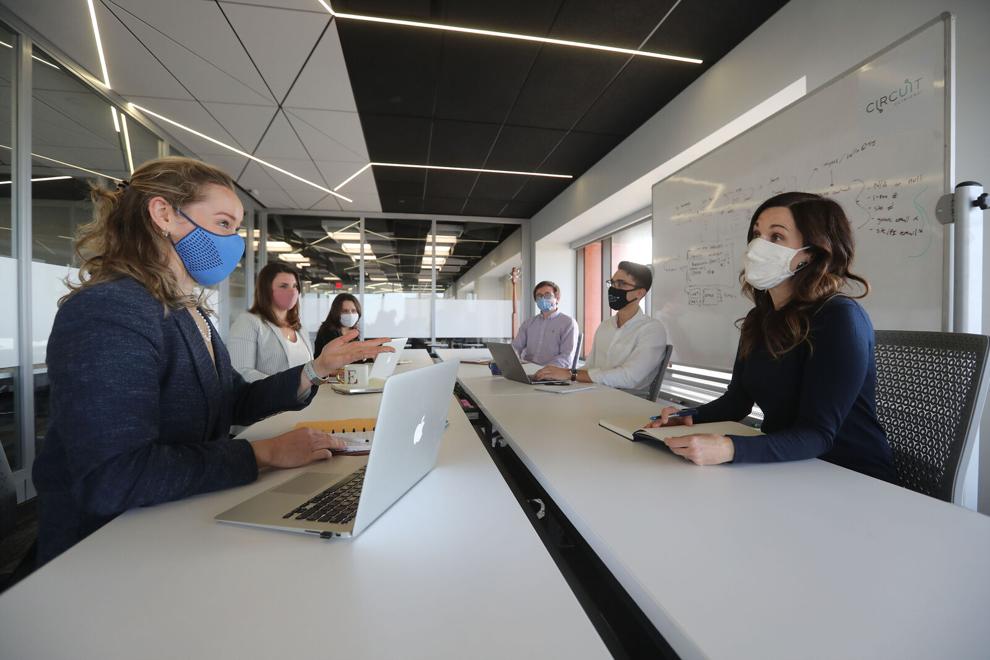 The new paradigm also brought Morse together with Dr. Irfan Khan, a cardiac electrophysiologist who left Buffalo Heart Group six years ago to start a company focused on connecting eligible patients to medical research trials.
"Our total pool is now 2½ million patients," said Khan, founder and CEO of Circuit Clinical.
The company – headquartered in Seneca One tower downtown and $500,000 runner-up in 2019 in the 43North regional business plan competition – was designed to make it easier for people to find, understand, and choose clinical research as a treatment option for themselves and loved ones.
A Buffalo startup played a key role in helping researchers obtain quick approval for a Covid-19 test that relies on a person's saliva, rather than using swabs. Circuit Clinical was able to quickly recruit 99 local residents to provide saliva samples to help researchers determine if a saliva test would yield the same results as a blood test. Some
Circuit Clinical forged a partnership last fall with the UB Center for Integrated Global Biomedical Sciences to bring more regional research into the places where Covid-19 patients were being treated – hospitals, nursing homes, primary care practices and underserved areas – instead of academic campuses where much of that work traditionally has taken place.
The company grew from 22 to 30 employees as a result of the pandemic.
Clinical research is hard. It often takes years to complete studies that take place in at least two or three phases over time, with a growing number of willing participants. The need to recruit patients – often from more than one medical facility, region, or state – adds more challenges.
Health care practitioners who would like to participate, particularly those in smaller practices, often cannot afford to design and conduct studies, and report their share of results.
All of this helps explain why nearly 40% of clinical cancer trials never find the number of patients needed to complete studies.
"When I met Dr. Khan, I understood that Circuit Clinical was developed to fill a gap in what we had identified as a major limiting step to do research in our region," Morse said. "We wanted to use them as a model for doing more here, in other places in the country and as a global partner, so it was a natural type of collaboration."
Circuit Clinical has amassed a growing database of patients in New York and New Jersey treated by more than 180 doctors in 28 medical practices, three accountable care organizations and Roswell Park, the latter of which chose the company as a collaborator for its CIMAvax lung cancer trial.
The Buffalo Institute for Genomics & Data Analytics helps with the march toward regional drug discovery.
The pandemic started with no proven ways to test for or treat Covid-19.
"If you had a patient that you were trying to help, the best way would be to get them into a clinical trial," Morse said. "That is all we had available, but the infrastructure wasn't there. It was something very new and very different, and it created a lot of this desire to work together. We're hoping that even as Covid subsides that we can retain this because everybody wins when everybody works together."
The shift in needs also caused Circuit Clinical to build TrialJourney – a ratings and reviews platform for clinical trial centers. It provides answers to common questions patients might have about clinical trials and helps people find trials relevant to their condition.
Collaboration is important for a medical community that has been overlooked for other major clinical trials, Khan said, including early Covid-19 vaccine trials.
"Has Western New York seen its fair share of opportunities to be part of clinical research as a care option? The answer is no," he said. "The collaborative is this realization of a broader mission toward that."
The decadeslong work to build a global research network to battle HIV – and coronaviruses that include severe acute respiratory syndrome (SARS) and Middle East respiratory syndrome (MERS) – along with the urgent need to address SARS-CoV-2 set the stage for swift completion of the first of an expected wave of new coronavirus treatments and vaccines.
Tools did not exist to fight HIV late in the last century, Morse said, but mapping of the Human Genome and dramatic advances in laboratory research and drug development created the climate for faster development of Covid-19 therapies.
Clinical trials started with convalescent plasma of those who got infected and recovered – a practice used during past infectious outbreaks – as well as with off-label drugs.
Lopinavir, an HIV drug Morse helped test in trials, proved no help against the new coronavirus. Nor did other contenders, including hydroxychloroquine and ivermectin, more recent clinical studies have shown.
The average number of new daily cases of Covid-19 in Western New York reported over the seven-day period ending on Saturday was 634, an increase of 132% from the recent low average of 273 cases as of March 12.
Remdesivir, created to kill Ebola, was proven to shorten the course of serious cases of Covid-19.
Tracking disease progression and treatment also have demonstrated the benefits of a healthy weight and lifestyle, and vitamin D. Inexpensive corticosteroids have proven they can often tamp down an overactive immune response that can put a Covid patient into intensive care.  
WNY Covid-19 Research Collaborative members contributed to those and other findings, starting with daily conference calls that took place during the first few months of pandemic and continue monthly.
"Over the course of the last year, these conversations have been incredibly fruitful," said Dr. Igor Puzanov, a collaborative member and senior vice president for clinical investigations at Roswell Park.
Puzanov and his research team have worked on two Covid-19 studies, one of which started after Morse connected him with the Global Virus Network.
"Together," he said, "we are contributing in a meaningful way to the worldwide effort to understand and control Covid-19."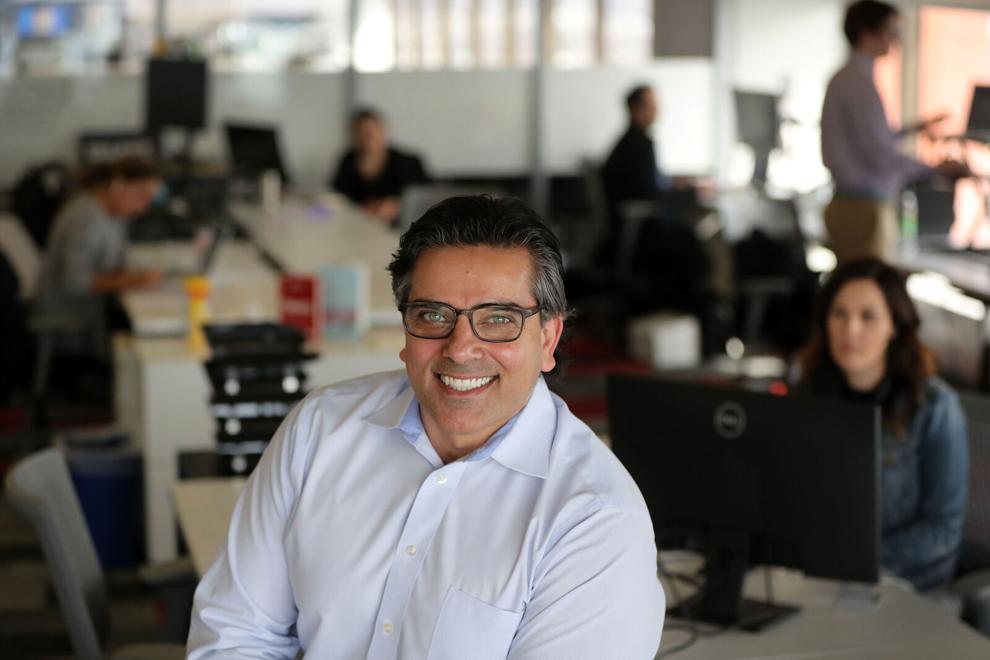 Many who take the temperature right now about how the pandemic will continue – including Morse and Khan – see a year or more ahead in which a significant part of the global population remains unvaccinated and continues to refrain from preventative steps that include wearing masks around those they do not know, physically distancing from others and avoiding large crowds.
This will prolong the pandemic, create more opportunities for variants of concern to emerge and spread, and feed the need for better treatments among those who get sick with Covid-19.
"When you talk to people who are in the clinical trials industry with a Covid specialization, there's going to be value for the next couple of years, at least, between therapeutics, long-term drugs, vaccines and diagnostics," Khan said.
Emergence of new, more virulent variants concerns them.
"The advantage of this global virus network at minimum is that we in real time can discuss them," Morse said.
Cooperation already is leading to more related and robust research.
"I think in that sense, we have a regional awareness of our health disparities," Morse said. "A key component is community engagement. It's not just so research can be done, it's how the community feels about participating in the research, and a lot of it has to do with education."
It is far too early, he said, for health care professionals to congratulate themselves for a job well done with the latest pandemic.
The new coronavirus and its variants continue to wreak havoc in hot spots in the United States, India and parts of Africa and South America.
"A lot of people are thinking this is just the first of a number of pandemics," Morse said.
He continues to work closely with researchers in nations with limited economic means, particularly Jamaica and Zimbabwe, where citizens remain more insecure about what Covid-19 holds for them in coming months.
These countries have struggled to buy personal protective equipment for health care workers and first responders, and muster enough reliable vaccines.
Morse and Dr. Satish Sharma, owner of You First Services in Cheektowaga, are working on ways to create better airflow and affordable diagnostic testing for schools in Jamaica.
He, Khan and other researchers in Western New York also make it more likely that Covid-19 patients in the future may be eligible for the growing number of clinical trials on rapid and very accurate saliva tests for the presence of the virus; oral medications, akin to Tamiflu for influenza, that can be taken early in the course of illness to stop or slow Covid-19; and vaccines that better address variants and have fewer side-effects.
What they learn could help address other deadly diseases.
"We've done a couple of Covid diagnostics trials, including one for Rutgers," Khan said. "That turned out to be a space where we can find patients quickly and get them engaged. I'm happy to say that there have been new trials in women's health and in cardiology, too."
An emphasis on prevention also needs to remain, Morse said, especially to help businesses, communities and nations that depend on the hospitality trades and tourism to survive and flourish.
He gave the closing address last September at the Global Virus Network annual meeting, held online. It focused on measuring pandemic responses and looking ahead to future pandemics.
He encouraged a commitment to more pandemic planning, citizen participation and regional research cooperation.
"What we found was that if everybody's not in, and everybody's doing what they think is the best, then we haven't come out well," he told The News in summarizing his remarks.
"I'll say unequivocally," Khan added during their joint online interview, "is if we've learned anything, it's the importance of the value of apolitical science and a focus on research as defense, as a national security issue. This is the best defense we have against the next pandemic."