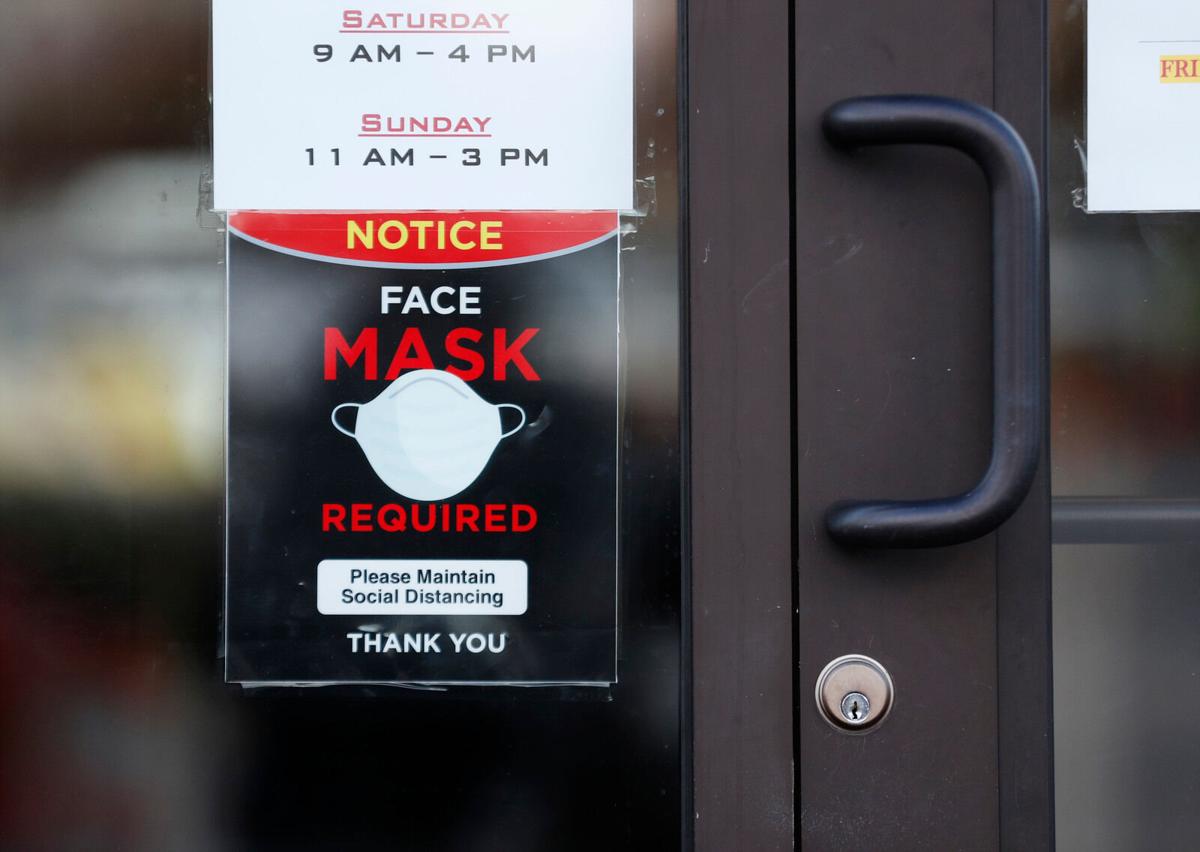 Depending on which numbers you watch, the Covid-19 pandemic either shows some signs of easing or is growing much worse.
Both things can be true at once, though that doesn't make for the tidiest public health message.
At the same time, while Covid-19 has once again flared across the region – driven in large part by unvaccinated people – hospitalizations have not risen at quite the same pace, said Dr. Peter Winkelstein, the executive director of the Institute for Healthcare Informatics at the University at Buffalo. In other words, the vaccine is working as promised: It keeps most people who receive it from getting seriously sick. Nearly 80% of adults in Erie County and 75% of adults in Niagara County have received at least one dose. 
For many, this juncture has proven both uneasy and exhausting, particularly after a summer in which much of life returned to "normal" for vaccinated people. But "normal" now and in the immediate future, health experts say, will likely still include some level of ongoing, fluctuating precautions as communities react to Covid-19 surges.
Not even a trio of excellent vaccines provide perfect immunity, they say. And hundreds of thousands of people – including the unvaccinated, the elderly and the immunocompromised – are still vulnerable to Covid-19, as the recent wave in Western New York has illustrated. 
"People will need to think about their behavior and think about what they're willing to do, based on how much virus is around," Winkelstein said. "We're going to have to reach a new sense of normal and figure out: What does it mean to live with the virus?"
The severity of any pandemic is largely a function of two factors: how susceptible the community is to the disease, and how much they're exposed to it.
While vaccines radically reduce susceptibility, making it far less likely a person will catch Covid-19 or get seriously sick, local exposure to the virus has spiked in recent months, as cold weather drove social gatherings indoors; communities abandoned mask mandates and other mitigation measures; and the more contagious Delta variant became the dominant strain in the U.S.
Delta is at least twice as contagious as previous variants, according to the U.S. Centers for Disease Control and Prevention. Yet even as it spread, millions of people began to travel more and wear masks less. The percentage of New York residents who say they mask in public has fallen by half since April to roughly 40%, according to the Institute for Health Metrics and Evaluation at the University of Washington, a leading modeler of the pandemic.
On the susceptibility side of the equation, meanwhile, hundreds of thousands of Western New Yorkers, including most children, have not been immunized yet. Even for vaccinated people, studies show, immunity drops off roughly two to six months after their last shot – a finding that prompted the federal government last week to approve an additional "booster" dose for all adults.
"Neutralizing antibodies do wane over time and this is natural," said Dr. Bertha Hidalgo, a genetic epidemiologist at the University of Alabama at Birmingham who specializes in translating scientific evidence for general audiences. 
"We need to remember that we are living through the evolution of Covid-19 science," she added, "including actively learning about its pathology, how to prevent it, and how to treat it."
The 'new stage of the pandemic'
Breakthrough Covid-19 cases are still not the norm, though they've become more common since the spring. As of Nov. 15, only 1.2% of fully vaccinated New Yorkers had experienced a lab-confirmed breakthrough infection, according to the state Department of Health.
For most people, breakthrough infections also are more mild and pose a far smaller risk of serious illness or death. Some people who experience breakthrough infections won't even realize they're sick, experts said.
"A case last year when we had no vaccine means something very different than now when we have a highly effective vaccine," said Dr. Michael Mendoza, the Monroe County Health Commissioner, in Nov. 15 remarks. "2021 is a new stage of the pandemic."
That said, however, even mild cases can cause prolonged health problems in some patients, a phenomenon known as "long Covid." These conditions are not well understood, and it's not clear how many people experience them.
Some populations also are at higher risk of a bad breakthrough case. The CDC has found that breakthrough death rates increase for the elderly, in particular, as they get farther away from their last shot. In early October, vaccinated adults over age 80 died of Covid-19 at roughly the same rate as unvaccinated 50- to 60-year-olds, according to CDC data. 
Underlying conditions that burden or weaken the immune system, such as cancer, also up the risk of serious illness. At the Buffalo General Medical Center's intensive care unit, for instance, virtually every patient with a breakthrough case of Covid-19 has also presented with a serious comorbidity, said Dr. Jamie Nadler, a critical care physician.
Across the region, more than 400 people were hospitalized with Covid-19 as of Nov. 21, compared with 265 people on that date last year. Without the vaccine, however, that gap would likely be far more dramatic, Nadler said.
"All the infections now are the Delta variant, which is significantly more infectious than both the original virus and the variants prior to Delta," he said. "If we're on the same trajectory we were a year ago with a disease that's far more infectious, that's a good thing. That tells you the vaccine is doing something." 
Importantly, even people who are unlikely to develop a bad case of Covid-19 still contribute to the local prevalence and spread of the disease, which is why officials are urging even healthy, fully vaccinated people to wear masks indoors and get booster shots.
Under current conditions – with no change to vaccination rates or masking behavior – models produced by the University at Buffalo suggest that local hospitals will continue to fill with Covid-19 patients over the next month, most of them unvaccinated, Winkelstein said.
International models from the University of Washington also predict that the size of this year's "winter surge" will moderate according to masking and social distancing behavior.
"That kind of behavior change has a dramatic effect," Winkelstein said. "So if people kind of get the message and say, 'OK, let's be a little more careful now that we're in the Covid season,' or whatever you want to call it, that will help put a cap on this wave we're in now."
Families may also want to take additional precautions during the holidays, based on the high level of local community transmission and their risk of complications, said Erie County Health Commissioner Dr. Gale Burstein. The CDC has said that vaccinated people can safely travel and gather indoors this Thanksgiving.
If a gathering includes elderly or immunocompromised people, however, the agency encourages precautions such as limiting the size of holiday gatherings, knowing the vaccination status of guests and meeting outdoors or in well-ventilated spaces. The Erie County Department of Health has also encouraged people to self-monitor with rapid Covid-19 tests – at least two within two to three days to guarantee the most accurate result.
"We have to use multiple nonpharmaceutical interventions," Burstein said. "There is no silver bullet."
That will remain true after the current wave, experts warned. While politicians often talk about returning to "normal," that process will not look like "flipping a light switch," said Hidalgo. 
Given the large number of unvaccinated people both in the U.S. and around the world, it's more likely that Covid-19 will continue circulating at some level for years to come – necessitating constant monitoring and periodic public health interventions when the virus resurges, as it's doing now. 
It's possible, Winkelstein said, that the U.S. will experience an annual winter "Covid-19 season," rather like the seasonal flu. In that scenario, masking and social distancing recommendations could kick in each winter to help tamp down the potential surge.  
Additional booster shots may also be needed to prolong immunity, said Ted Schenkelberg, a co-founder of the Human Vaccines Project, which works to advance immunological research. But science has already made enormous progress against Covid-19, he stressed, and further developments are in the works. 
"Over time we will control the virus much, much better through vaccines, increased access to diagnostics to catch cases, new treatments ... and sensible public health measures like masking when needed," he said. "We are really in a remarkable place with remarkable tools to end the pandemic, if we have the will to use them."