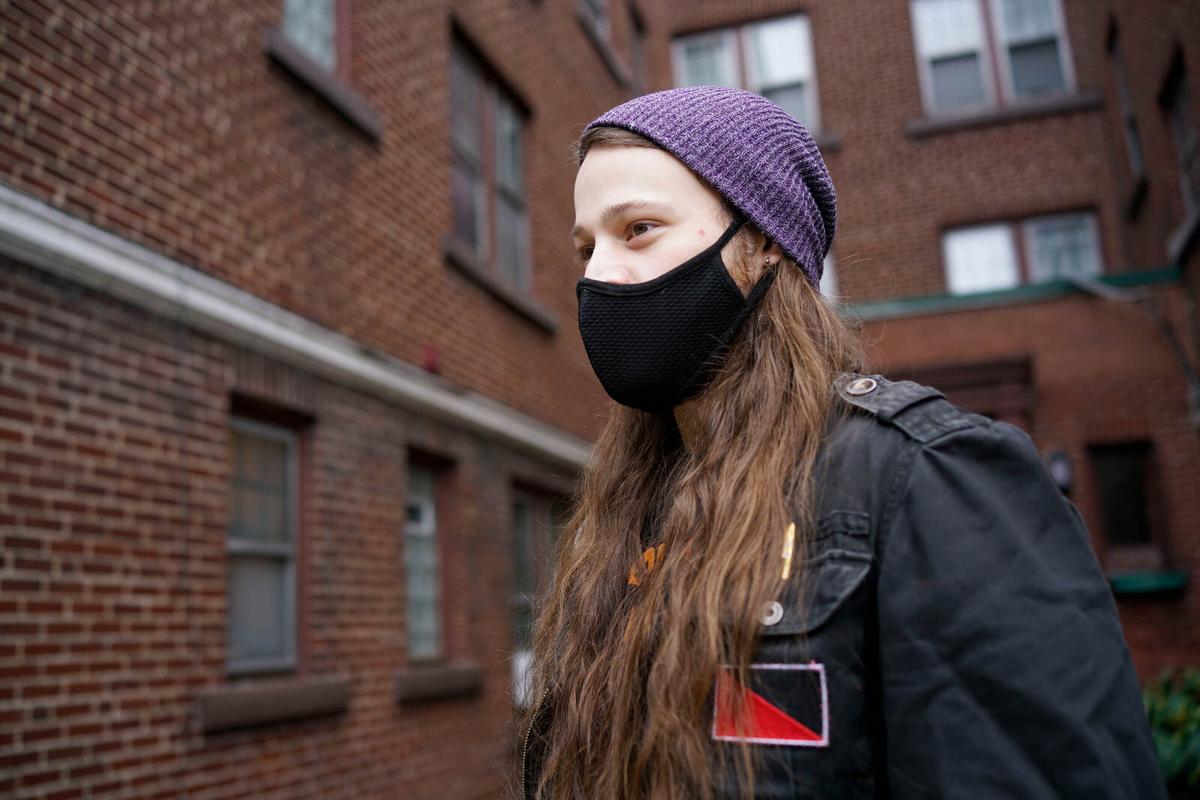 On the first day of October, more than two dozen masked protesters gathered around a giant banner in front of Buffalo Housing Court, demonstrating for an end to evictions for at least a year and demanding complete rent forgiveness.
Proclaiming "That ain't right!" and denouncing landlords and big business, the group criticized the failure of lawmakers and Gov. Andrew M. Cuomo to protect tenants who can't afford their leases because of the Covid-19 pandemic. And they urged immediate actions to ensure tenants will not get kicked out of their apartments or homes.
"We are here because this is a day and this is a moment when our state legislators and our governor can decide to do the right thing," said Angel Rosado of the housing advocacy group PUSH Buffalo. "This is the day that the courts are set to reopen and this is the day that tenants are to be sent back in the streets, in the middle of a pandemic."
So far, that isn't happening.
"Nothing. That's the strange thing," said tenants' attorney Adam Bojak. "I'm waiting to see what happens."
The fear of mass evictions has been a source of concern for tenants, housing advocates and community activists from the beginning of the pandemic in March. As the state began shutting down all activity to quash the virus' spread, these groups worried that the massive furloughs and layoffs would leave apartment dwellers unable to keep up .
In fact, few evictions are being filed and processed by courts locally. Most tenants have been able to keep up with their payments, and remain in their homes. And even those who can't pay – or have even violated other provisions of their leases – have largely been able to stay put.
Some landlords have sent demand letters to tenants anyway or tried to take other actions on their own, illegally. But those efforts haven't gotten very far, especially once attorneys get involved.
"For the most part, evictions are not taking place," said Grace Andriette, deputy director of Neighborhood Legal Services, and supervising attorney for its housing unit. "The courts are still taking a little bit of a wait-and-see attitude here in Western New York."
State and federal eviction bans are still in effect, albeit with fewer restrictions on landlords and attorneys than before.
Cuomo's moratorium – which was first imposed through executive order on March 20 on both residential and commercial evictions, and later extended through the summer and into the fall – originally blocked all evictions from proceeding during the height of the public health emergency. In response to legal challenges, lawmakers and Cuomo then codified many of the protections in June through the Tenant Safe Harbor Act.
There's also now a separate federal moratorium on residential evictions, imposed through special authority granted to the U.S. Centers for Disease Control and Prevention. That ban, which is broader in scope, is also slated to last through the end of the year.
"The combination of the two provides a pretty broad safety net for tenants who have lost income for any reason and are unable to pay their rent," Andriette said.
But PUSH calls the state law's extension "misleading and disingenuous" because it still allowed the courts to reopen and start accepting eviction petitions for other reasons. The group also says the two bans are inadequate, since both are limited to nonpayment of rent – not other evictions, like squatting or exceeding lease terms.
And neither provides for any rent forgiveness. So tenants are still obligated to pay their debt unless they make arrangements directly with their landlords. That's a burden that they will eventually face, although PUSH activists want state lawmakers to eliminate that risk.
"There is absolutely no way that any tenant can get any job that would pay them enough money to pay up all that back rent," Rosado said. "And we're going to see this domino effect if this rent is not canceled."
Even so, attorneys say the bans are having an impact, since landlords cannot go to court to kick out tenants who can't afford their rent. And the mere existence of the bans may deter landlords from pursuing eviction even if another reason is permitted, attorneys say.
"The CDC order definitely threw a hitch in our plans," said Daniel Tarantino, a landlords attorney in Buffalo. "I had a lot of nonpayment evictions pending, and the CDC order prevents us from moving forward."
Even if papers could be filed, the courts have been slow to fully reopen because of social distancing requirements, and they already face a six-month backlog, according to attorneys.
"The courts are still on a different page than the rest of the government, which is strange," Bojak said. "I'm still trying to figure out if things are open or not."
In fact, that's not so surprising, said Gretchen Gonzalez, deputy director of the Erie County Bar Association's Volunteer Lawyers Project. Buffalo City Court and Housing Court used to hear 50 to 60 cases per day, but they were closed for a while, and now "you just can't have that many people in the small space that we're normally in," she said. 
"The doors have opened a little wider, but I think the courts are still trying to figure out how to go forward, how to open their doors in a world where social distancing is a big concern," Andriette agreed.
First, they also have to deal with dozens of cases that predated the start of the lockdown in mid-March.
That includes cases in which the landlord got an eviction warrant before the pandemic, but authorities were unable to act before March 17, so the old warrants expired, Tarantino said. Now those tenants get a second chance to argue that they have been harmed by Covid-19 or would face "undue hardship" to their health and safety if they are kicked out, he added.
There are also cases where an eviction petition was filed prior to the lockdown, but the court hearing was delayed by the pandemic. "Those cases have been in limbo ever since," said Tarantino, who had 30 to 40 such cases.
Judges are also prioritizing evictions for squatters and holdover tenants who exceeded their lease terms. Some emergency cases – where a tenant is damaging a property or harassing other tenants – may also proceed.
But it's "unclear when they will schedule the hearing for them," Tarantino said, citing a required process of attorney conferences and pretrial conferences before a formal hearing would be held. "It looks like the court might sit on them for a while," he said. "I'm stuck."
Everything else – including new cases filed since the pandemic began – was on hold until recently. And attorneys say it could be at least January before the legal system can get around to them.
That doesn't mean tenants aren't facing serious trouble. The rent is still due.
For a while, local residents benefited from the region's relatively inexpensive housing costs and federal stimulus aid. Rents in Western New York are much lower than in many other parts of the country, particularly other major cities, and haven't risen as fast.
According to a new report by Self Financial, rents in Buffalo posted the seventh smallest increase among all large U.S. metropolitan areas, at 15.9% over the past 10 years. The firm said a two-bedroom apartment here now costs $891 per month, on average. So the $1,200 in one-time federal emergency payments and the $600 in biweekly supplementary unemployment assistance helped significantly in Western New York.
But both are now gone, and the extreme loss of jobs and resulting plunge in family income has taken its toll on many apartment dwellers, significantly reducing their ability to pay rent and other bills, let alone catch up on past debts.
That's prompted major worry for renters, who flooded Erie County's 211 help line that was set up to offer assistance from a special $10 million county rent fund. More than 1,100 people called in during the first eight days of October, after the service first became available.
"That financial assistance is going to create much more stability, both for tenants and for landlords in our community," Andriette said. "I think most people are making a solid effort to pay whatever they can, and certainly the federal moratorium does not excuse nonpayment of rent. It's very explicit."
Meanwhile, landlords – who have their own mortgages and bills to pay – are frustrated they can't collect what they are owed and can't get anyone out. Some have turned to Small Claims Court, at least to get a judgment.
"The landlords are kind of exasperated and there's nothing that can be done to remove the tenants at this point," Tarantino said.
Adam Randall, who lives in an apartment in Elmwood Village, has fallen behind on the rent and expects to have to move at the end of November – likely into the basement of his parents' home.
Randall had worked at a warehouse until November but left because of work conditions. After that he found freelance work doing online content creation.
"Then Covid hit and every single one of my clients dropped off," Randall said.
Randall got unemployment and received rental assistance but was behind on other bills too, including credit cards and money owed to friends.
With so much uncertainty, Randall said he couldn't pay all the rent that was due.
"I kept making partial payments to show her that I intended to pay and explained that I can't make a payment schedule because I have no idea what my income is going to look like as things are changing every day," Randall said.
Randall's landlord notified him in August that she would be starting court proceedings to get the past due balance. Then, the moratorium was extended and he thought he would have more time.
Then, in October, a manila envelope was left outside his door saying that the balance was due within 10 days or court proceedings for a money judgment would commence. He also learned that the manager wasn't going to give him a chance to renew the lease.
"Now I have no incentive to pay since I can't stay here even if I do," Randall said.
Landlords do have the right to not renew leases. But some are resorting to extreme – and illegal – measures to force tenants out. Known as "self-help," such actions often include basic threats and intimidation, as well as changing the locks, turning off the power or other utilities, removing possessions, falsely reporting drug use or child endangerment, or even causing physical damage to the apartment.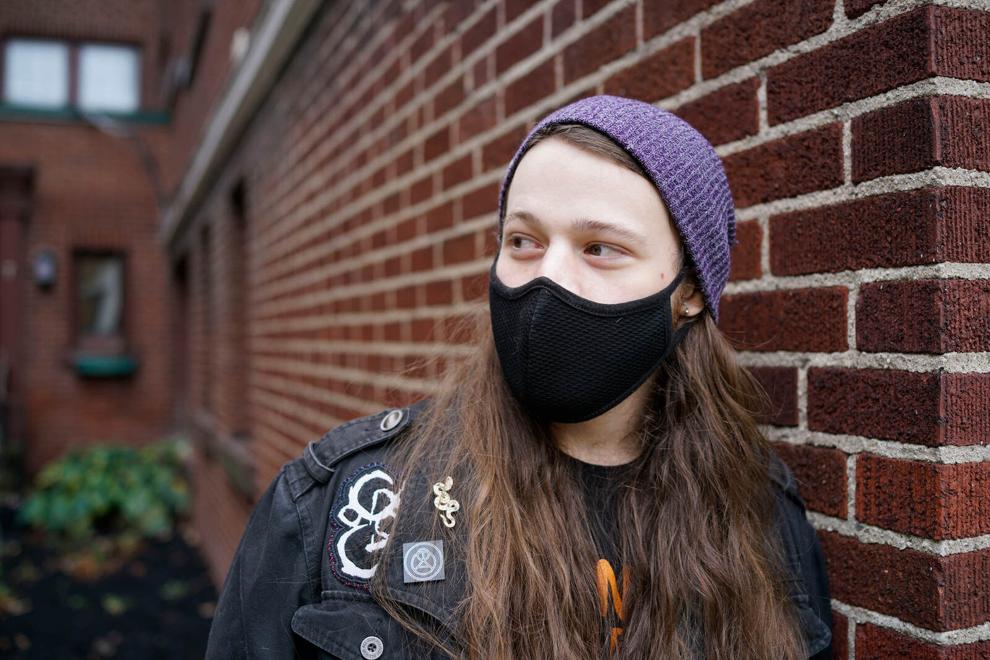 "I think people are getting desperate and willing to take the law into their own hands," Andriette said. "I wouldn't say it's a lot, but we certainly are seeing those cases."
That's blatantly against the law, and both tenants and their attorneys have gone to the police and courts to stop landlords from doing so. But the pressure and temptation for landlords will only mount as the pandemic drags on.
"For every tenant that can't pay their rent, there's a landlord that can't pay their mortgage," Gonzalez said. "We're cognizant of that."
News Staff Reporter Maki Becker contributed to this report.