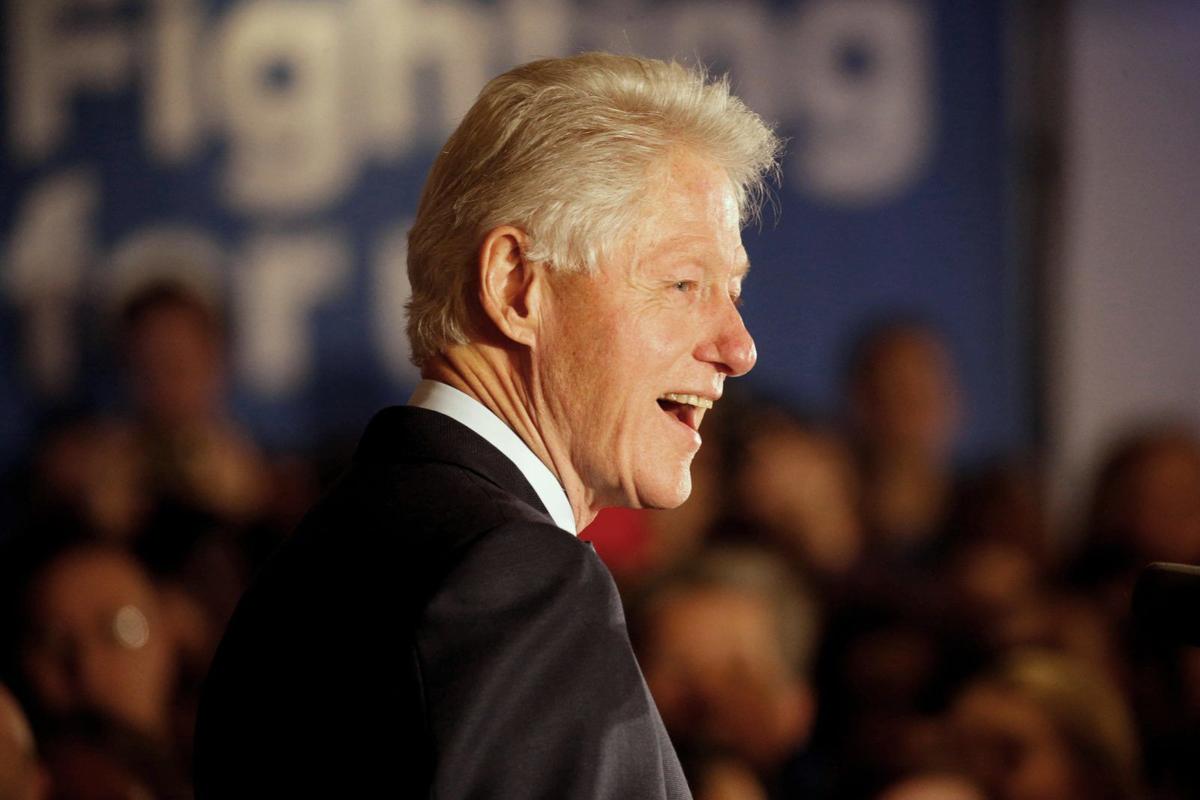 WASHINGTON – President Trump seems to have developed a penchant for pardoning conservative culture warriors like race-baiting Arizona Sheriff Joe Arpaio and provocateur/campaign finance law violator Dinesh D'Souza.
And now Trump seems ready and willing to pardon himself, even, if the special counsel Robert Mueller's investigation into Russian meddling into the 2016 election should come to that.
"As has been stated by numerous legal scholars, I have the absolute right to PARDON myself, but why would I do that when I have done nothing wrong?" Trump wrote on Twitter on Monday.
Who knows if Trump is being serious or whether that's just presidential bluster. But whatever he's doing, it's worth noting that Trump is by no means the first president to use his vast pardon power to exonerate the execrable.
Don't forget that Bill Clinton pardoned his brother and a convicted Wall Street felon whose ex-wife contributed to Clinton's presidential library and Hillary Clinton's 2000 Senate campaign. In doing so, Clinton set a modern-day precedent for presidents who want to use the pardon power in ways that some may see as, well, unpardonable.
Before we delve deeper into Clinton's pardons, and Trump's, perhaps it's best to take a close look at what the pardon power is, as well as the Founding Fathers' heated debate over whether it should even exist.
The final language included in Article II of the Constitution clearly spells out that the president "shall have power to grant reprieves and pardons for offenses against the United States, except in cases of impeachment."
That's just what Alexander Hamilton, the Founders' strongest advocate of a strong executive, wanted. He insisted that the president, like many state governors at the time, be granted a power that he regarded as mercy.
"Humanity and good policy conspire to dictate, that the benign prerogative of pardoning should be as little as possible fettered or embarrassed," he wrote in the Federalist Papers.
But Hamilton didn't argue that presidents should pardon siblings or people who broke the law to aggrandize themselves. Instead, he said the main reason for the pardon power was to quell civic disagreements during tumultuous times.
"In seasons of insurrection or rebellion, there are often critical moments, when a well-timed offer of pardon to the insurgents or rebels may restore the tranquillity of the commonwealth," Hamilton argued.
But in the Anti-Federalist Papers, George Clinton – the first governor of New York – argued that giving the president what is essentially a judicial power could lead to dire consequences: "the establishment of a vile and arbitrary aristocracy or monarchy."
That hasn't happened over the course of the following 229 years, perhaps because most presidents have used the pardon power primarily for the central reason Hamilton outlined: to try to heal the nation's divisions.
Similar attempts at healing the nation's divides have continued into modern times, but sometimes they haven't accomplish much healing. Gerald Ford pardoned Richard Nixon after the Watergate scandal in a move that may have sunk Ford's re-election bid. And Jimmy Carter's pardon of Vietnam-era draft dodgers struck a sour chord among many veterans.
You'll notice, though, that none of those pardons are anything like what Bill Clinton did in his last days in office in last 2000 and early 2001. Clinton pardoned Dan Rostenkowski, a powerful former congressman who spent 15 months in federal prison on mail fraud charges. Clinton pardoned Mel Reynolds, another former congressman whose criminal resume included federal bank fraud charges and a state conviction related to his affair with a 16-year-old campaign worker. Clinton pardoned Susan McDougal, his former business partner, who was jailed for contempt of court for refusing to testify to a grand jury investigating Clinton's Whitewater real estate investment.
That was just the start for Clinton, who ended up exonerating more than 200 people in his last months in office, most notably, his brother Roger and fugitive financier Marc Rich. Roger Clinton had been convicted in Arkansas of cocaine possession, hardly the sort of crime Hamilton had envisioned when he shaped the pardon power. Worse still, there's the matter of Marc Rich, who was living a life of luxury on the lam in Europe while his ex-wife was showering the Clintons with gifts, including $450,000 to  the Clinton presidential library, before receiving a pardon from the president.
In light of all that, Trump's pardons don't look good, but they don't look so bad.
D'Souza isn't exactly the warm and fuzzy type, either. He called President Obama a "boy" from the "ghetto" and mocked the Parkland, Fla., students who just lost their classmates in a mass shooting. D'Souza's spending habits are questionable, too: he pleaded guilty to setting up straw donors so he could give more than the law allowed to Republican Wendy Long's long shot bid against Democratic Sen. Kirsten E. Gillibrand in New York in 2012. Trump pardoned him anyway, saying he had been treated "very unfairly."
Say what you will about what Trump has done, but two things are certain: Arpaio is not Trump's brother. And there's no sign that anybody tied to D'Souza greased Trump's palm.
Then again, it seems Trump may just be beginning to flex his pardon powers.
Beyond his hint that he might pardon himself, some commentators see Trump's pardons of Arpaio and D'Souza as dog whistles to anyone who might be in criminal danger thanks to the Mueller investigation. Trump's subtle signal may well be: "Don't cooperate and don't worry; I'll pardon you."
That thought brings to mind George Clinton's big worry about the pardon power more than 200 years ago.
He wrote that he feared "the unrestrained power of granting pardons for treason, which may be used (by the president) to screen from punishment those whom he had secretly instigated to commit the crime, and thereby prevent a discovery of his own guilt."
Happening today
The Senate Consumer Protection, Product Safety, Insurance and Data Security Subcommittee holds a hearing on how to protect Olympians and other amateur athletes from sexual abuse ... The World Bank unveils its 2018 Global Economic Prospects Outlook.
Good reads
Vox says President Trump has escalated his attacks on special counsel Robert Mueller – and that the two appear headed for a showdown ... The Washington Post reports that a border wall hasn't stopped San Diego from becoming a drug hotbed ... The New York Times details how Facebook gave huge troves of data to cellphone makers ... The Atlantic analyzes the Supreme Court's decision in a case involving a Colorado baker who refused to bake a wedding cake for a gay couple – and says the ruling is not that big a deal ... And the New Republic asks: Is America ready for the next great superstorm?