Paul Kolkmeyer will have one of the best seats in the house for the Toronto Blue Jays games scheduled for Sahlen Field starting next month.
Make that outside of the house. His 17th floor apartment in the Marin building overlooks the baseball field from across Washington Street.
"We're really high," Kolkmeyer said. "I tell everybody, it's like watching a Bills game from the top row in the stadium. We're way up there. But it's one of the few places you're going to see it."
Fans aren't allowed inside stadiums for Major League Baseball games this season, due to the Covid-19 pandemic. But how about glimpsing the action from outside the stadium, during the few weeks that Buffalo will host big-league games?
If you've thought of a public spot from which to try and watch games, chances are Buffalo Bisons and Blue Jays officials have thought of it, too. And don't expect to get into those places.
Anthony Sprague, the Buffalo Bisons' general manager, said that the "social distancing guidelines set by the governor, county executive and mayor of Buffalo that are in place and that we are in full support of really don't allow for fans to watch the game safely from inside or outside of the ballpark.
"I wish that we could share this experience with our fans. There is really no safe way in which that can be done, and we will have security in place around the ballpark to ensure social distancing guidelines are enforced," Sprague said.
There's that grassy area outside the stadium beyond center field, just below an on-ramp to the I-190 North, with a pretty good elevated view of the field.
Regarding that grassy spot, Sprague said there is "absolutely no way that can be used as a safe place for people to view baseball games inside the ballpark. While we are still working on finalizing the security plans, that will be one area that we look to keep clear."
There's also a small spot on the sidewalk behind the stadium – along Oak Street – overlooking the left field foul territory, where the view through the fence isn't obscured. But don't expect to be able to stand there, either.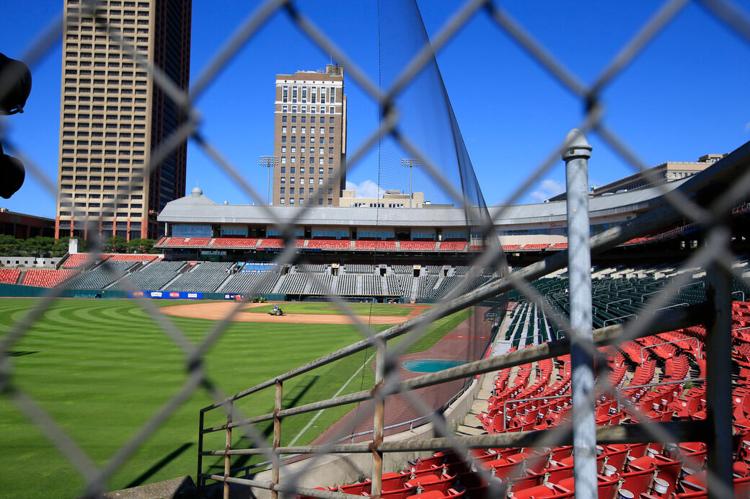 What about the parking ramp beyond the right field fence, along Washington Street? At first glance, it appears to be a great vantage point for fans. But wait – the view from the top level is blocked by a six-foot high wall running along the ramp's north side.
How about watching from the ramp's enclosed third or fourth levels? The view is almost completely blocked by blackout screens running the length of the ramp, save for a few narrow slits, reminiscent of knotholes kids would look through in old-time stadium walls. The ramp's second level has an open view, but that level isn't really high enough to see inside, and trees and stadium seats obscure most of the view.
How about erecting temporary seats on top of the ramp, a kind of Wrigleyville solution?
The parking ramp is operated by Allpro Parking and owned by Douglas Jemal's Douglas Development, which also owns Seneca One tower. The owner and operator of the ramp are exploring ideas.
"Allpro Parking is still discussing alternatives for viewing with the Bisons and Blue Jays along with other community officials to determine if it would be acceptable and received well by the clubs," said Richard Serra, president and CEO of Allpro.
Meanwhile, a few buildings rise above Sahlen Field, offering prime viewing opportunities for the people who live or work in them.
One of those places is the Marin building, at Main and Seneca streets. The property, owned by Kolkmeyer's Priam Enterprises, offers some of the best privately owned vantage points for the games.
Kolkmeyer said eight of the Marin's apartments have views of the entire field. Some apartments on lower levels have obstructed views. The building has one unit that is not leased, which has views of just center and left field.
"We've had so many requests, and we're not making it available," he said.
Kolkmeyer has asked tenants to be respectful if they invite visitors for the games, given concerns about Covid-19 and noise levels.
"We've got an apartment building, we've got to take care of it," he said. "You've got to know who's coming over if you invite people to watch games. At the same time, we expect a certain level of decorum."
A little farther south, Seneca One, Buffalo's tallest building, also has a high-rise view of the field. Most of the tower is unoccupied; M&T Bank is renovating a number of floors for its "tech hub."
Douglas Development doesn't have plans to allow the public into Seneca One to watch games, due to concerns about Covid-19 and the fact that the property is a construction site, said Sean Heidinger, a Douglas Development official.
But 43North is a Seneca One tenant, and intends to take advantage of its 24th floor perch. The organization moved in earlier this year.
43North is planning for a "socially distant viewing experience" for members of its staff and employees of 43North portfolio companies, said Maura Devlin, a spokeswoman. "We've looked forward to taking in the views of Sahlen Field, and while we can't see our hometown team, this turn of events offers an exciting twist."
Erie Community College's downtown campus, inside the stately former post office, looms behind Sahlen Field across Swan Street. But its upper floors don't offer a view into the stadium, said Paula Sandy, an ECC spokeswoman. The building's tower might be a vantage point, but that is not accessible to staff or the public due to safety issues, she said.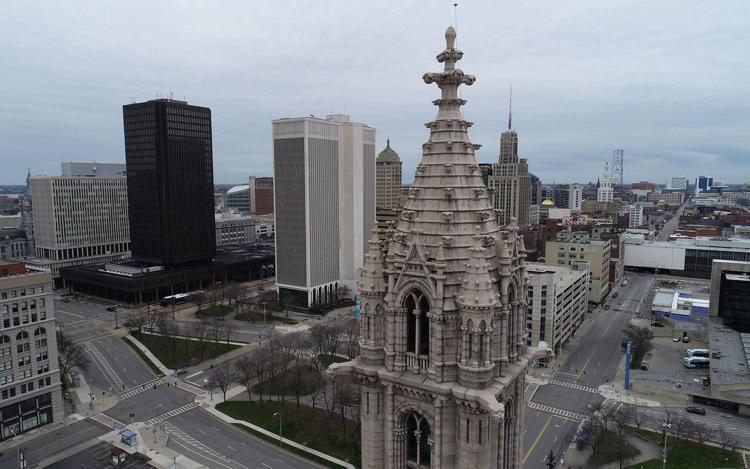 Across Oak Street from Sahlen Field sits a building that is home to the state Department of Transportation. There are windows facing south, in the direction of the ballpark.
"Our regional office staff are there to ensure the health and safety of the traveling public and therefore we will not be watching any of the games," said Susan Surdej, a spokeswoman. "That said, the office has very limited views of Sahlen Field, with the outfield only partially visible from our windows, so there is really no legitimate vantage point to watch the games anyway."
After surveying the Sahlen Field neighborhood, it seems a select few, including Kolkmeyer, will be able to watch the big-league games without the aid of a TV broadcast.
"I even sent a note all to my friends – I said, 'You're invited to see some games, but I go to bed at 10 o'clock, and you've got to all be gone by then,' " Kolkmeyer said with a laugh.
The Buffalo News: Good Morning, Buffalo
The smart way to start your day. We sift through all the news to give you a concise, informative look at the top headlines and must-read stories every weekday.