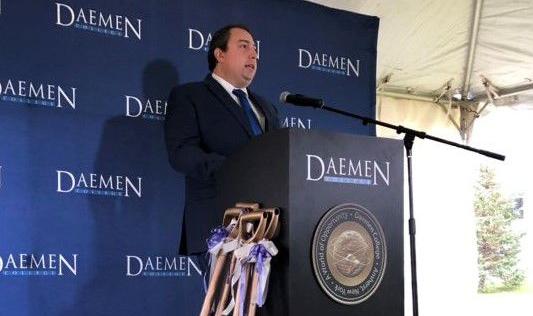 Amherst Supervisor Brian J. Kulpa set the tone at his first State of the Town address three years ago this week when he imagined reshaping a broad swath of town into a destination-worthy "Amherst Central Park" neighborhood.
A planner by nature and by background, Kulpa also proposed studying the future of every town neighborhood, Niagara Falls Boulevard and the Boulevard Mall.
It was only the beginning for Kulpa, who has wrangled with a downstate billionaire over the site of a former gas station and floated an ambitious plan to plant one million trees over five years.
Now, with Kulpa making his 2021 re-election bid official, he can point to some progress on these and other projects – but few are completed.
"It's not easy to reach those finish lines, nor should it be," Kulpa said.
And Kulpa and two Town Board allies who are seeking second terms this fall must defend their votes to raise taxes and borrow millions in the 2021 town budget.
But the three Democrats for now don't face formal challengers in Amherst – the region's most populated suburb, where Democrats enjoy an enrollment edge, hold all five seats on the Town Board and saw Joe Biden carry the town in the 2020 presidential race.
Still, town Republicans say the Democrats are vulnerable this year because of the tax increase and because of the lack of progress on various projects.
"Nothing in concrete," Amherst GOP Chairman Brian D. Rusk said. "All talk for four years."
Kulpa, an architect and urban planner, was serving as Williamsville mayor when he won election as Amherst supervisor in 2017. He didn't wait long after taking office in January 2018 before applying his professional training to his new job.
Amherst Central Park is his most comprehensive idea, covering the former Westwood Country Club, the town's Audubon Golf Course and the Northtown Center recreation complex, among other properties that would better connect the town to the University at Buffalo's North Campus.
"It's obviously a huge project that is going to be tied to me, legacy-wise," Kulpa said.
Planning has evolved as Kulpa envisions a mix of parkland, recreational amenities and urban-style features. The Town Board in July voted to approve some key components, but the town still must hash out a final agreement with Westwood's owners.
Golfers object to losing the town's 18-hole Audubon Golf Course. Critics fear giving up green space to development, or worry the town won't get enough in return in any swap of public land.
"We haven't cut the financial deal yet," Kulpa said. "We're not just laying down and saying we're so desperate for this that we're giving away 'X' amount." 
Some issues predate Kulpa's tenure. The Boulevard Mall, for example, has struggled for years.
The town tried to encourage interest from developers in the 63-acre mall property when it was put up for auction in spring 2019. And it has taken the lead on redesigning and rezoning the site, now owned by Douglas Jemal, to allow for mixed-use development featuring housing and smaller-scale business space.
Amherst has pledged to invest in infrastructure, including roads that would break up the monolithic mall building and surrounding sea of asphalt. Construction has not started but could later this year, Kulpa said.
"It's an extraordinary opportunity and it sets us up, I think, for a tax base for Amherst's future," he said.
On Niagara Falls Boulevard, a joint audit of a section of the dangerously busy road in 2018 by the towns of Amherst and Tonawanda preceded an in-depth study by the state Department of Transportation the following year. The state and towns have begun work to make the road safer, with more work planned.
And a goal, announced in November 2019, of planting one million trees in Amherst within five years, has produced policy changes requiring tree plantings by developers but an unknown number of trees in the ground.
He has made progress in reorganizing the town's Planning Department, with a focus on economic redevelopment, and the town in pre-pandemic days held a series of stakeholder planning meetings with residents in every neighborhood.
Kulpa has identified Eggertsville as a community requiring a focus on property values and quality-of-life issues. To that end, the town took a step forward when it purchased the former Harley-Davidson dealership on Bailey Avenue and converted it to a center for police training and community outreach.
Nearby, Amherst took control of an eyesore property that once held a gas station and began the process of transforming it into a gateway pocket park – though not without angering out-of-town owner John A. Catsimatidis to the point he vowed to support whoever runs against Kulpa.
Looking at Amherst's finances, Kulpa said he inherited "huge structural issues" in the town budget and he has sought to build up the reserve fund.
In 2020, with expenses up and revenues down because of Covid-19, Kulpa said, the town was forced to raise the tax levy by 7.9% and borrow $5 million to close a budget gap.
"I'm here to run the town responsibly," said Kulpa, who hopes to cut taxes in the 2022 budget.
A tax increase of that size can leave an incumbent open to political attack ads, but Amherst Republicans haven't found a solid candidate yet to take advantage.
Rusk, the town Republican chairman, said he hoped to interest former Supervisor Barry A. Weinstein in running for the job again with GOP backing. But Rusk will have to find someone else, Weinstein told The Buffalo News. "I'm not interested," he said.
Two other Democrats, Town Board members Jacqualine G. Berger and Shawn A. Lavin, are up for re-election, along with Town Justice Kara A. Buscaglia.
Republicans expect to make their endorsements in February. Rusk said potential Town Board candidates include Guy Marlette and Richard A. Wojtowicz, both former board members; Raymond Herman, a lawyer and former Erie County prosecutor; and college student Reid J. Collins.
Democrats hold all five seats on the Town Board; there are about 9,000 more Democrats than Republicans in the town; and Biden won Amherst big over former President Donald Trump, 40,804 to 25,427 votes.
But Rusk said Rep. Chris Jacobs, State Sen. Edward A. Rath III and Assembly candidate Robin Wolfgang all won Amherst or performed relatively well there during last fall.
"I think this is a very good year to run as a Republican in Amherst," Rusk said.