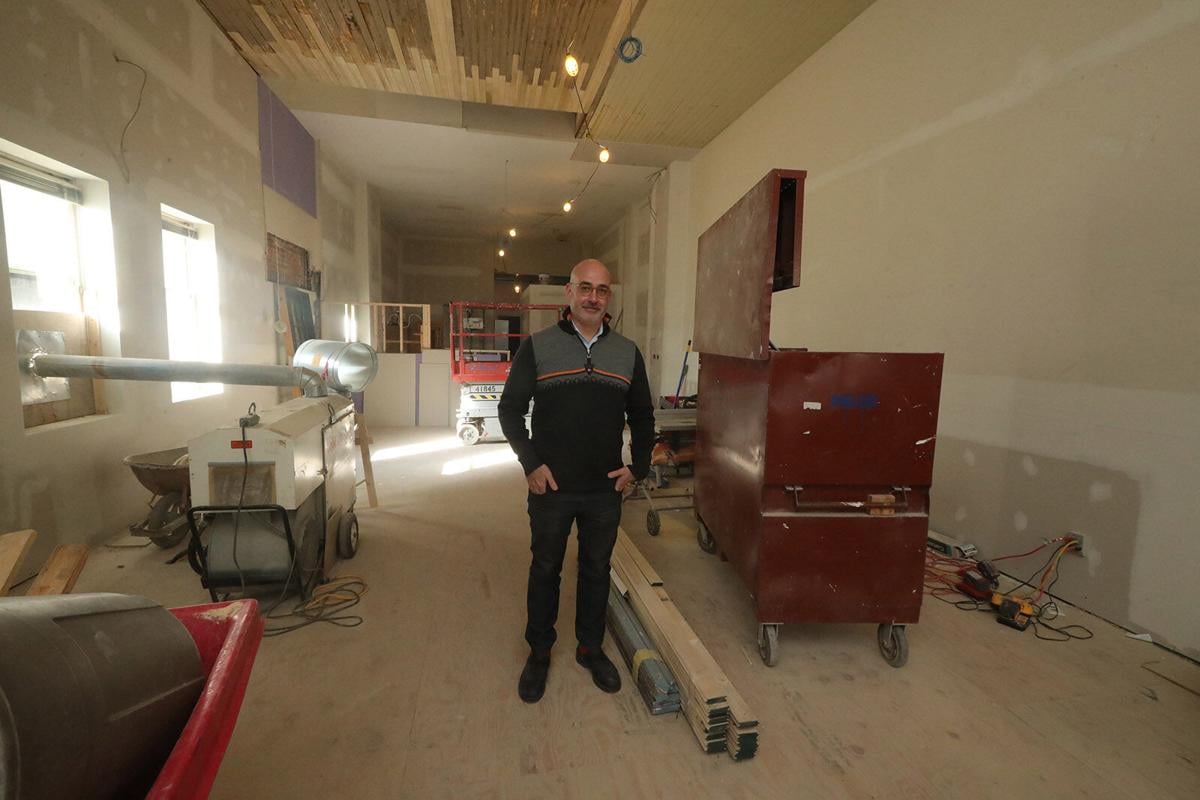 David Kimelberg thinks he has, in his own words, a really cool idea.
The Buffalo native returned home from New York City 11 years ago, bringing not only his family but an extension of his niche business law firm with him.
He and his Manhattan-based team specialize in venture capital and startups, and he's been eager to use his well-established connections and resources to bolster the entrepreneurial technology community in Western New York.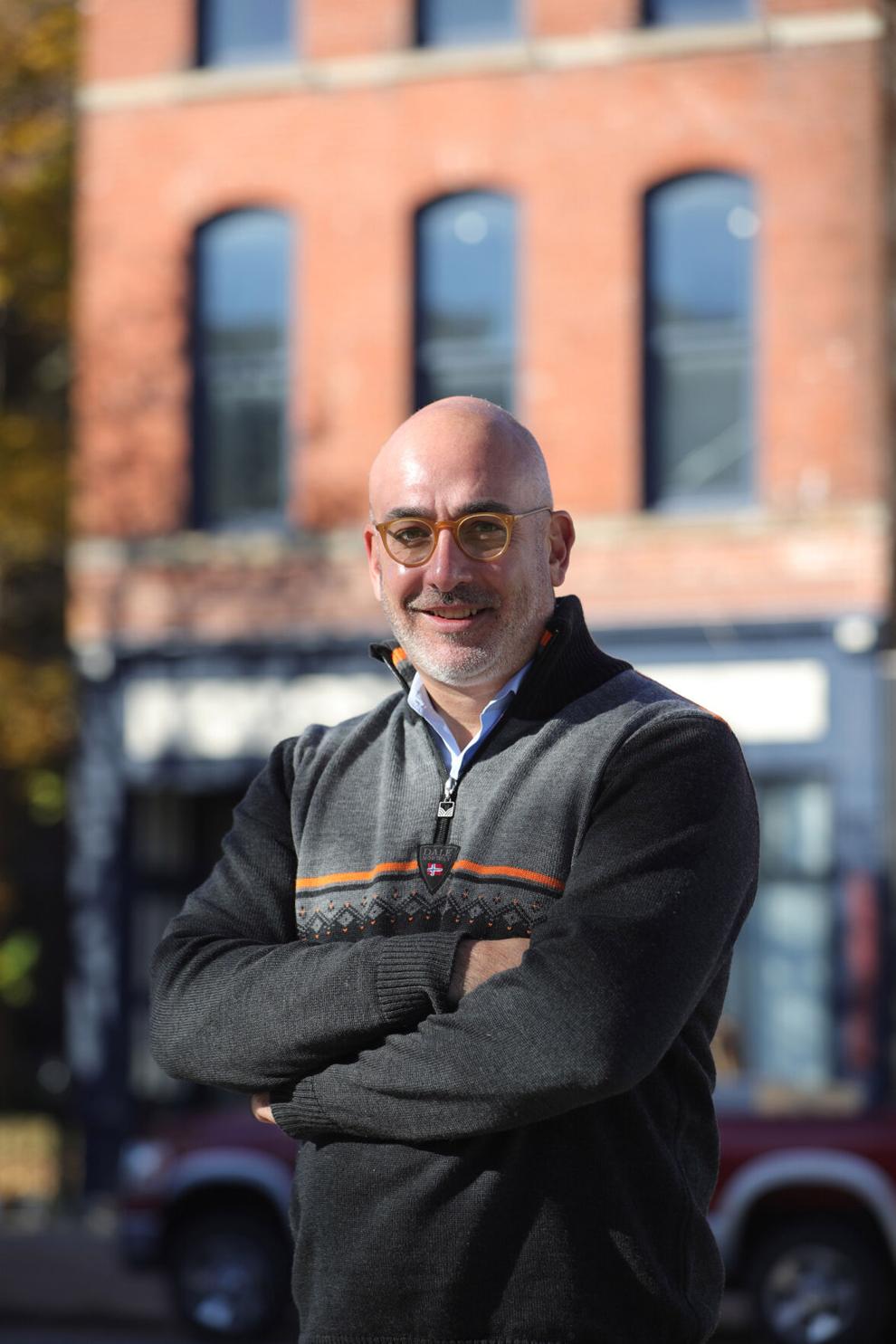 Kimelberg didn't need a big office here at first, but as his firm has grown and with the hiring of two other attorneys, that's changed. He also saw a demand for more small workplace options for one- and two-person companies, and zeroed in on the coworking trend as the ideal solution for them.
"We wanted to be involved in that, and having a coworking space that is also an incubator made a lot of sense to us," Kimelberg said. "That's our law practice. That's what we do."
As a member of the Seneca Nation of Indians' Bear Clan, he's also proud of his Native American roots, and wanted a way to highlight his traditions and culture.
So he's put them together in one place, within a historic three-story building on Main Street that he's renovating: his law firm's office, a coworking setup for up to 35 people, and a Native American-owned commercial art gallery focused on contemporary Native American artists. 
Welcome to K-Haus – what may be downtown Buffalo's most unique collaborative venture.
"It's going to be super cool," he said. "It's the first of its kind."
And it's opening by year-end. The art gallery – K-Art – will hold its grand opening at 6 p.m. on Dec. 11, with the work of 10 Native American artists from the United States and Canada on display. One of them, G. Peter Jemison, is part of the Seneca Heron clan, from Rochester.
Located at 808 Main St., K-Haus is the latest example of the coworking wave that has arrived in Western New York, but with a twist.
The trend has been slower to develop in Buffalo, but its arrival has been heralded by initial entrants like Dig at the Innovation Center and Uniland Development Co.'s Hansa, among others. Kimelberg is betting that his $1.3 million investment – along with his law firm's expertise – will set him apart.
"It's going to be super high-end. It's going to be really nice," Kimelberg said. 
Besides offering space, K-Haus will give its users access to free legal and business workshops, as well as link them directly to some of the nation's top venture capitalists – six of whom are already advisers to the law firm.
"It's coworking space, but it's really designed to help further develop the startup scene in Buffalo, which I've been super excited about. And that's the focus of our law firm," Kimelberg said.
"What we're building is a startup entrepreneurial business community," he said. "We have all the benefits of a coworking space, but we'll have a lot more. Our real goal is to connect downstate capital to companies up here."
Kimelberg is passionate about both startups and his heritage. The attorney grew up in the Albany area, where his family had moved when he was 5, and then left for Boston's Northeastern University and then Cornell University for his law degree.
Afterward, he worked for law firms in New York City and Boston as a corporate attorney – specializing in representing venture capital and investment groups, and handling complex transactions – and then became general counsel for SoftBank Capital and SoftBank Holdings.
In 2009, he returned to Western New York to start and lead Seneca Holdings, the Seneca Nation's startup business development and investment holding company, where he remains a strategic adviser even after leaving his position in mid-2017 to start his law firm.
His firm, Kimelberg Law, works with both new businesses and investors. The firm helps entrepreneurs set up their companies with the right structures for their needs, registers their intellectual property, advises them on hiring, connects them with venture capitalists for investments, and even helps them sell. But more than two-thirds of its business deals with large capital investors, helping them form new funds, finance deals and negotiate transactions.
More than 80% of the clients are in New York City, with another 10% – including SoftBank – in Boston. The firm works with 43North and Kimelberg has advised Z80 Labs. But few of their clients are local, although Kimelberg sees that growing, especially as both entrepreneurs and even investors increasingly start to leave the biggest cities for better quality of life elsewhere.
"We're excited about the Buffalo startup market," he said. "I think it's come a long way in Buffalo and continues to have a lot of potential."
His original goal with the building was just to find a home for his law firm, one that he could own instead of lease. But he fell in love with the narrow circa-1880s structure adjacent to St. Louis Roman Catholic Church at Main and Goodell streets, located in the Allentown Historic Preservation District, and bought the 4,840-square-foot building in November 2019 for $380,000.
"I love this building. I like the historic nature of it, and the brick rowhouse nature, and I love the location," Kimelberg said. "Main Street is really the place to be, and it's coming a long way."
Kimelberg is completing a wholesale rehab of the building, gutting the interiors, while also preserving as much as possible in accordance with guidance from the State Historic Preservation Office.
The art gallery and communal coworking space will share the first floor, with the artwork adorning the walls while entrepreneurs work from desks or other seating spaced appropriately apart. The art – curated by a former project coordinator at the Albright-Knox Art Gallery – will rotate with new shows every quarter, with the works remaining on display in between, Kimelberg said.
The second floor will have a series of five coworking offices, ranging in size from one person to a team of five. Outside, a new glass-walled but open terrace will be built on top of the first-floor roof in back, where the prism skylight emerges from below.
The third floor would house the law firm's offices, for Kimelberg, two other attorneys and the firm's vice president of operations.
Kimelberg said he expects about 10 businesses to take up residency at any one time. Two groups have reserved private offices. He hasn't finalized the rates, but "we think they're market-competitive."
"It's not designed to make a lot of money. It's more to develop the startup community," he said. "We want to see what kind of traction we're going to get with this concept. If it goes the way we think it'll go, we'll look for the next larger building."