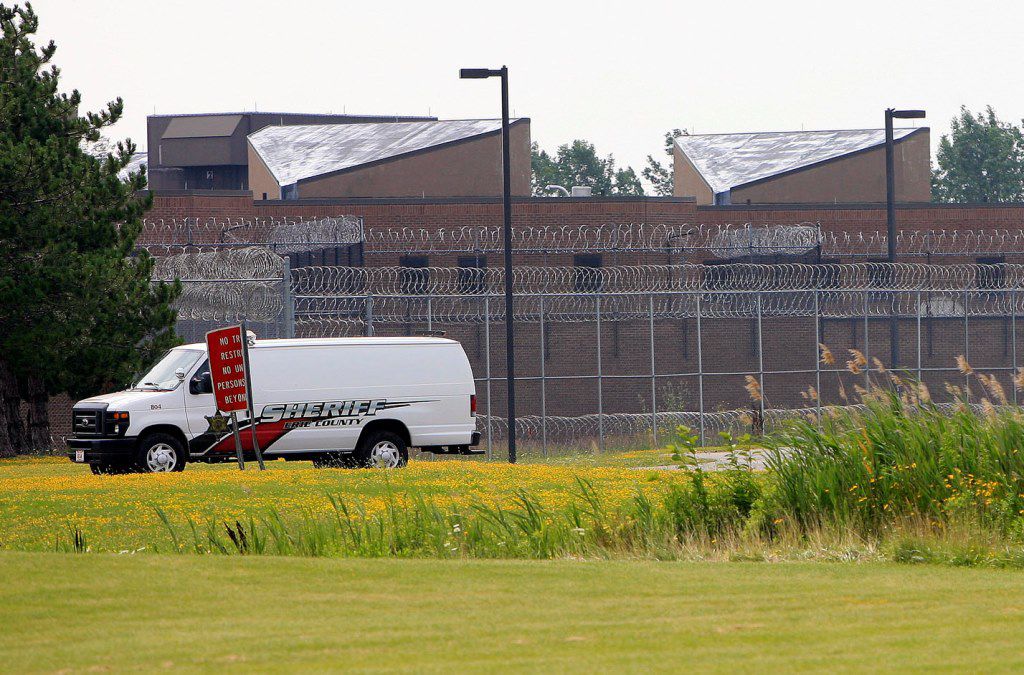 One afternoon in April 2013, an inmate at the Erie County Correctional Facility tore a strip of linen from his bed sheet. He anchored one end to a fixture in his cell, knotted the other around his neck and leaned downward.
Unable to breathe, he passed out. Then, as a report indicates, the linen came undone, and he tumbled to the floor.
That's how a corrections officer found him, splayed on the concrete, gray-faced and not breathing.
The officer cut the loop around the inmate's neck and told a partner to radio the code for a medical emergency. More officers and nurses came running. Someone started chest compressions, and seconds later the inmate coughed. His torso began to rise and fall. He survived.
In their statements, the corrections officers called the incident a suicide attempt. So did a detective dispatched to the prison in Alden to investigate. And so did the inmate as he recovered. There was talk of commendations for the quick work to save a life.
Days later, the incident was labeled something else: an "individual inmate disturbance."
In that category, Sheriff Timothy B. Howard's officials no longer had to report the event to the state Commission of Correction in Albany. So they did not.
The Commission of Correction regulates New York's jails and just a few years earlier expressed grave concern about the number of inmate suicides in Erie County, especially within the Holding Center in downtown Buffalo. Moreover, 2013 was an election year for Howard, his first since county leaders settled a U.S. Justice Department lawsuit by, among other things, agreeing to overhaul their suicide-prevention effort.
Howard had fought the lawsuit and criticized the Justice Department for coddling inmates. But since the settlement, his Jail Management Division has worked to shake off its past. It cooperates with two court-appointed monitors seeking to lock in better practices, and the top echelon is proud of the improvements. The county system reported no suicides in either of the last two years.
At the same time, Howard's team has labeled apparent suicide attempts as something other than suicide attempts. When they do so, his employees investigate the matters, then file away the reports, with no word sent to state regulators in Albany.
Using the Freedom of Information Law, The Buffalo News has obtained records showing five inmates since 2013 engaged in acts that met the state's definition of attempted suicide.
After reading them, staff at the Commission of Correction agreed that each should have been labeled a suicide attempt — not an individual inmate disturbance — and reported to Albany. Only one of the disturbances was reported, because a corrections officer was injured.
The Commission of Correction has been investigating an event from late 2016 when Erie County officials misled them about how an inmate, Carl M. Miller, suffered a serious injury. Now, the state agency has a new issue to address with Howard and his Jail Management Division.
"These incidents and one from last fall involving inmate Carl Miller, which remains under investigation, demonstrate a willingness to completely ignore the commission's reportable incident regulations," spokeswoman Janine Kava told The News.
"Commission staff are considering all options within their purview to compel Erie County jail officials to address these apparent violations and ensure compliance going forward," she said.
Superintendent Thomas Diina, named to his job in 2012, oversees both the prison and the Holding Center and their more than 700 employees. Almost 900 reports on unusual incidents have flowed from his facilities to Albany since 2013 – proof, he says, that his personnel willingly notify the commission on many matters.
"We strive to report incidents accurately," Diina told The Buffalo News.
But there is one thing they do not do, he adds.
The Commission of Correction defines a suicide attempt as trying to "terminate one's own life by inflicting life-threatening injury" upon one's self.
The definition contains a second passage, to prevent jailers around the state from guessing or assuming an inmate's intent.
The state agency says that just placing one's self in a "life-threatening situation" – by ingesting poisons, inflicting lacerations, hanging one's self, etc. – constitutes an attempted suicide that must be reported to Albany.
The commission says local jail personnel do not have to convince themselves the inmate wanted to die. Regardless, the inmate's presumed motivation is often the deciding factor in whether Erie County uses the term "attempted suicide."
Diina said the inmate found splayed on a cell floor in April 2013 was not involved in a life-threatening situation.
The inmate was not hanging when found, and though he was not breathing, he still had a pulse, Diina explained. Once revived, he required no more medical intervention.
The inmate, who had mental problems and wasn't taking his medicine, later told officers he wanted to die because he had learned in court that morning he would never see his children again.
"If I don't kill myself in jail, when I get out, I will shoot myself in the head," he vowed, according to one document about the episode.
But Diina's team became convinced the inmate was acting to get himself off of the difficult "bravo unit," which allowed him just one hour a day outside his cell. To them, it was not a suicide attempt.
"We can't react 100 percent to what the inmate self-reports," Diina said. "We believe he was in an attempt to manipulate where he was housed."
All of the inmates whose acts were called individual inmate disturbances – when they met the state definition for attempted suicide – were housed in units for inmates receiving extra discipline and allowed even fewer liberties than most.
Those inmates will go to extraordinary lengths to be moved, Diina said.
In December 2013, a teenage prisoner tied one end of a bed sheet around his neck and the other end to a ventilation grate on his cell wall. He went into a crouch to surrender his weight to the tether. A corrections officer on routine rounds found him gagging and vomiting with the sheet taut around his neck, according to the county's report.
Once freed from the noose, he was evaluated at Erie County Medical Center and placed on constant watch in the Holding Center downtown.
The staff labeled the matter an individual inmate disturbance and did not report it to Albany. Again, Diina said the staff believed the inmate was out to gain a different cell, away from the bravo unit.
The decisions that followed those two events stand in stark contrast with the decision that followed a suicide attempt in the Holding Center in July 2015. There, a 19-year-old woman with a history of mental illness was found unresponsive by a jail deputy. The deputy, on her previous round, had gotten a bad feeling about the inmate's state of mind, even though the inmate assured her she was OK.
The deputy doubled back to find the woman with a sheet wrapped around her neck, though it was not affixed to an object.
The code for a medical emergency went out. Nurses administered oxygen, and the inmate survived.
To Diina, the inmate's attempt to avoid detection convinced Holding Center officials to label her act an attempted suicide, rather than an inmate disturbance. It was reported to Albany.
"We look at the totality of the situation whenever we are assessing these incidents," he said, "and that's what we train our supervisors to do."
Even individual inmate disturbances – behavior that disrupts the normal operation of a correction facility – must be reported to the state Commission of Correction if anyone, including people other than the inmate, requires treatment in the unit's infirmary or at a hospital.
All of the inmates whose incidents were reviewed by The News were taken to a hospital. But all were only evaluated, Diina said. None required "treatment," and the Commission of Correction's definition of treatment says "examination, evaluation and diagnoses do not constitute treatment."
Diina was asked about an incident from March 2015. A 23-year-old woman was found on the floor of her Correctional Facility cell with a torn T-shirt knotted around her neck. She was gasping for air, flailing her arms, and her face was "bluish," corrections officers said in their reports.
The woman remained conscious throughout, and though she insisted to a nurse that she was trying to hurt herself, the prison team doubted she wanted to kill herself. They surmised she wanted to be found because she had pressed her cell's emergency buzzer.
As in the other cases, her episode was deemed an individual inmate disturbance. But unlike the others, this inmate disturbance was reported to the Commission of Correction.
Why? Because a corrections officer's finger was cut when the T-shirt was sliced off. Treatment for his wound in the prison infirmary triggered the need to notify Albany.
When the commission's staff read that report in March 2015, one of the state employees told Erie County the incident should have been reported as a suicide attempt, not a disturbance, Kava said.
Six months later, two women in the Correctional Facility's disciplinary unit, tired of their situations, decided that an apparent suicide attempt could lead to better treatment, a report indicates. They simultaneously strung bed sheets between cell bars and their necks, then crouched down to make the sheets taut. Then they waited to be discovered.
After learning of the plot from other inmates, corrections officers had clear reason to doubt they wanted to end their lives.
But again, the inmates' actions met the definition of a suicide attempt, the commission said this week, and should have been reported.
Erie County officials have been less than frank with the Commission of Correction before. In 2012, the Holding Center did not immediately tell the Commission of Correction that a jail inmate lay brain-dead in a hospital. Jail officials reasoned that because they had released the gravely injured Richard Metcalf Jr. from their custody, he was no longer an inmate and his condition fell outside the state's purview.
Under rules in place at the time, the county officials were right.
But even when the state agency sought details about Metcalf, the jail initially relayed half the story. A jail official told the staff in Albany that Metcalf must have suffered a heart attack during an ambulance ride to a hospital, where he was taken after a self-injuring outburst. The county official offered nothing at first about the pillow case jail deputies placed over the inmate's head or the spit mask they knotted around his neck so tightly his face was cherry red when ambulance medics were finally allowed to examine him.
The Commission of Correction determined Metcalf died of asphyxia, not a heart attack, and recommended a criminal investigation.
Late in 2016, Correctional Facility staff reported that an inmate in a coma at a local hospital, Carl Miller, had been injured in a fall. In fact, another inmate beat Miller, and the attack could have been avoided if corrections officers had acted on the victim's plea to transfer to another unit because he feared for his safety.
Even after detectives charged an attacker, the Correctional Facility staff let its erroneous report to Albany stand.
With attempted suicides, the Commission of Correction has stressed to officials around the state not to assume an inmate's intent or mind-set, Kava said. The agency wants jail and prison officials to simply follow the definition.
Diina acknowledged this week that reporting the actions of the five inmates as attempted suicides would not have inconvenienced the county Correctional Facility.
But, Kava explained, accurate reports from county correctional facilities lead to accurate data that lets the state agency identify trends or problems. Multiple incidents of the same type, or multiple incidents involving the same housing unit or staff member, would trigger closer examination, she said.
Further, if officials at any facility have a question about how to report an incident, she said, all they need to do is ask.